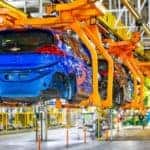 Chevy Electric Vehicle to be Manufactured in Michigan
Michigan is about to get even more electric.
General Motors announced recently it is investing $300 million into an assembly plant in Orion Township, Michigan.
Not only will this investment create more jobs, but it will also give Chevrolet the manufacturing operation it needs to create an all-new electric vehicle (EV).
While it doesn't have an official name, this new electric car could be a replacement of the current Chevrolet Bolt EV.