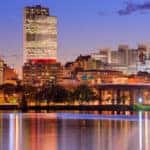 Did you know that when visiting a Chevy Dealer Albany NY drivers are most likely to be in search of a Chevy Silverado? At least that's the implication, as evidenced by information compiled from recent years' sales data, across (non-Metropolitan) New York state.
If this comes as a surprise to you, you may need a reintroduction to the Silverado, and possibly Chevy's offerings overall.
As the most awarded automaker (three years in a row) Chevy retains a unique distinction in having secured J.D.