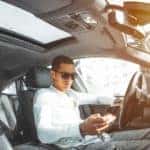 Reducing Distracted Driving with New Mobile App
With access and overall use of smartphones growing each year, distracted driving has been steadily increasing, too.
Responding to texts and checking emails has unfortunately become a normal practice for many drivers; and Chevrolet hopes to cut down on distracted driving for its consumers.
According to a U.S. Department of Transportation study published by Centers for Disease Control and Prevention (CDC), approximately nine people are killed each day and more than 1,000 people are injured in crashes due to distracted driving.