Yes. Albany Drivers Love DePaula Chevrolet. Here's Why…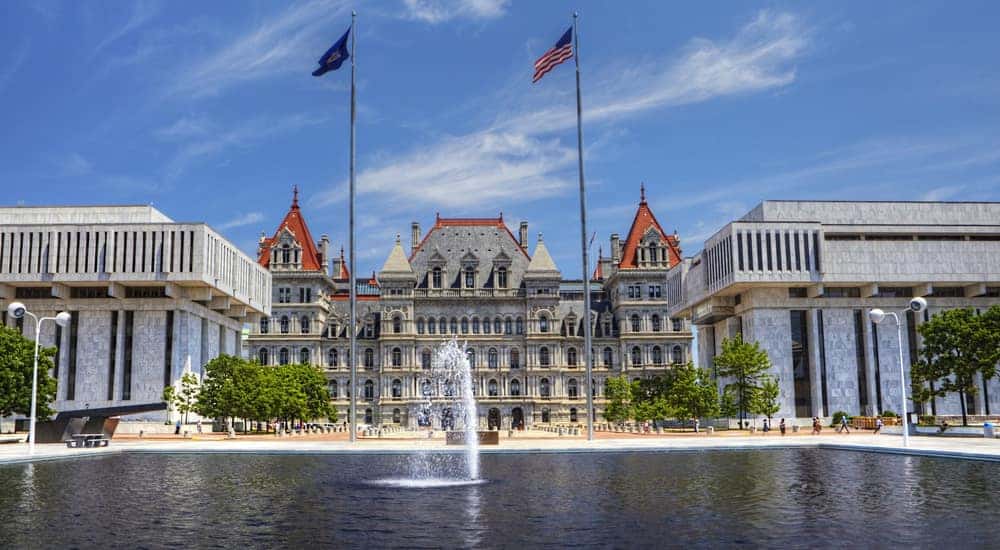 Here at DePaula Chevrolet, each day presents countless opportunities to appreciate the amazing things that can be accomplished with the right partnership in place. As a certified Chevy dealership, we enjoy the unique pleasure of helping our customers to connect with an iconic line of vehicles, widely-celebrated for every attribute, ranging from price to dependability.
As the only automaker to have been awarded by J.D. Power and Associates across their entire line of cars, trucks and SUV's (and to have done so two years in a row) Chevy moves in 2018 with the same laser focus on excellence.
This level of dedication to Chevy customers inspires DePaula Chevrolet in all that we do, and the results speak for themselves:
7x GM Dealer of the Year (2010-2016)
7x GM Standards of Excellence for Leadership
7x GM Mark of Excellence
6x Chevrolet Genuine Leader
#1 Chevrolet Certified Pre-Owned Dealer in the Northeast
Whether you're undecided in your search for your next vehicle, or if you're simply undecided as to which of Chevy's offerings best fits the unique demands of your lifestyle, there are countless reasons to visit DePaula Chevrolet. We invite everyone to experience this for themselves, but in case you still need a little more persuasion, let's see if we can help.
The Best Offerings. The Best Selection
Our extensive selection speaks to the value of our partnership with Chevy. As mentioned, their well-awarded and diverse line of offerings are consistent in earning top marks within the industry. What could be better to build your inventory from?
At DePaula, our inventory boasts hundreds of Chevy vehicles at all times, ensuring the perfect Chevy for every customer (and for every budget). Whether you're interested in the latest model year offerings, considering a pre-owned vehicle, or looking to explore our GM Certified Chevy's we guarantee that you'll find exactly what you need right here.
New Model Year Offerings
Chevy's award-winning lineup continues into 2018 with plenty of momentum behind it. From the environmentally-friendliness of the Bolt EV and Volt to the indisputable reliability of the Silverado, there truly is a Chevy for everyone.
Even within a single segment, Chevy's offerings are diverse. Consider the crossover and SUV offerings, which include the Trax, Equinox, Traverse, Tahoe, and Suburban. Each with their own unique attributes, they offer Chevy versatility across a wide range of budgets.
And let us never forget that Chevy outshines so many of its competitors in their determination to make available technologies both accessible and affordable. Whether in their more economically-priced vehicles or in lower trim levels, Chevy manages to standardize such features as Bluetooth-connectivity and the option of 4G LTE WiFi. In a world where other manufacturers struggle to stay current in this regard, Chevy continues to shine, making their new model offerings deserving of consideration.
Pre-Owned Inventory
At DePaula Chevrolet, our pre-owned inventory consists of far more than 'just Chevy's'. If you're considering a pre-owned vehicle, take a moment to explore our online inventory. Each vehicle includes a thorough profile including manufacturer specs, an image gallery, and a free CarFAX vehicle history report. After all, just because you're buying a pre-owned vehicle, doesn't mean that you shouldn't buy with 100% confidence.
GM Certified
One of the most overlooked Chevy attributes worth considering, is the strength of the GM Certified program. Ideal for anyone looking into a pre-owned vehicle, it provides additional assurance of the vehicles dependability, as backed by both DePaula Chevrolet and General Motors.
To qualify as GM Certified, a vehicle must first have been produced within the last five model years, have less than 75,000 miles and possess a clean CarFAX Vehicle History Report. This alone offers more than one might expect from a used vehicle, but GM takes it further.
All vehicles undergo a rigorous 172-point inspection, confirming whether all parts and major operating systems meet factory standards. If they do not, they are refurbished, repaired or replaced by trained GM technicians, using only GM parts. Once done, these select vehicles receive GM Certified status.
And what are the benefits of a GM Certified vehicle? On top of everything listed above, you receive two extended warranties. First, a Powertrain Limited Warranty for 6-Years or 100,000-Miles (whichever comes first) and then a Bumper-to-Bumper Limited Warranty for 12-Months or 12,000-Miles (whichever comes first). Additional perks include a scheduled maintenance program, trial subscriptions to OnStar and Sirius XM Radio.
And should you decide, within 3-Days or 150-Miles, that your GM Certified Vehicle isn't the right fit, GM will help you exchange it for one that is. All great reasons to consider a GM Certified Chevy.
Preferred Customer Program
If you're considering a visit to DePaula Chevrolet, please take a moment to visit the 'About Us' link under the 'Dealership' tab and sign up for our Preferred Customer Program. This entitles our valued customers to a few perks, including:
$250.00 towards the purchase of any new or used vehicle.
$25.00 towards any service, parts, or purchase of accessories.
5% discount off of any (non-warranty) maintenance work.
5% discount off of any purchase of parts or accessories.
Just a few small ways that we can say thank you for doing business with us!
Find Out For Yourself
For us, doing right by each and every customer provides another opportunity to reinforce why Albany drivers love DePaula Chevrolet. While we hold close to our heart the commendations we've received within the industry, the only award that truly matters is the loyalty, dedication and lasting relationships that we've earned from our valued customers.
Sure, these are just words until we're given the opportunity to prove them in all that we do. With that in mind, we hope to see you soon. What better way to ring in 2018, than with DePaula Chevrolet uniting you with some of the most beloved vehicles of all time?