Chevy Dealer Albany NY
Whether you find car shopping a fun or stressful experience, a little extra information never hurts. There is a lot that needs to be taken into account when investing in something so valuable, so it is best to take it step by step. Here are a few of the things you must know about investing in a vehicle from a Chevy Dealer in Albany, NY.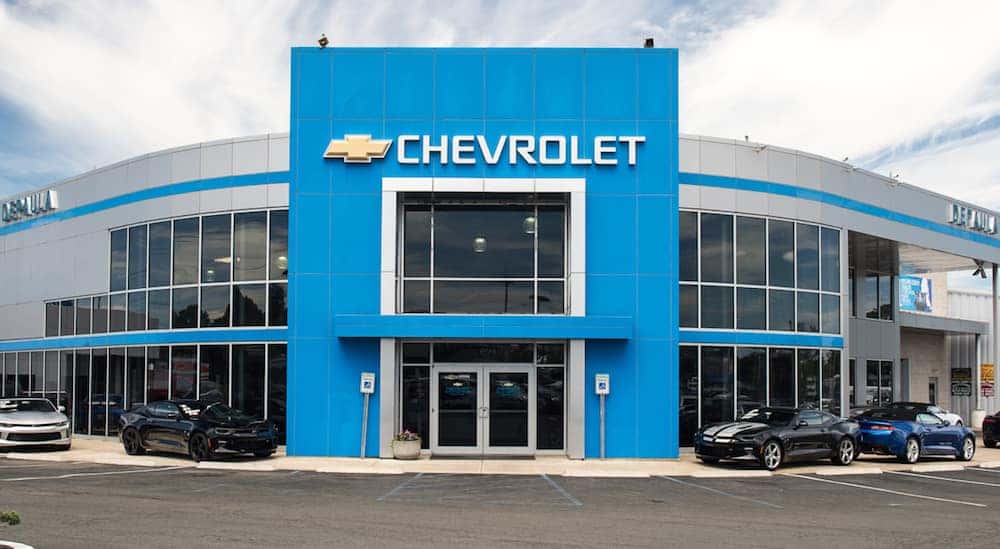 The Location
When going through life, the location will always matter. This is why the phrase "location, location, location" is well known and often used, especially when referring to business. In this case, though, location is actually referring to where you live and what that means for your driving needs.
Albany, New York is one of the most interesting places to live. Not only are you in close range of the world's biggest and brightest city of dreamers, but its highway system also connects you to other remarkable places such as Buffalo, Boston, and even Canada. This is why you will want a vehicle that's as versatile as your imagination and as dependable as a family member.
Rocky roads, crowded city streets, and disastrous weather are just a few of the trials on the road when you are in driving the roads around Albany, New York. This means something compact with a high-performance level will often be your best bet, but this doesn't mean you can't enjoy the streets of Albany in a sedan, truck, or SUV if that's what your life entails.
The Cars
Chevy is a dealership and manufacturer that prides itself on having a large and versatile selection of vehicles in every class. From classy sedans to large trucks, you will find exactly the vehicle to fit your needs at a Chevy dealership like DePaula Chevy. Here is a glance at the current Chevy lineup.
Affordable Options
The Chevy Spark in price tag alone is the least expensive Chevy vehicle option starting new at only $13,050 and is the ideal urban-friendly vehicle due to its sub-compact body if you dream of taking frequent trips to the city. If you need more options though, both the Chevy Sonic and the Chevy Cruze are also impressively affordable for under $20,000. The Cruze will even grant you more of the stylish sedan feel.
Athletic Option
Chevy is the home of both the legendary Corvette and Camaro which are born for their raw speed, power, and high-tech handling. The Corvette Grand Sport and Z06, as well as the Camaro SS and ZL1, are capable of well more than 400 horsepower, which is more than double the muscle of your typical consumer vehicle. Not to mention they are absolutely fierce in appearance.
Reliable Options
The Chevy Suburban is the longest-running nameplate in the history of automobiles. Since 1935 the Suburban has been a strong and reliable presence as a large SUV that never fails to amaze and support entire families and large groups as they travel together. Chevy is also well known for their high-grade pickup trucks such as the Silverado. With admiration for its massive towing capacity and dependable build, a fan of a Chevy Silverado is a fan for life.
Convenient Options
The Chevy Bolt is a perfect option if you desire an electric vehicle with plenty of technology while remaining spacious and quiet. Electric cars can be amazing convenient and easy on the fuel economy. The Chevy Traverse is ideal option to look into from a Chevy dealer in Albany, NY if you enjoy something that has all the functionality of a minivan, with all the flair of an SUV. It is convenient with optimal storage and passenger space and equipped with every top of the line feature.
Popular Options
The Chevy Malibu is a traditional sedan that has won over fans with its stylish appearance and modest practically. Along with that, the Chevy Impala has been one of the highest selling Chevy vehicles of all time among Chevy dealers in Albany, NY and across the country since its introduction in 1958. The Impala has lasted through 10 generations and is a full-sized automotive with all the luxury and none of the painful cost.
The Tips
Never feel ashamed of needing a few tips when it comes to the complex art of buying a vehicle. There are so many factors that even an expert may need hours of research to find that perfect automobile for them. So, here are a few drops of knowledge to make things easier as you go through the long-winded buying process.
Decide on a new or used vehicle.
Although you should always research both, it is important to decide which of these options you would prefer considering both have their advantages and disadvantages. A new vehicle from a Chevy dealer in Albany, NY is more easily customized and has a freshness that can't help but appeal to drivers of all types. A used car, on the other hand, is clearly the more affordable of the two options and removes all worry of depreciation. There is also the option of investing in a certified pre-owned vehicle which offers the best of both worlds if you can find one that suits your fancy.
Calculate a fair price
A fair price is an equivalent of what you can pay, what you believe you should pay, and what the dealership is asking for. This price can be reached by confident researching and reasonable negotiation. With a dependable Chevy dealer in Albany, NY like DePaula Chevy, you can feel confident that the listed prices are fair, reasonable, and transparent.
Prepare to finance
There are so many factors in the pricing of a vehicle; this is why it is essential to get your finances in order before even thinking about a new vehicle. Down payment, credit, insurance, and monthly payments can all be a kick in the butt if you aren't prepared. Thankfully, a helpful finance team will always be eager to break down these costs with you and figure out if they work with your budget.
Always test drive
The amount of people that don't understand the value of a test drive is shockingly low, and that needs to change. Always, always, always test drive a vehicle before you think about spending even a penny on it. You can even ask to drive it to your home to assure that it fits in your garage or parking space and moves smoothly in an area you are familiar with.
Don't rush
Buying a vehicle is not a race, so don't rush it. Unless you need something within the next couple of hours, then just breathe and take the time to do some research before going to the dealership. This is a stressful situation, and it makes sense to want to get it over with, but it is either careful planning now or years of automotive resentment.
The Dealership
At DePaula Chevy we are a Chevy dealer in Albany, NY that is determined to make your life easier by providing every type of driver with their ideal dealership experience. We offer a large variety of vehicles and guarantee at least one will spark your interest and become a companion that will last you many years and many journeys.
If you desire a dealership that is upfront and customer-driven, then we at DePaula Chevy are willing to match your expectation and requirements. In fact, we consider ourselves more of a community than a dealership. Eventually, you will need to find that perfect vehicle, and we hope you choose DePaula Chevy when that time comes.