Used Cars Albany, NY
Looking for
used cars? Albany, NY
, offers one of the best car dealerships since it was founded in 1985: DePaula Chevrolet. At DePaula Chevrolet, we have hundreds of cars, trucks, and SUVs to accommodate everybody's lifestyle and can get you ready to do battle with the winter elements, or help you escape in road-trip worthy style. We know you need a vehicle, but our goal is to link you up to the one you really want.
Our award-winning service will guide you through the process from start to finish to ensure a quality experience so you can hit the road in no time with your mind at ease and a smile on your face. We make it easy for you to get started with our comprehensive inventory list available here on our website. You can also visit our convenient location at 785 Central Ave, located just off highway I-90, and speak with one of our sales members to get the ball rolling on a test drive.


Why DePaula?Used InventorySpecial Offers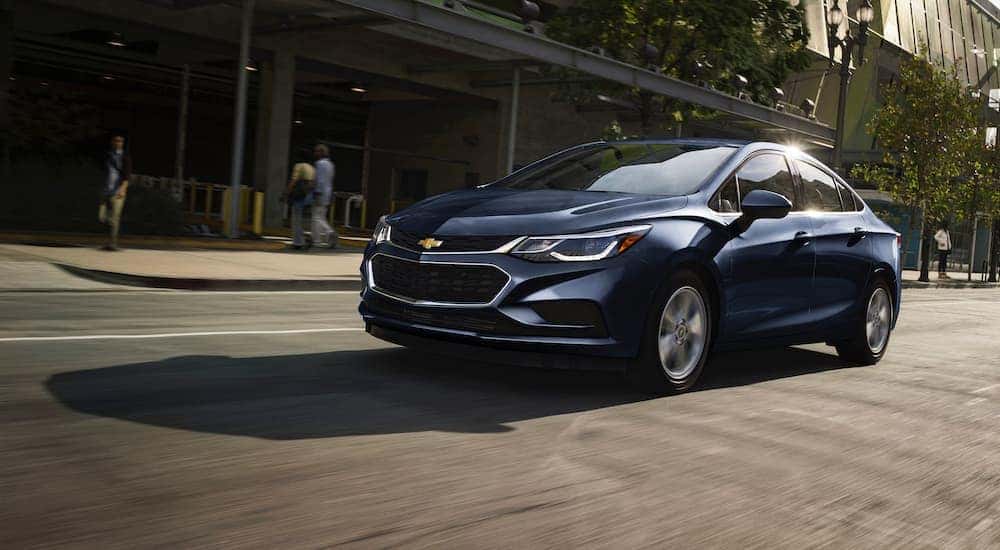 Why Choose Chevrolet Over Other Brands?
Chevrolet was created in 1911 by American business entrepreneur William Durant and race car driver Louis Chevrolet. In 1919, Alfred Sloan got to work with Chevy's marketing department and coined the brand's maxim, "a car for every purse and purpose." By 1929 Chevrolet surpassed Ford's output and sales to become America's top auto manufacturer.
The rivalry between Ford and Chevrolet is old and still rages to this day, each coming up with new innovations every year. Though there has been a lot of back and forth over the decades, however, Chevrolet is clearly the overall winner in the eyes of the American public. Let's examine some facts: Ford is discontinuing all of its cars in order to focus production on their trucks and SUVs. They still make the Mustang, true, but it was originally inspired by the enormous success of the Chevy Impala. While other brands are sweating over marketing strategy and profit margins, Chevrolet is expanding its lineup and still living by their old, tried, and true maxim, "a car for every purse and purpose."
Chevy knows how to accommodate car enthusiasts of all interests and has what you are looking for: from rugged off-roading work trucks, big family-hauling SUVs, all-electric futuristic sedans, fuel-efficient/reliable economy cars, and performance cars. This lineup even includes the 2020 mid-engine Corvette capable of going head-to-head with European exotics for a fraction of the price.
Nothing else can match this robust lineup. Chevrolet is the only American auto manufacturer that is reliable enough to go head-to-head with Japanese auto manufacturers, a reputation solidified by countless awards and proven track records of engines going well beyond warranty.
Why Choose DePaula Chevrolet?
We are the best Chevrolet Certified Pre-Owned and used car dealer in the Northeast! Just like Chevrolet itself, DePaula Chevrolet has won many awards and has a proven track record of success. Awards include Chevrolet Genuine GM Dealer of the Year Award 7-years in a row, Chevrolet Genuine Leader Award (6 times), General Motors Standards of Excellence Leadership Award (7 times), and General Motors Mark of Excellence Award (7 times).
It should be no surprise that our customers drive away with a good experience, but what is amazing is the over 7,500 documented testimonials of happy customers that felt compelled to share this experience and let others know that DePaula Chevrolet is the real deal. We also have an outstanding service department full of certified technicians to take care of your vehicle's upkeep. We make scheduling appointments easy and will get you in at your convenience. Not that you need to worry, you bought a reliable Chevy from DePaula Chevrolet after all.

What to Expect at Our Dealership
At DePaula Chevrolet, our local family-owned business here in Albany, NY, has been around for 35 years, and we have never taken a single day nor customer for granted. Conveniently located off the I-90 on the corners of Central and Everett, you will first notice the parking lots full of potential; your next car could be in there somewhere, and we will be your guide to finding the one you want.
Before you go out and explore, come on into the blue-faced entrance and browse our fabulous showroom and find out from one of our professional sales team members about sales and deals going on to maximize your savings. They will be happy to tell you about current deals, sales, and information about DePaula Chevy's preferred customer program (which is available to everyone who purchases a new or used vehicle here at DePaula Chevrolet). When you're ready, they will take you on a tour, or you can go it alone if you need a moment to think privately. Bring your children; we have a play area for kids and free Wi-Fi in all of our waiting areas for anyone.
We are here on the weekends, including the service department, because we understand the workweek can be hectic and doesn't fit into everybody's schedule. When you come in for service for your vehicle, we offer shuttle rides and loaner vehicles if we plan to hold on to your vehicle for more than 24 hours. While your vehicle is being serviced, you will get a free car wash, and we will schedule you for a full detail if you are so inclined.




Shopping Used Cars in Albany, NY
When you're looking for a new or used car for sale in the Albany, New York area, you have to do yourself a favor and come on down to DePaula Chevrolet. We have a courteous, professional, and knowledgeable team that can take you around on a tour of the showroom, our huge car lot, and any other facilities that you want to check out.
Come by any day of the week, during our normal business hours, and we will help you out. Bring your kids; we have a playroom for children and free Wi-Fi if they are too old for that, they will be busy while you focus on finding the right car. Out on the parking lot you will find hundreds of new and used vehicles that can fit every need and every budget. We have trucks for work, SUVs for the family, reliable and fuel-efficient economy cars, and high-performance sports cars.
Whether you're a car enthusiast or stressed with the thought of buying a car, we will enable you to go at a pace that feels right for you. Tour the lot on your own, or have a sales team member guide you to the vehicle you have been thinking about; if you're not sure what you want, talk to our expert staff, and they will note your requirements and make suggestions based only with you in mind.
When you buy a car from us, you become a preferred customer immediately, and we will make sure you are treated properly every time you come in to visit us. We are the number one rated Chevrolet dealership in the Northeast, and this is not something we take for granted. We are DePaula Chevrolet, come over and see why win awards year after year. Let's find your next car.