Trucks for Sale – Albany, NY
Did you know that DePaula Chevrolet has plenty of Chevy trucks for sale? That's right -we have a wide selection of new and used Chevy truck models. Our lineup of new models has never been stronger, thanks to Chevrolet's increasing drive to better their trucks year after year. Now, the 2017 Chevy Colorado and 2017 Chevy Silverado (1500, 2500HD, and 3500HD) have never looked — or performed — so good. Are you a contractor, or someone who works in a rugged environment where a truck is necessary? Then you won't be disappointed by the durability of Chevy trucks. But, you don't need to be in a position like that to own a truck. Trucks are great for everything, even daily driving. How? Modern pickup trucks, like the Colorado, get fuel-efficiency that's better than some midsize and full-size sedans, with only taking the slightest hit to capability.
Why DePaula?New VehiclesSpecials
At DePaula, the most important thing is the happiness of our customers. Without their loyal support, we wouldn't be able to provide such high-quality vehicles for our community. Or, work with cars everyday — which is the passion of all our dealership staff.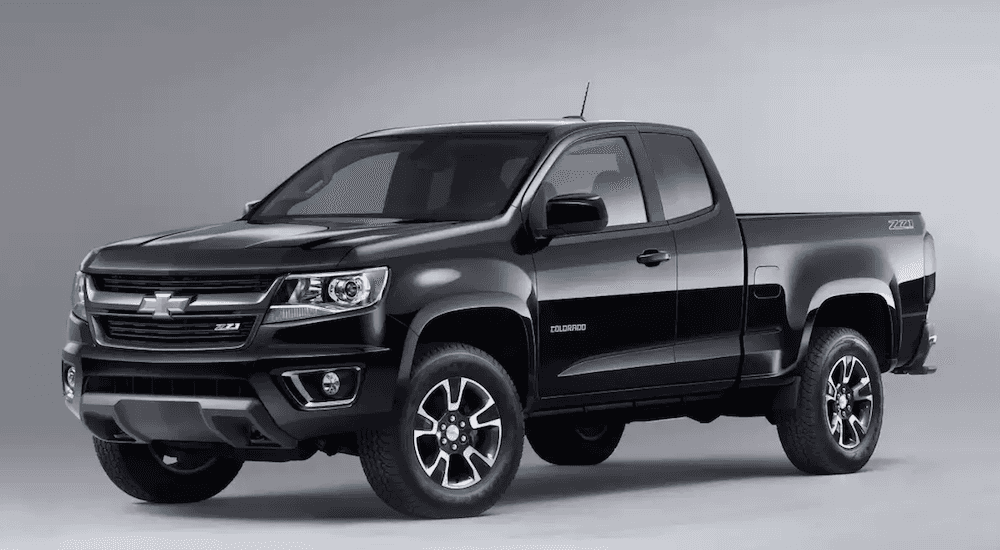 New Chevy Trucks for Sale
At DePaula Chevrolet, our lineup of new 2017 Chevrolet truck models won't disappoint you — we can guarantee that. What we can't guarantee, however, is which Chevy truck you're going to pick. Therefore, all we can do is provide you with some basic information, and let you decide for yourself.

2017 Chevy Colorado
The 2017 Chevy Colorado was revived a few years back, and has really been making a name for itself. Not only that, but it's been stomping on the competition year after year. Winning Motor Trend's Truck of the Year Award two years in a row, and now still being the only midsize pickup on the market to offer a diesel engine, the Colorado doesn't look like it's losing the throne anytime soon.
Exceptional Engineering
The biggest reason the Colorado is doing so well is because it is so well designed. Since it's a midsize pickup truck, it's smaller than a full-size. That means it's much more maneuverable. That's nice, but what about compared to the competition? Well, it just so happens that it has well-mannered steering and handling, a comfortable ride over most surfaces, and the V6 and diesel engines both tow more than rivals. On top of that, the fuel-efficiency is out of this world when the diesel engine is equipped. Maneuverable size, above-average handling and steering, comfortable ride quality, comparably more capability, and exceptional fuel-efficiency make this truck feel more like a sedan – without sacrificing any of the truck qualities that people know and love.
Engines
The base engine is a 2.5-liter inline four-cylinder engine that produces 200 horsepower and 191 lb.-ft. of torque. That engine gets the job done with its 3,500-pound towing capacity and best-in-class (gasoline) 19 mpg city/26 mpg highway fuel efficiency. But, if you're looking to get more capability, then go with either the V6 or diesel engine. The 3.6-liter V6 engine produces 308 horsepower and 275 lb.-ft. of torque, and gets a 7,000-pound towing capacity while still returning 18 mpg city/25 mpg highway. The Duramax diesel 2.8-liter turbocharged four-cylinder produces 181 horsepower and 369 lb.-ft. of torque, and returns a best-in-class 22 mpg city/30 mpg highway, while getting a best-in-class tow rating of 7,700 pounds.
Impressive, right? If you want a daily drive that's still capable, the Colorado is the right choice.
2017 Chevrolet Silverado 1500
If you aren't interested in using your truck for daily driving — or don't care about fuel-efficiency — and need some more capability, then the timeless design of the 2017 Chevrolet Silverado 1500 is going to fit your needs perfectly.
Maximum Durability
With a frame and body that are both made up primarily of high-strength steel, the Silverado has the durability required for surviving the job site. Even the truck bed is made from roll-formed high-strength steel, whereas other competitors use stamped-steel or even aluminum. Roll-forming is the stronger way compared to the stamping process, and steel is clearly superior to aluminum in terms of strength.
Engines
Speaking of strength, the engines found in the Silverado aren't pushovers, either. These small-blocks provide big performance, starting with the standard 4.3-liter V6 engine, producing 285 horsepower and best-in-class 305 lb.-ft. of torque. Fuel-efficiency comes in at 18 mpg city/24 mpg highway, and a Silverado equipped with this engine gets a 7,600-pound towing capacity.
Step-up to the 5.3-liter V8 engine, and you gain so much more capability. 355 horsepower and 383 lb.-ft. of torque are ready and waiting, as well as an 11,100-pound towing capacity. A best-in-class fuel-efficiency rating (V8 engine) of 16 mpg city/23 mpg highway is also found.
The largest and most capable engine for the 2017 Silverado, the 6.2-liter V8 engine is truly something to cherish. It produces a whopping 420 horsepower and 460 lb.-ft. of torque, and gets 15 mpg city/21 mpg highway. More importantly, it gets a best-in-class 12,500-pound towing capacity. Meaning that when it comes to capability, the Silverado is king on the full-size truck market.
2500HD/3500HD Available
While you likely won't read through all the specs of the 2017 Silverado 2500HD/3500HD models, it's still important for you to know that we do stock those vehicles as well. Though not necessarily an ideal choice for a daily driver, unless you're on company time, these trucks do great in the work place thanks to their beefy bulk and durability, along with large engines and enhanced capability.
The Silverado 1500 can hold its own, but for the extra tough jobs, make sure to consider a 2500HD/3500HD model.
Trucks Are Great for Everything
As a full-size truck with truck-like fuel-efficiency, you'd think the Silverado 1500 would be a model that wouldn't be able to survive outside the work environment. That's where you're wrong. First, since the Silverado has so much high-strength steel in it, drivers and passengers benefit from exceptional safety in the event of a collision. The truck bed can be used for more than hauling material as well, and if you throw a truck bed box and tonneau cover on it, you gain a serious amount of protected cargo space that can be adjusted whenever you please.
The Colorado on the other hand, is definitely a more road-friendly vehicle. With that stellar fuel-efficiency rating of 22 mpg city/30 mpg highway, you're looking at saving an exceptional amount of fuel on a vehicle that still has the capability to tow a medium-size trailer or boat. Alternatively, you could just get the Colorado if you're looking to enjoy the truck experience without stopping at the pump twice a week during your daily commute.
Either way, the choice is yours, and the possibilities are endless. Imagine someone telling you even 20 years ago that it would be possible to get car-like fuel-efficiency out of a truck? Or that a full-size 1500 pickup would be able to tow 12,500 pounds?
In 2017 both of those are possible, and DePaula Chevrolet has the Chevy trucks for sale and in stock that you need to experience this phenomenon. Being a proud Albany, NY Chevrolet dealer, DePaula Chevrolet has the knowledge required for customers to enjoy a stress-free and efficient car buying experience.
Why? Because, while our passion might be Chevrolet models, our goal at the end of the day is to make sure you're a satisfied customer.