Take the Truck Challenge at DePaula Chevy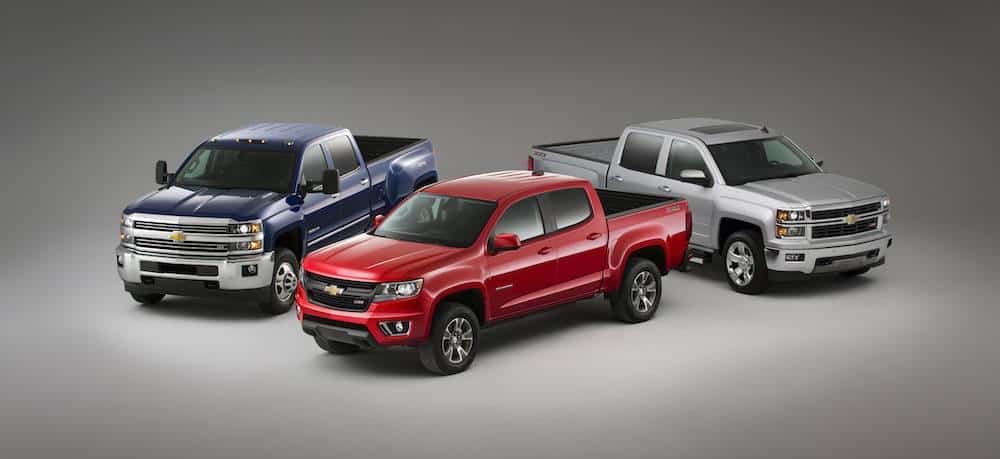 Shopping for Chevy trucks should be a fun experience—at DePaula Chevy, we make your truck buying experience worthwhile whether you're set on choosing new or used.
When you choose us for your next buy at DePaula Chevy, you won't be disappointed. We offer a number of perks for our buyers and have awards to show just how much our customers love us. Our partnership with Chevrolet enables us to get you the best trucks for the best deals.
Getting a pickup truck isn't the same as getting another vehicle. You need to ensure this vehicle has all the features you need to do your job. You want a truck that helps you when you're on the clock, but one that's ready to have some fun during your free time or on the weekends.
At DePaula Chevy, we can help you choose the best Chevrolet truck for your budget. Choosing between four different models of some of America's best trucks isn't easy, but we make your shopping experience with us fun and best of all, you'll be able to decide on the Chevy of your dreams.
Why Choose Chevrolet Trucks
Chevrolet trucks have impressive horsepower along with the dependability you need to keep up with your lifestyle. Chevy is known for having powerful trucks with a more luxurious interior than some of its counterparts.
When you want a vehicle that's a little cushier on the inside but offers power and reliability that other brands can't, Chevy provides you with a line of trucks that work just as hard as you do. If you're ready for some fun in your truck, four different models give you options for customizing your ride.
When you need your truck to do a specific job day after day, you need to trust that it can do the job and do the job right. That's why Chevy makes trucks dependable, powerful, and comfortable so you can have the best of everything all in one.
Chevrolet is also the only automaker to offer built-in Wi-Fi on its vehicles. This way you're never disconnected from the world and no matter what job site you're on, you can be sure your truck is integrated with 4G LTE Wi-Fi.
With so many options, choosing the best fit for you can feel like a challenge. We're here to make it fun and easy. Stop by and talk with us about what you're looking for and how we can help.
The Best Truck for You
Finding the best Chevy truck for you starts with knowing what you'll be using the truck for. If you have to do regular towing and hauling for your job, you might consider the Silverado 2500HD and 3500HD. If you have a family and like towing a camper for vacations, these trucks will do the job.
On the other hand, you might just want to use your truck for occasional towing and some off-roading fun when the occasion permits. For this lifestyle, the Silverado 1500 would do just fine. Determine what your expectations are for your truck in order to determine your best fit.
If you'd like more of a mid-size truck, Chevy offers the only mid-size truck with a diesel engine to get superior fuel mileage with adequate torque and over 7,000 pounds towing capacity—the Chevy Colorado. This truck has one of the best resale values on the market and is an excellent choice whether you buy used or new.
Whether you want an off-roading vehicle, a heavy-duty towing monster, or just a cushy ride to work with some extra amenities, DePaula Chevy can help you choose the right truck for you!
Your Silverado Options
If you decide the Chevy Colorado doesn't quite have the capabilities you'd like in your next Chevy pickup, let's talk about what your options are for the Silverado.
While you have the option of several different trim levels, you can also choose your bed length. From short, standard, and long, you can customize your bed to be exactly as long as you want or need it to be for your job. Cab styles vary by size from regular, double, and crew. While a regular cab only seats three passengers, the crew cab features four doors with plenty of room for your passengers.
You've also got engine options when it comes to the Silverado. From the 4.3L EcoTec V6 to the 6.2L EcoTec V8, these trucks give you everything you need to make the right choice. It all depends on what kind of torque and horsepower you'd like. For a truck with lots of torque and a sufficient amount or horsepower, choose the larger engine size.
There are also various trim levels you can choose from depending on what you'd like to see in your truck. When you're buying a new Silverado with us, come in and let's talk about all your options. From the basic LS to the plush High Country, these trucks offer just about everything a truck buyer could want.
See it to believe it—come check out our stock of new and used pickups for your next used Chevy purchase!
Visit Us
Now that you've seen how much Chevy trucks rise above the competition, we invite you to come visit us at DePaula Chevy to see our Chevy trucks in stock.
We've won the General Motors Standards of Excellence Leadership Award seven times. We also offer a play area for your children while you're waiting for your truck. When you come in for service with us, your vehicles get washed for free. Or, you can schedule a full detail while you're here!
We'd really love to help you out with your next Chevrolet truck purchase. Have a truck in mind? Give us a call at (518) 278-6036 to see if it's in stock. If you're not sure what you'd like, stop by and see us. We can help you sift through your options to get the absolute best truck for you from Chevy. We're located at 785 Central Ave in Albany. See you soon!