Supreme Safety Comes Standard in These 2017 Chevy SUVs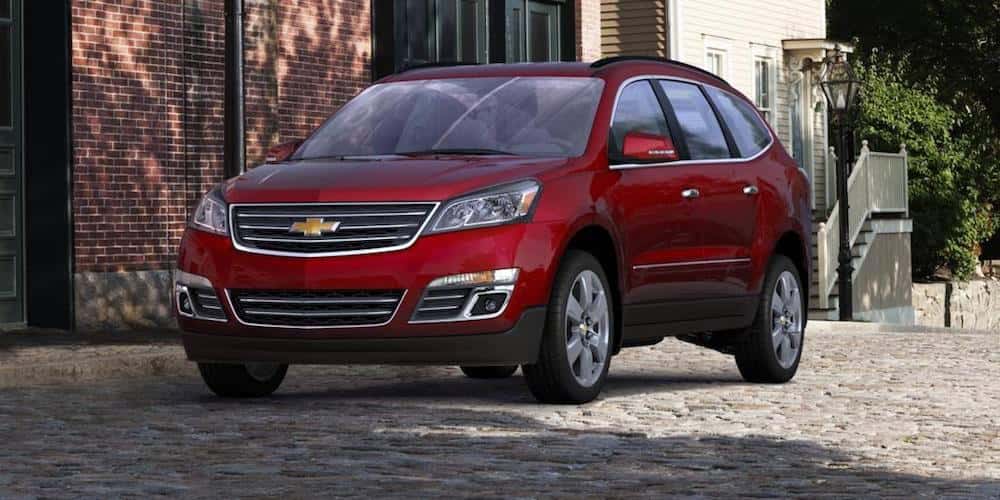 It's no secret that Chevy's most recent lineup of SUVs is built with the modern driver in mind. Between some of the most impressive engine capabilities we've seen in an SUV lineup – including the enviable 33 mpg highway 1.4L turbocharged Ecotec engine and the best-in-class 301 horsepower 3.6 L V6 – and the best in modern tech, including 4G LTE Wi-Fi and Siri Eye-Free for iPhone, this crop of Chevys is a force to be reckoned with in an already impressive SUV market.
But at a time when gadgets and giddyup might be found far and wide, Chevy excels far above the rest in one extremely important area: safety. Chevy's SUVs are built with the family in mind, and include some of today's most impressive and comprehensive safety technology. Featuring both highly-specialized improvements on standard safety hardware and new, adaptive, assistive, and predictive safety technology to divert threats before they happen, the 2017 Chevy SUV lineup may be among the best in history for those looking for a truly safety-centered SUV.
Here's a look at some of the impressive protections offered on this year's Chevy SUV lineup – take a look, and see for yourself just how well a Chevy SUV's got your back.
The 2017 Chevy Equinox – Reliable Safety Working Seamlessly Around The Clock
When it comes to providing solid, dependable safety for the whole family, few options do so as smoothly as the 2017 Chevy Equinox. Built with serious protection in mind, the 2017 Equinox packs in a wide array of highly-advanced safety technology to help prevent crashes from ever happening, along with a robust safety system built to take a hit and keep you safe. When it comes to affordable, enjoyable SUVS on the road today, few can match the 2017 Equinox when it comes to pure protection power.
Perhaps most noticeable in the new Equinox is the impressive range of available adaptive safety technology, which can help keep your passengers secure by constantly scanning the road ahead and around as you drive, keeping a watch for any incoming hazards that may be on the road. Sensors on all sides of your Equinox give alerts, like the Forward Collision Alert, the Side Blind Zone Alert, and the Rear Cross Traffic Alert – all of which can detect other vehicles or debris in the road and help keep you from coming in contact. A Lane Departure Warning watches the lines on the road and can give an indication when if the driver starts to drift – a critical safety measure that has the potential to save the lives of drowsy drivers everywhere.
And for those who've never been huge fans of the parallel park have no fear – a Rear Vision Camera and Rear Park Assist make rolling into any spot a breeze, That means no more bumped bumpers or scratched sides – just a smooth parking job each and every time you pull into a space.
But it's not all sensors and safety tech – the 2017 Equinox is a tough piece of machinery, built to keep you and your passengers as safe as can be even during the worst of what could happen on the road. A high-strength steel cage is specifically designed to withstand heavy impact, while six standard airbags – including side impact airbags – provide all-around protection in the event of a collision. Add in automatic OnStar responsive technology to offer help in the event of an emergency and you've got one SUV that's built to keep you secure through just about anything.
The 2017 Chevy Trax – Taking Serious Protection A Step Further
Strap into a new 2017 Chevy Trax and you'll find yourself in a cabin that's designed as much to keep you secure as it is to keep you delighted. The 2017 Trax features serious protections capabilities, with 10 standard airbags including front knee and side-impact airbags for rear-seat passengers. That means no matter where you might be seated in the Trax, you'll be protected from the worst of what the road has to offer – an added shield in the event of a collision.
If the true key to strength is a rock-solid foundation, then the 2017 Trax may be about as strong as it gets – thanks, in part, to advances in its basic underpinnings, like the high-strength steel cage and standard 4-wheel antilock, front disc/rear drum brakes.
But conventional wisdom says that an ounce of prevention is worth a pound of cure – and with the help of today's advanced technology, Chevy has worked to head off damage before it even happens. Available advanced safety technologies can prevent collisions by scanning the road ahead for potential hazards, like a Rear Vision Camera, Rear Park Assist, Rear Cross Traffic Alerts, Side Blind Zone Alert, Forward Collision Alert, and Lane Departure Warning. That means your 2017 Trax is constantly working with you to keep you safe on the road – a handy copilot always ready to step in when needed most.
The 2017 Trax also works to keep you safe even if an emergency does occur. That's thanks to advanced protection tech, like built-in sensors that can automatically alert an OnStar Advisor who can see if you need help any time the airbags deploy. All of this works together to lend the 2017 Trax one of the most comprehensive safety systems available today – an excellent choice for the family on the go.
Find Next-Level Safety In A 2017 Chevy SUV
The 2017 Equinox and the 2017 Chevy Trax are two seriously impressive SUV options, each featuring an impressive array of safety features that would make any passenger feel secure out on the roads. But the 2017 Equinox and 2017 Trax are only two members of a solid lineup of Chevy 2017 SUVs – including the 2017 Traverse, 2017 Tahoe, and 2017 Suburban – each of which feature their own impressive safety setups to help keep your most precious cargo safe.
If you're looking for serious safety in a Chevy SUV, you're bound to find something that fits your needs at DePaula Chevrolet. Because when it comes to safety, it's never smart to settle for second best – and in a Chevy SUV, you know you're in good hands.