It's a Winter Wonderland with DePaula Chevy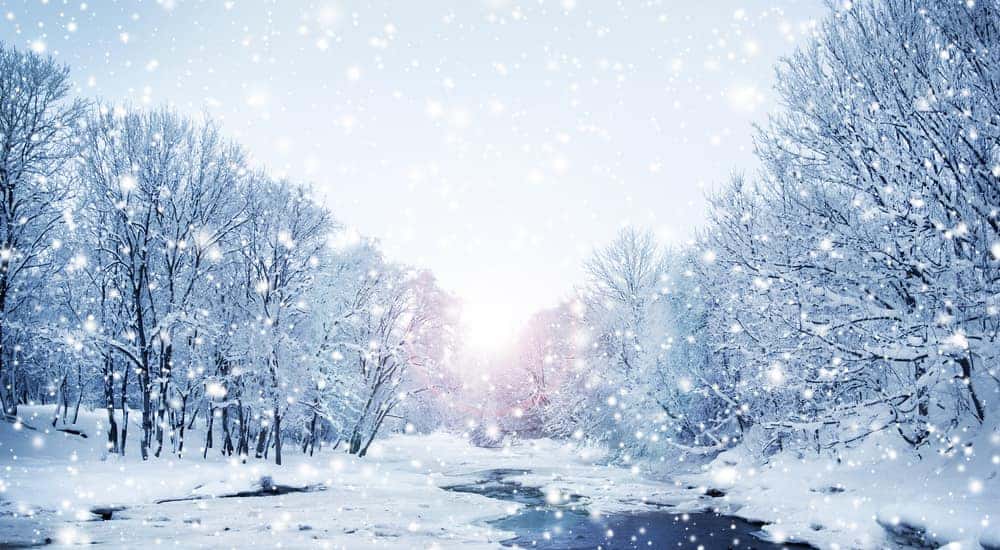 Winter is coming and the temperatures are falling, which means there is no better time to head to DePaula Chevy. Why DePaula Chevy, you ask? Because at DePaula, we've got a vast inventory of both new and used Chevy sedans, trucks and SUVs that will help you beat back those wintertime blues. After all, it will be hard to feel dreary once you find yourself behind the wheel of the North American Car of the Year, the Chevy Bolt. Or the Best Midsized Car for Families, the Chevy Malibu. Of course, if you're planning on heading to the slopes, you may want to find yourself behind the wheel of the Chevy Tahoe – the Best Large SUV for Families, according to U.S. News & World Report. And if you're looking to make a couple extra bucks while the snow is falling, there's no better choice for snowplowing than the Chevy Silverado, the Most Dependable Large Heavy Duty Pickup for the past three years according to J.D. Power and Associates. No matter which Chevy is right for you, you can be confident that we'll have it in stock at DePaula Chevrolet.
Our Sales Team Knows Their Stuff
Of course, there are also plenty of other dealerships in the area, so why bother coming to us? Well, for starters, our sales team is comprised of some of the most honest, hardworking and trustworthy people you'll ever have the pleasure of doing business with. We want every one of our customers to know that when they come to shop at DePaula Chevy, they are getting nothing but the very best service we can possibly offer. Our sales team is never pushy and we won't try to use ridiculous gimmicks to try to get you to buy a car before you're ready; instead, we'll work with you to find a car that meets your needs, exceeds your wants and stays right in line with your budget. Our sales team is extremely knowledgeable and is happy to work with you to find the right Chevy for your lifestyle. If you're a big skier and snowboarder, you're definitely going to want plenty of cargo space (and probably roof racks) to store all of your gear…so you may want to check out a few models like the incredibly popular Equinox or possibly even the larger-than-life Suburban. If you're more of an environmentalist or minimalist, then perhaps you'll be more comfortable behind the wheel of the Volt or the Bolt EV. And if you're just looking for a great ride to take to work and out on the weekends – but that offers top-notch safety and luxurious interiors, then our sales team will probably steer you either the aforementioned Malibu or the impeccable Impala. No matter what your priorities are this winter, our sales team is ready to show you the Chevy that best suits you. Stop by and visit with our sales team Monday through Thursday from 8:30 AM to 8:00 PM or Friday and Saturday from 8:30 AM to 6:00 PM. We're closed on Sunday so that our staff is able to spend time with their friends and family and come back to DePaula refreshed and ready to assist you bright and early Monday morning.
Our Service Department is Seriously Skilled
You might be thinking to yourself, "okay, of course, it's important to have the support of a great sales team, but what about once I buy the car… who's going to take care of it then?" Well, when you buy your car at DePaula Chevy, you can feel extremely confident that from the minute you drive that car off the lot to second you decide to trade it in and buy a new one from us, our sales team has you covered. Highly trained and impeccably skilled, our service technicians are ready to tackle anything from a routine oil change to correcting any damage from an unfortunate and unforeseen accident. We can also get your snow tire ordered and put on, and we can take care of any additional winter-related concerns you may encounter.
We also know that taking your car in for service isn't nearly as fun as showing up to the lot to pick that car out, which is why we've gone ahead and tried to make the process as painless as possible. In fact, one of the things customers tell us they hate doing is actually remembering to call us and schedule their routine service appointments… so we went ahead and put an online scheduling tool right on our website. Simply click on our "schedule service" widget and you'll be able to book your appointment right online – any time of the day or night. In fact, you can even book your service appointment right from your office computer or smartphone – heck, you can even book it from the top of the ski slope! Thanks to our online portal, it's really true that anywhere that's convenient for you, is convenient for us.
Convenience is also key when it comes to actually getting your car to our dealership. We offer extended hours so that you won't feel stressed trying to cram another chore into your busy day. You can bring your car in for a tune-up Monday through Thursday from 7:00 Am to 8:00 PM, Friday from 7:00 AM to 6:00 PM or even Saturday from 8:00 AM to 6:00 PM. We even have service drop off available on Sundays! Keeping your car in good health is critically important to the life of your car, and at DePaula Chevy, we're committed to making it as easy as possible for our clients to do so.
Take a Trip Through a Winter Wonderland with DePaula Chevy
There are so many reasons to shop for your winter ride at DePaula Chevy. Why wait until the snow is piled up and the mercury has plummeted down? Come visit us at 785 Central Avenue in Albany and let us help you journey through the winter wonderland in a Chevy that's just right for you.