Finish Out 2016 with a Spark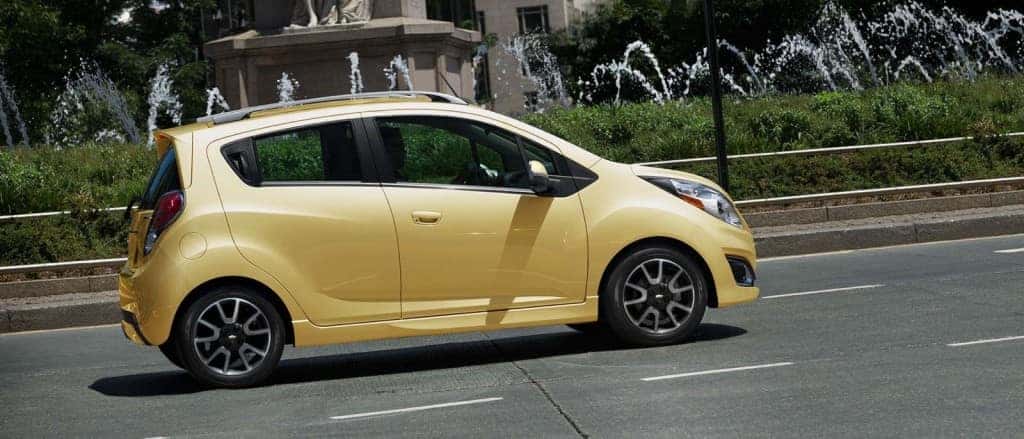 Despite its small stature and limited interior space, the Chevrolet Spark has been wowing drivers since it first entered the marketplace just a few years ago. The subcompact minicar may give off a small-time first impression, but its "little engine that could" attitude is what makes this subcompact truly stand out from others in the same segment. From the moment it was resurrected on the American market in 2012, the Spark became the fastest-selling car that July. With such impressive sales numbers early on, the Chevy Spark is one of the most popular and easily accessible used cars Albany, NY has ever seen. Getting behind the wheel of a Spark, especially for those on a budget, is not only easy but truly life-changing.
What Makes the Spark So Special?
With just four model years represented on used car dealer lots, the Chevy Spark is a relatively new car, all around. Buying a quality pre-owned version nearly guarantees a like-new hatchback, which makes all the difference in the somewhat crowded used car marketplace. The Chevrolet Spark is the least expensive vehicle in the bowtie brand's lineup, which makes it the most economical choice for used versions as well. With an EPA-estimated 41 miles per gallon on the highway for gasoline variants and up to 82 miles per gallon for electric versions – the Spark won't just save you money at the initial point of purchase but will continue to line your wallet with cold hard cash during the years of ownership that follow.
Used Sparks: Decisions, Decisions…
Regardless of the fact that the Chevy Spark has only been in production since 2012, there are plenty of used options that drivers are able to choose from. The 2013 model that was responsible for launching the resurrection of the nameplate, is likely the least expensive option for drivers who are on a tighter budget and offers up to 38 miles per gallon on the highway. For every new model year, the Spark gained important updates in technology and standard amenities, including OnStar capability with Chevy's popular Wi-Fi hotspot connectivity.
Every model year of the Spark offers drivers three different trim levels to choose from, and in order to save even more money, each of these variants is available with either a manual or automatic transmission. These cost savings, standard amenities, and a long list of options are just the starting points of what makes Chevy's smallest car so exceedingly special. Let's take a look at other important areas that drivers in this segment look out for.
Own the Newest Used Chevy Spark
While there may already be a handful of 2016 Spark cars available used, the 2015 model is more readily available for drivers in the pre-owned market. This model year represented the first time the minicar included the OnStar system as standard equipment, along with the ever-popular Wi-Fi hotspot. Offering seating for up to four passengers, this five-door hatchback gives buyers in the subcompact segment much more than competitors are willing to dish out, and for a lot less money.
The starting MSRP for the 2015 Spark when it first hit dealer showrooms was slightly over $12,000, which means used versions are going for much less. Opting for the 2LT trim level will give you leatherette seating surfaces, a leather-wrapped steering wheel, and heated front seats. For drivers looking for a more substantial appearance, the 2015 Spark 2LT comes with a tweaked exterior that delivers a sporty, high-end aesthetic appeal.
An Invaluable Asset
The Chevy Spark is not just a city car; it is THE city car. Just this year, J.D. Power named the Chevrolet Spark the "Highest Ranked City Car in Initial Quality," following Kelley Blue Book's 2014 "Lowest 5-Year Cost to Own" accolade. These two prestigious honors aren't just coveted by every automotive manufacturer and nameplate on the road, they are selectively and carefully awarded to vehicles that are most deserving of the recognition. They further solidify the fact that the Spark is one of the most financially friendly vehicles on the road today, especially when purchased used.
When most drivers purchase a car, they expect to lose money on it when it comes time to sell. This may be true of a lot of vehicles, but with the Spark, drivers are saving so much money throughout the time of ownership, that this point is all but moot. With one of the lowest five-year cost of ownership projections and high fuel economy numbers, the Spark is not only the least expensive car in the Chevy lineup, it is also the most economical to drive.
Taking it for a Spin
If you are new to the subcompact market, then sitting behind the wheel of a Spark for the first time can feel strange. The small interior cabin may seem confining at first, but compared to others in the same segment, the Spark is roomier and offers more creature comforts. Driving the Chevy Spark feels like taking a ride. Because of its small size, the city car is nimble, agile, and takes turns like no other car on the road. This is especially true of models equipped with a manual transmission. The Chevy Spark may be small, but it certainly makes up for any shortcomings size-wise when it comes to the drivability factor.
Come Down to DePaula
Here at DePaula Chevy Used Cars, we have a great selection of quality pre-owned Sparks to take for a test drive. Conveniently located here in Albany, drivers from all over the area can easily access our extensive inventory of used Chevy Spark hatchbacks. We are constantly updating our used inventory, so be sure to check our online virtual showroom for our latest offerings, and if you don't see exactly what you are looking for – give us a call. We are always here to help you find the vehicle you have been dreaming of, and if we don't have it here on the lot – we will get it here.
The Chevy Spark is a great first car, commuter car, and city car. Whichever category you belong to, don't hesitate to come down to DePaula Chevrolet and take it for a test drive. End this year with a great car, that will save you tons of money in 2017 and beyond.