Section 179 Tax Deductions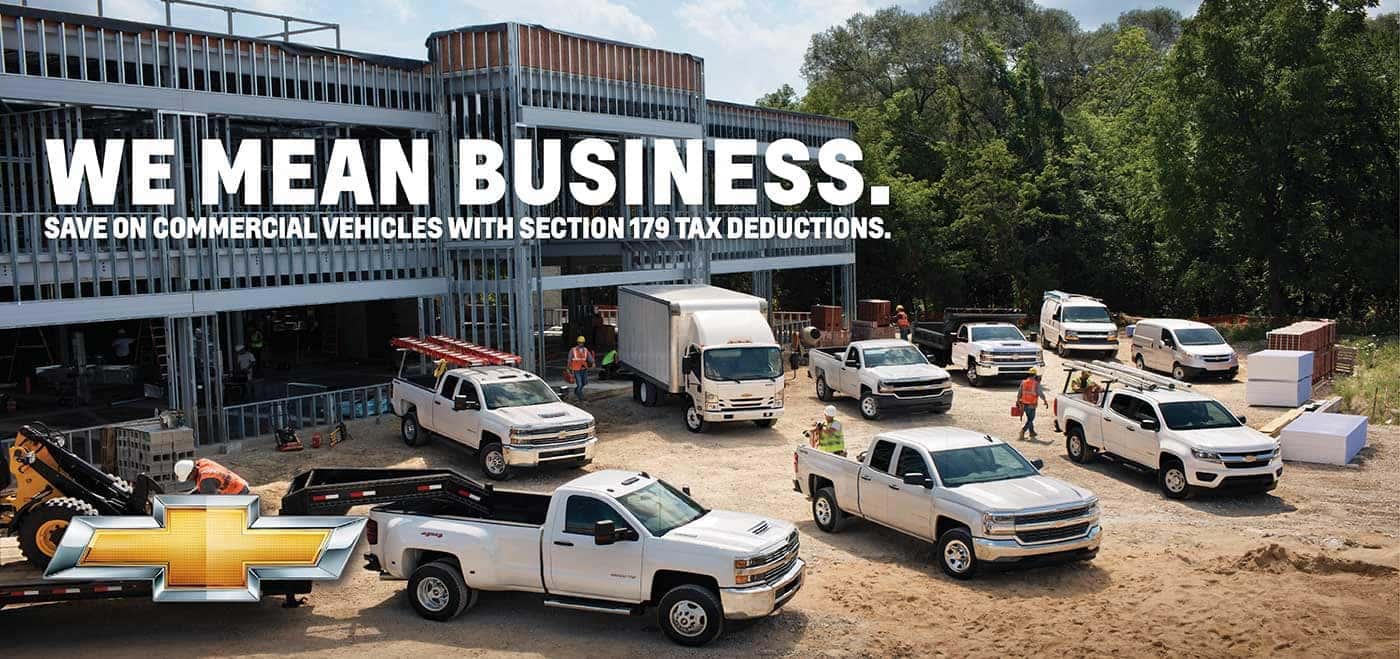 Deduct Up To 100% of Purchase Price for Eligible Chevy Vehicles
Section 179 of the IRS tax code allows businesses to write off the entire purchase price of qualifying equipment for the current tax year. For most small businesses, the entire cost of qualifying equipment can be written-off on the 2018 tax return (for up to $1,000,000).
That's some serious cash.
For GVWR over 6,000 lbs., all businesses can deduct up to 100% of purchase prices for larger trucks, SUVs, and vans with no per-vehicle limits of aggregate annual limits.
For GVWR under 6,000 lbs., businesses can deduct up to $18,000 of purchase price for coupes, sedans, small trucks, and small SUVs.
The qualifying Section 179 vehicle must be purchased and placed into service between January 1, 2018, and December 31, 2018. It must be used at least 50% for business, based on mileage, in the first year it is placed in service.
First Year Vehicle Depreciation Limits for 2018
Up to $18,000 per vehicle (no aggregate limitation)
Passenger automobiles as defined under the Internal Revenue Code (including sport utility vehicles, trucks and crossovers with a GVWR of 6,000 lbs. or less).
Up to 100% of purchase price (no per-vehicle or aggregate limitation)
Trucks, vans and sport utility vehicles as defined in the Internal Revenue Code with a GVWR over 6,000 lbs
Silverado Chassis Cab
Express Passenger Van
Express Cutaway
Low Cab Forward
Experience DePaula Chevrolet
DePaula Chevrolet offers a variety of trucks, vans, SUVs, and more listed below to accommodate any small-business needs. Use the form on the side so that we can start helping you out today, starting by answering any and all questions you may have.
Our highly trained and experienced staff is waiting to hear from you.
When Chevy says We Mean Business, it's not just a slogan.
We've worked hard for more than 100 years as a leader in the automobile industry, providing high-performance and efficient vehicles to businesses all over the country. Through our Business Elite brand, Chevrolet ensures a vehicle businesses can trust and depend upon, not only to get the job done, but to get the job done right, every time.
Come see us at DePaula Chevrolet today in Albany, New York, and choose from our inventory of vehicles that qualify for Section 179 deduction, you'll be glad that you did.
Everything you'll need to know about whether your vehicle qualifies for a business tax deduction and/or business write-off can be found at the official website for the Section 179 deduction by the IRS.
Take Advantage Today!
With the significant tax savings Section 179 offers, and the end-of-year sales happening now, it is an incredible time to buy.

---
NOTE: The information supplied here is provided by DePaula Chevrolet as a public service to its customers. It should not be construed as tax advice or as a promise of potential tax savings or reduced tax liability. Individual tax situations may vary. Federal rules and tax guidelines are subject to change. For more information about the Section 179 expense write-off or other business vehicle expense write-offs, you should consult your tax advisor for complete rules applicable to your transaction and visit the Internal Revenue Website at www.irs.gov.