Why Wait on Volvo? The 2017 Chevy Bolt is Already the Best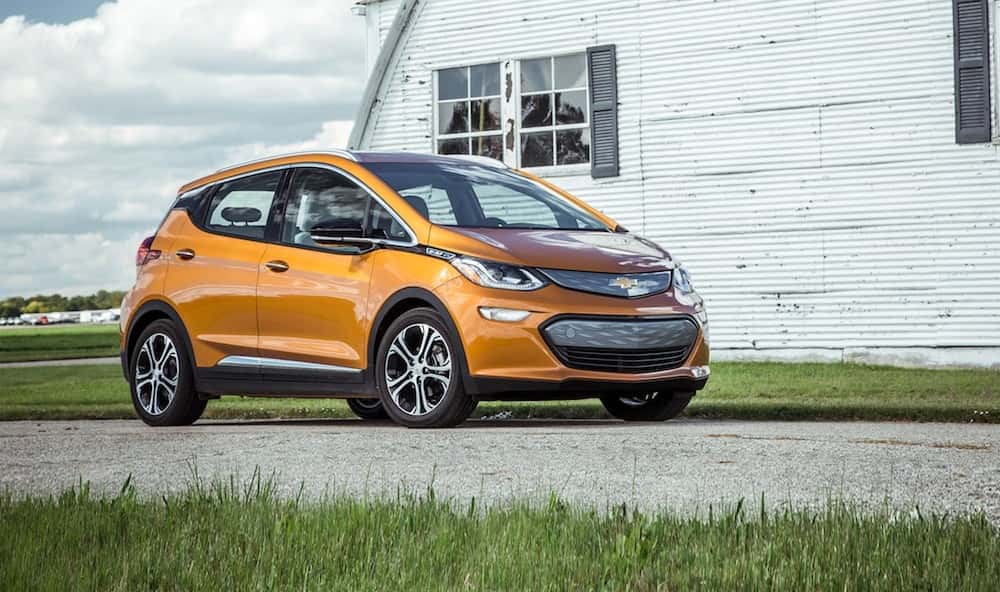 You've probably heard the news: Volvo is going all electric. Yup; by 2019 Volvo plans to say goodbye to the combustion engine by installing electric motors into each of its new cars. While this is huge news for the industry, we can't say we are surprised. Thanks to the Chevy Bolt EV – MotorTrend's Car of the Year for 2017, going all electric is cooler, easier and more affordable than ever before. If you're looking for cars for sale, why not get a jump on what is sure to be the next big thing?
According to HuffPost Business, "In just the next four years, electric vehicle sales around the world are expected to rise to 3 million from 700,000, the record set in 2016. By 2021, electric vehicles will account for roughly 5 percent of light-duty auto sales in Europe, up from 1 percent now, and for 4 percent in both the United States and China." Clearly, the electric car isn't going anywhere, so why not start acclimating to it now? The Chevy Bolt offers drivers the chance to get behind an all-electric model that won't break the bank and is actually fun to drive. Don't believe us? Take a look at what MotorTrend calls "a world-class small car."
Performance
As you've probably gathered by now, there is no standard engine in the 2017 Chevy Bolt. Instead, the Bolt is powered by a 60-kWh lithium-ion battery and a 200-horsepower electric motor. For those of you used to combustion engines, you may be wondering what exactly that means in terms of the Bolt's speed and agility… what it means is that the Bolt is a nippy little thing. How nippy? Try zero to 60 miles per hour in just 6.5 seconds.
Not only will you be zooming away from the red lights, but you'll also be flying past those suckers at the gas pump. The 2017 Chevy Bolt will travel 238 miles just on one charge. Of course, the caveat here is that a full charge will take about nine hours to achieve running off a 240-volt outlet, so you're going to want to plan accordingly, but as the popularity of electric vehicles grows, so does the availability of public charging stations. Additionally, you can equip your 2017 Chevy Bolt with fast-charging equipment, which will give you 90 miles of range in just about thirty minutes of charge time. No matter how you choose to charge your Bolt, you'll be saving serious money by avoiding fluctuating gas prices.
Interior Amenities
While the performance of the 2017 Chevy Bolt sounds great, it's definitely not enough to have also secured the title of 2017 North American Car of the Year and 2017 Green Car of the Year. Nope, the 2017 Chevy Bolt has received all of those accolades because it's just a really great car, in addition to being electric. Coming in two trim levels, the LT and Premier, most buyers will be more than satisfied with the base model LT.
What comes in the 2017 Chevy Bolt LT? More than you were expecting is our guess. Opt for the LT and you're going to love having plenty of options to blast your tunes as the car comes with Apple CarPlay, Android Auto, AM/FM and Satellite radio, Bluetooth, two USB ports and a six-speaker sound system, all operated by a 10.2-inch touchscreen and the Chevrolet MyLink infotainment system.
Don't really care about blasting beats? That's cool, because the the Bolt also offers a rearview camera, a 4G LTE WiFi hot spot, OnStar capability, cloth upholstery, power windows, power mirrors and power doors, a push-button start, proximity keyless entry, heated side mirrors, manually adjustable seats and cruise control. You may not care about the sound of music, but we're willing to bet something on that list of luxuries has grabbed your attention.
Still not impressed? Okay – well, why don't we discuss package options? For just $555, you can add the Comfort and Convenience package to your 2017 Chevy Bolt. Perfect for those in cold climates, the Comfort and Convenience package gives you an auto-dimming rearview mirror, heated front seats and a heated steering wheel. Less worried about heat but really want some additional safety features? The Driver Confidence package will cost you $495 and will give you the peace of mind that comes with rear parking sensors, lane change assist, blind spot monitoring and rear cross traffic alerts.
Or, you could just upgrade to the Premier trim. The 2017 Chevy Bolt in Premier gives you the added comfort of leather upholstery, a 360-degree view camera, heated front and back seats, luggage rack rails and all of the features of the Driver Confidence package. You also have two optional packages in the Premier trim – the Infotainment Package and the Driver Confidence II package. At $485 the Infotainment Package gives you two additional USB ports, a seven-speaker Bose sound system and wireless charging capability. The Driver Confidence II package is $495 (but really it's $980 because you need the Infotainment Package as well) and it offers forward collision warning, lane departure warning, automatic high beams headlights, and emergency automatic braking with pedestrian detection.
What's a car that starts out so loaded going to set you back? The 2017 Chevy Bolt LT has a starting MSRP of $36,620, while the Premier starts at $40,905. However, before you pull the plug on the idea of going electric, remember that there are both federal (and in some places, state) tax incentives for driving an electric vehicle. Your actual cost to drive the Chevy Bolt may wind up being much lower.
Safety
Full disclosure: in the past, the one thing that held us back from fully recommending the 2017 Chevy Bolt was the lack of crash test data. However, all that changed in June when the Insurance Institute for Highway Safety finally released its test results. What did the IIHS have to say about the Bolt? In their own words:
The Bolt earns good ratings in all five of the Institute's crashworthiness tests — small overlap front, moderate overlap front, side, roof strength and head restraints. It also has an optional front crash prevention system that earns a superior rating. The car avoided collisions in IIHS track tests at 12 mph and 25 mph, and the system has a forward collision warning component that meets National Highway Traffic Safety Administration criteria.
The 2017 Chevy Bolt can now add another accolade to its list – IIHS Top Safety Pick.
Beat the Crowd, Buy the Bolt
So go ahead, buy the Bolt – with crash tests proving the Bolt is actually all its cracked up to be, you have our full permission. In fact, we urge you – cut the line of people waiting to try an electric Volvo. The best is already here, and its name is Bolt.