Why Wait for Your Perfect Chevy Truck?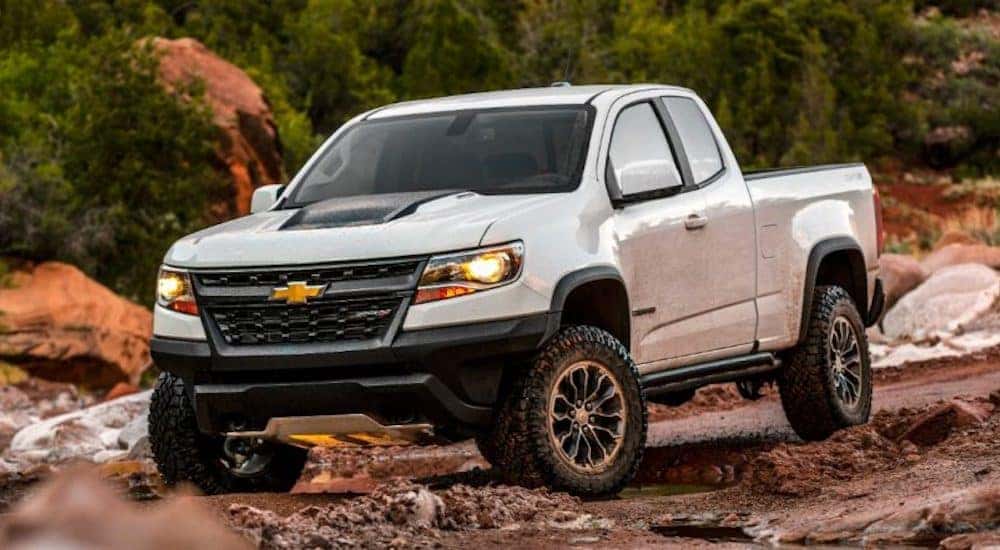 While many dealerships may be content to remain focused on moving units, selling customers on the merits of their current inventory, we at DePaula Chevrolet prefer to focus on the needs of our customers; helping them to buy the vehicle that they actually want.
For some customers, those needs might be driven by budget, by a desire to gain better performance or improved fuel economy, or even simply by aesthetics. But when it comes to our truck customers, DePaula Chevrolet recognizes that their needs may be defined far more clearly. Why? Because the need for a truck is based on the need to get a job (or jobs) done. And the nature of the job(s) helps to define the features most important to the prospective buyer.
With that in mind, Chevrolet makes it easy to find an offering perfectly outfitted to meet the demands of most any job. From the labor-intensive nature of commercial use to more practical and recreational endeavors, Chevy has every kind of truck driver covered. Whether you're in search of a more bare-bones, utilitarian work truck or  And DePaula Chevrolet takes great pride in our extensive selection of new, pre-owned and certified Chevy trucks, making it even easier to find that perfect fit.
New Models
It's hard to argue that one of the most important features in a truck is dependability, the assurance that you'll be able to complete the task at hand. That said, it's hard to argue Chevy's ability to provide such an assurance, having earned J.D. Power and Associates' Dependability Awards across their entire line 2 years in a row.
But there are far more accolades to explore, beginning with the 2018 Chevy Colorado.  Celebrated by Kelley Blue book for its '5-Year Cost to Own' value, the Colorado earned 'Top Pick' status from the likes of edmunds.com, Autobytel and U.S. News & World Report.
The midsize Colorado is a perfect choice for anyone that doesn't need the heavy-duty capabilities of a full-size Silverado. Offering a smooth, car-like drivability and competitive fuel economy, there's a lot to like about the Colorado.
Available in both extended and crew-cab body styles, with two-bed lengths, the Colorado comes in five primary trim levels. Depending on the trim level selected, there are a number of powertrain options available, beginning with the 'work truck' 2.5-liter four-cylinder rated for 200 hp and 191 lb-ft of torque. More demanding needs may call four the 3.6-liter V6 that channels 308 hp and 275 lb-ft of torque, while some might prefer the 2.8-liter turbocharged four-cylinder diesel variant, with its 181 hp and 369 lb-ft of torque rating. Properly-equipped, the Colorado earns a max tow rating of up to 7700LBS and a 1548 LB max payload.
And of course, there's the iconic Chevy Silverado. Recognized by KBB.com for its '5 Year Cost-to-Own' and 'Best Resale' value, the Silverado has also earned J.D. Powers' award for 'Most Dependable Large Heavy Duty Pick-up' a staggering three years in a row.
As the best-selling vehicle in the GM line-up, the full-size Silverado comes in any number of configurations. From the confidence of the 1500 to the sheer capability of the 2500HD and 3500HD models, the Silverado can channel as much as 445 hp and 910 lb-ft torque with a max tow rating of up to 23,300 LBS.
And rest assured that the perfect fit (be it Colorado or Silverado) will be equipped with as many available technologies as you want. This is a hallmark of any Chevy offering, and their trucks are no exception.
Pre-Owned Inventory
And for those looking to buy a pre-owned Chevy truck, DePaula Chevy is proud to offer a wide inventory of model and model years to choose from. Take the time to explore our inventory here at depaula.com and see everything that we have to offer.
For every vehicle in our inventory, we offer an in-depth online profile, detailing everything from the manufacturer specs to those features unique to the vehicle itself. Whether you explore each vehicles extensive photo gallery or their video tour, we provide countless ways to familiarize yourself with our inventory. And with the click of a mouse or the swipe of a finger, you can even pull up a CarFAX vehicle history report to help you proceed with confidence.
Certified Pre-Owned
Looking for more assurance in the purchase of a pre-owned Chevy truck? Why not explore our selection of GM-Certified inventory? This selection of models have met specific criteria to qualify for extended coverage backed by both General Motors and DePaula Chevrolet.
Consider the assurance of buying a pre-owned truck if it were produced within the last five model years had a clean CarFAX vehicle report and had been driven less than 75,000 miles. This alone speaks to the vehicle's longevity, and long-term reliability, allowing you to consider a pre-owned model with far more confidence.
Visit DePaula Chevy
Whether you're interested in a new, pre-owned or certified Chevy truck, there's no better destination than DePaula Chevrolet. Much like Chevrolet, we take great pride in an award-winning reputation built around putting our customers first.
Along the last seven years, DePaula Chevrolet has been honored by General Motors having been named (7x) GM Dealer of the Year (7x) GM Standards of Excellence in Leadership and (6x) recipient of the GM Genuine Leadership award. We feel that this represents our dedication to our valued family of customers and our joy of putting them behind the wheels of some of the finest vehicles on the road today.
From our supportive sales and internet sales team to our skilled team of certified technicians, we aspire to create a truly satisfying buying (and owning experience). Come visit DePaula Chevrolet today, where your perfect Chevy truck is waiting for you.