Why the Chevy Tahoe & Suburban Want You to "Say When"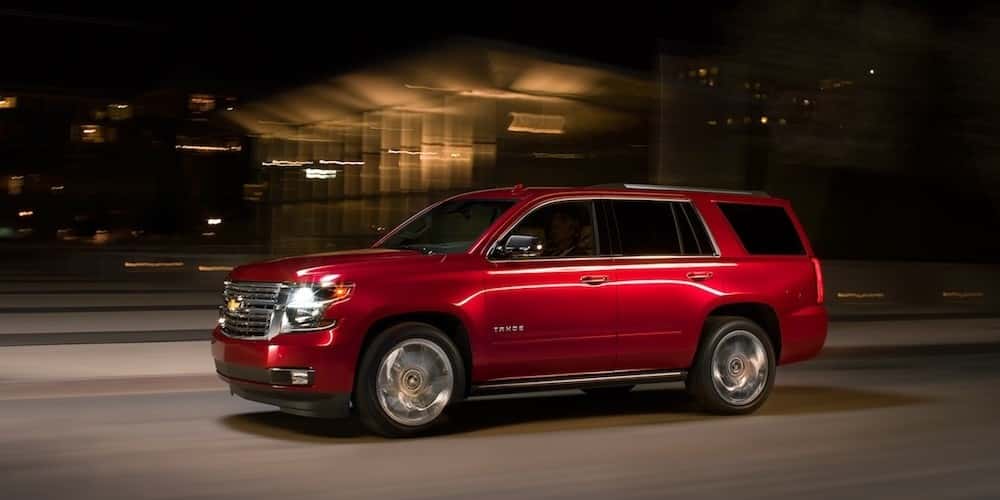 If you find yourself in the market for a Chevy SUV, you're probably aware that Chevrolet offers one of the most diverse and effectively-tiered lines of crossover SUVs. But if the sedan and wagon-styling of the Trax and Equinox aren't your cup of tea, you still have plenty of options available to you. Granted the Traverse still walks a fine-line, but through the Tahoe and Suburban, Chevy SUV offerings assure us that body-on-frame design is alive and well. This sets them apart with confidence, reassuring us that SUVs can still convey a sense of utilitarian purpose, rather than focus solely on family-centric amenities.
That's not to say that the Tahoe and Suburban aren't designed with families in mind; quite the contrary, actually. But with their truck-like design and drivability, both are very successful in reminding us of the invisible underscore that separates crossover from SUV.
The Tahoe
Named "Most Dependable Large SUV" by J.D. Power and Associates, the Chevy Tahoe remains the best-selling full-size SUV year after year. And with a commanding and iconic body style, and a wealth of passenger friendly amenities within a cavernous cabin it's easy to understand why.
While there are more innovative designs out there, the minimalist exterior of the Tahoe speaks to confident simplicity rather than omission. Almost as if it's saving its energy, the quiet contentment of the Tahoe's body styling compels you to look deeper.
Powered by a 5.3-liter V8 (paired with a six-speed automatic transmission) the Tahoe serves up 355 horsepower and 383 lbs-ft of torque. Properly equipped, it also boasts outstanding towing capacity, with the four-wheel drive model able to accommodate 8,400 LBS and the rear-wheel drive able to pull 8,600 LBS. With strong acceleration (0-60 mph estimated at 7.3 seconds) and extremely competitive fuel economy (18-19 mpg combined) there's plenty to be excited about.
Then you step inside. Whether you're looking at the LS, LT or Premier trim, the spacious design maximizes every inch created by the simplicity of the exterior. The (base) LS trim can be configured to seat nine passengers, while the higher trims are limited to seven.
Coming standard in the LS trim are countless amenities one might not expect at the entry level. Bluetooth-enabled for both phone and audio, the MyLink infotainment is build around an 8-inch touchscreen and a six-speaker sound system with HD & Satellite Radio, CD, Auxiliary and five USB Ports, mobile app compatibility, and Apple CarPlay / Android Auto. 4G LTE Wi-Fi takes it to the next level and OnStar functions include Navigation.
Step up to the L trim, and enjoy the enhancement of leather upholstery, heated front seats, a nine-speaker BOSE audio system, and power liftgate. Journey further to the Premier trim and gain Magnetic Ride Control suspension and a surround-sound upgrade. A number of additional enhancement packages are available.
The Tahoe may have a very specific audience, but it never fails to keep their attention. Just remember that this is a truck-based SUV, and its handling will be different from the likes of a Traverse. Maneuverability and ride-comfort will also be lessened, but if you're not interested in sedan-styling, the Tahoe stands guard at the line assuring you that you're now in full SUV territory.
The Suburban
And if the Tahoe helps to guard the line, the Suburban (at 17 feet in length) stands unwavering behind it, at the full-size end of the SUV spectrum.
Powered by the same 5.3-liter V8 as the Tahoe, the Suburban brings an identical 355 horses and 383 lbs-ft of torque. Properly equipped, a rear-wheel drive Suburban can tow as much as 8,300 LBS, keeping it in line with the Tahoe. Acceleration (0-60 mph in 7.2 seconds) and fuel economy (18-19 mpg combined) are also matched, and better than competitor ratings.
Trim levels also run parallel to those of the Tahoe. But this isn't redundancy; it's a testament to Chevy's consistency across the line, and the ability to merge the performance expectations of a large SUV with luxury amenities. Considering the number of passengers the Tahoe can accommodate, we're sure they would appreciate the overall experience. Whether you value the "perks" or the utility, the Suburban offers options for further customization. Enhance the passenger experience further with the Luxury Package – or increase functionality with crossbars and cargo rails, courtesy of the Texas Edition Package.
The Suburban is unapologetic in its existence. It knows what it is, and has no desire to be anything less. That said, it's ready for almost anything that you throw at it (can you the say the same?)
Which is Right for You?
As with any vehicle choice, it boils down to your needs and preferences. Both the Tahoe and Suburban are more than capable passenger vehicles, offering power and great towing capacity, while avoiding any conventions of sedan-based crossover styling. Since they share the same engine specs, any difference in performance is proportionately nil, as is the difference in towing capacity (approx. 4% or 300 LBS). And with a nearly identical array of available technologies and features, the predominant factors are limited to differences in pricing and size.
You can expect to pay less with the Tahoe, but the overall difference in tiered pricing across trim levels is surprisingly minimal. Both seat nine, but the Suburban bests the Tahoe (as expected) in cargo capacity, with an additional 24 cubic feet of dedicated cargo space and an expansive 30 cubic feet, overall.
All things being equal, you should consider how much space you truly need. While both come with a substantial footprint, the Suburban is just enough of a beast that you should ask yourself, "How much is too much?" If you're not intimidated, maybe the Suburban is right for you, and if it exceeds your needs, consider the Tahoe. Either way, you won't be disappointed.