Why the 2018 Chevy Corvette Z06 Is More Than a Sports Car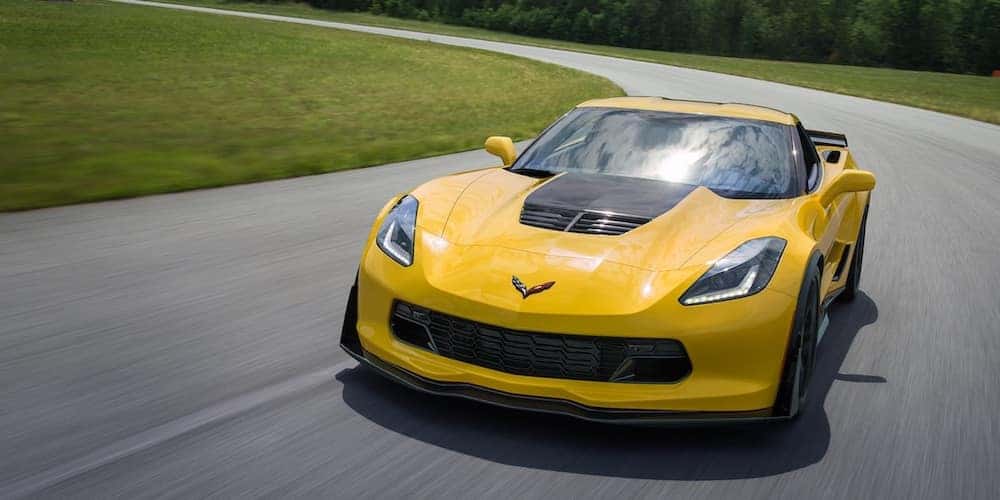 If you're currently shopping around for a new sports car, you may be surprised to learn that a number of brands now have an athletic, stylish sedan. However, few of these options tend to deliver all of the major amenities and capabilities that a driver generally expects from a sports car. Specifically, performance, technology, safety, and style tend to be compromised in some way, leaving owners rather disappointed with their selection.
Fortunately, there won't be any second-guessing if a consumer pursues the incredible 2018 Corvette Z06. The vehicle ultimately delivers many of the amenities and capabilities that these specific customers are seeking, and these attributes combine to deliver a unique, optimal driving experience.
Below, we've explored some of the major reasons why the impressive 2018 Chevy Corvette Z06 isn't your typical sports car. Continue reading to understand what the nameplate truly has to offer. Before long, you'll be heading to a local dealership to submit an initial inquiry…
Performance
You'd be hard-pressed to find a sportier vehicle on the market than the incredible 2018 Corvette Z06. Therefore, it shouldn't be all that surprising that the vehicle is equipped with an absolutely incredible engine. The 6.2-liter V8 engine is capable of pumping out all of the muscle you could possibly ask for from a new sports car, including an awe-inspiring 650 horsepower and 650 pound-feet of torque. This ultimately has its predictable influence on performance specs, including a wild 0-to-60 mile per hour time that's south of three seconds. In other words, if you opt for this particular model, few drivers will be able to keep up with you.
Of course, a number of additional mechanical components play a significant role in this vehicle's incredible amount of power. The brand's unique dry-sump oil system, Direct Injection technology, and Continuously Variable Valve Timing will have a positive influence on both speed and acceleration, allowing drivers to fully appreciate everything the accompanying engine has to offer. Meanwhile, the various tire offerings (including the rugged Michelin Pilot Super Sport ZP summer-only tires) promise optimal road grip, meaning customers with always be in complete control of their ride. The Magnetic Selective Ride Control will allow drivers to remain "planted," while the available Z07 Performance Package maximizes the vehicle's aerodynamics (which also has a positive influence on performance).
To keep track of your 2018 Corvette Z06's incredible performance numbers, the brand's engineers also included a Performance Data Recorder, which allows owners to monitor the respective specs at all times. Drivers can also utilities the accompanying SD memory to inspect their driving habit and how they influence performance, and they can then revise their driving style to better capitalize on all of the power benefits!
Technology
If you're going to be behind the wheel of the 2018 Chevy Corvette Z06, there's a good chance that you'll solely be focused on the car's incredible performance capabilities. However, in the event that you're, say, stuck in traffic, you'll be relying on some of the car's additional amenities to keep you occupied. Fortunately, the sports car is equipped with the brand's Chevrolet MyLink touch-screen display, which provides quick and easy access to a number of notable applications. Plus, thanks to the Apple CarPlay and Android Auto compatibility, drivers can seamlessly connect their smartphone to the unit, allowing them to make phone calls, send messages, or jam out to their favorite playlists. If you are going to be listening to your preferred tunes, you'll also appreciate the inclusion of the Premium Bose audio system, which delivers an unmatched listening experience.
The unit provides a number of additional amenities, as well. The drop-down center screen will provide access to a hidden compartment, meaning occupants will have a space to hide their valuable cargo. The space also has a built-in USB port, meaning you can constantly keep those valuable gadgets fully juiced. To top it off, drivers can opt for the available built-in 4G LTE Wi-Fi, which provides a strong wireless internet connection for up to seven devices. Therefore, if any of your passengers are required to complete work while they're on the road, it will be possible in the 2018 Corvette Z06.
Safety
When you consider all of the power that's lingering under the 2018 Corvette Z06's hood, it shouldn't be surprising that engineers also added a number of appreciated safety functions. These inclusions are intended to keep drivers out of harm's way by preventing accidents from occurring altogether.
For instance, the Active Handling and Traction Control system allows drivers to always have an optimal handle on their vehicle, assuring that they never feel out of control. Meanwhile, the Bi-Xenon headlamps will make your presence known from yards and yards away, while the four-wheel antilock brakes will optimize stoppage power when necessary. In the event of an emergency, drivers can trust that the light aluminum frame will absorb the majority of a collision's energy. If help is needed, drivers can also turn to the OnStar Automatic Crash Response system, which will vicariously send emergency personnel directly to the site of the crash.
Style
Of course, if you're pursuing the striking 2018 Corvette Z06, there's a good chance that you're hoping to impress your fellow drivers. Well, Chevy makes that more than possible thanks to their array of various paint colors. Regardless of which option the customer ultimately chooses, we're confident they'll be satisfied with their selection. The various offerings include:
Admiral Blue Metallic
Arctic White
Black
Blade Silver Metallic
Ceramic Matrix Gray Metallic
Torch Red
Wakins Glen Gray Metallic
Corvette Racing Yellow Tintcoat ($995)
Long Beach Red Metallic Tintcoat ($995)
Sebring Orange Tintcoat ($995)
Thanks to this laundry list of paint options, owners will truly be able to find a paint color that fits their desired vehicle persona.
There's no denying that the 2018 Corvette Z06 provides much more than the typical sports car, and that's a huge reason why consumers should have the nameplate atop their list!