Why the 2017 Chevy Tahoe Earned The "Most Dependable Large SUV" Award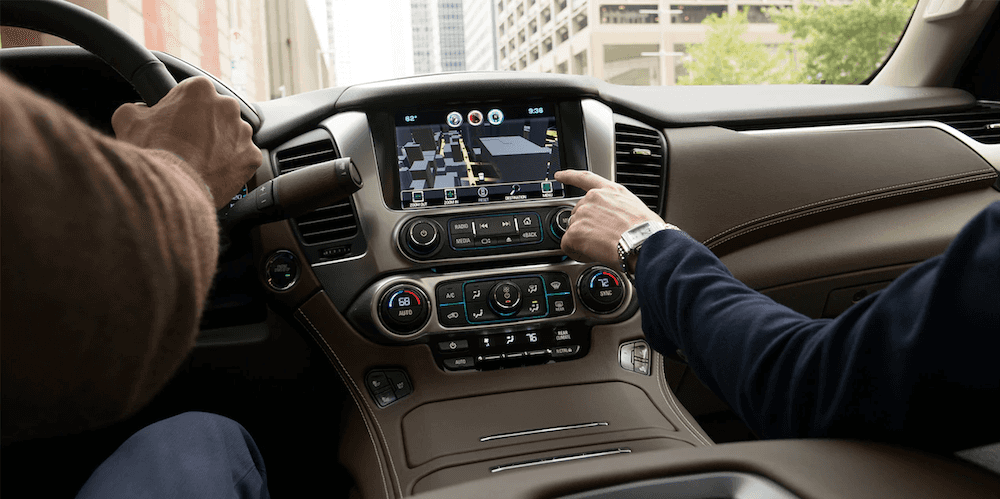 There are a number of publications and organization that award accolades to various car brands or models. Sometimes, you may wonder how a particular nameplate could have earned such a distinction. For instance, you'll sometimes see pickup trucks earning praise for their sportiness, or perhaps you'll see a smaller sedan get awarded for its power. It often feels like those who hand out these accolades failed to actually check out their respective vehicles in the first place.
However, there is one vehicle and accompanying award that are truly a match made in heaven. The 2017 Chevy Tahoe was recently named the Most Dependable Family SUV by J.D. Power and Associates. If you've ever taken one look at this vehicle, you'll know that the accolade is well deserved. After all, the Tahoe provides owners with all of the amenities and capabilities they should expect from a "dependable" ride, including optimal performance, reliable safety, and a host of interior features.
Below, we've explored why the 2017 Chevy Tahoe more than earned it's "most dependable" moniker. This should only emphasize why you should opt for this nameplate as you're shopping for Chevy SUVs in Albany…
Performance
The 2017 Chevy Tahoe's accompanying engine delivers all of the power you'd expect from a hulking SUV. However, considering the "smaller" stature of the nameplate (at least when compared to other large SUVs), the unit also manages to deliver an impressive fuel efficiency.
The 5.3-liter V8 engine is one of the most powerful units out there, as drivers can ultimately anticipate 355 horsepower and 383 pound-feet of torque. This leads to a number of impressive performance numbers, including an 8,600-pound towing capacity (specifically when the vehicle is equipped with a Max Trailering Package). Plus, drivers can also anticipate an impressive 23- mile-per-gallon highway fuel efficiency, numbers that are usually reserved for significantly smaller SUVs. As a result of this attribute, owners can expect to save some extra money at the gas pump.
Safety
Considering all of the power that the Tahoe is capable of cranking out, drivers will surely need to rely on a number of safety functions. Fortunately, Chevy's engineers accounted for this, as they included a number of notable features that should help prevent accidents from occurring altogether. It starts with the brand's partnering Low-Speed Forward Automatic Braking and the accompanying Forward Collision Alert, which can determine when a collision is imminent. Drivers will be warned via audible or visual cues, and if they don't respond, the vehicle will automatically apply the brakes to lessen the impact. If drivers prefer, the Safety Alert Seat will vibrate when a collision is impending. Meanwhile, the Side Blind Zone Alert will provide these drivers with an extra set of eyes, alerting them when it may be unsafe to switch lanes. Ultimately, each of these individual features should help reduce the chance of an accident.
If you're looking to reduce fender benders and maintain the condition of your new ride, then the Rear Vision Camera will be an appreciated feature. Drivers can use the system to monitor everything that's happening on their ride, while the accompanying Rear Cross Traffic Alert will notify the driver when an object is about to cross their path. There's even a Rear Park Assist, which can guide the Tahoe into a parking spot without compromising the vehicle's well-being.
Technology
Of course, drivers are searching for interior amenities, as these various inclusions will help elevate the entire driving experience. Thanks to the addition of an eight-inch-diagonal cluster with the accompanying Driver Information Center, useful applications like radio or navigation will always be a push of a button away. Meanwhile, thanks to the Apple CarPlay and Android Auto compatibility, drivers can seamlessly connect their smartphone, meaning they can make phone calls or listen to their favorite playlists.
Have to complete work while you're on the road? Well, the available 4G LTE Wi-Fi is an amenity that you should consider. The system delivers a strong wireless internet connection for up to seven different devices, meaning your occupants will always be able to stay on the grid. If you're going to be using your different gadgets, then the seven USB ports, 100-volt three-prong outlet, and wireless charging station will surely be a popular inclusion. Owners will even have access to the brand's unique myChevrolet Mobile Application, which allows drivers to remotely access their vehicle at all times. If you forgot to lock your doors or want to warm up your cabin before an impending commute, it's all possible thanks to this smartphone program.
Finally, the Head-Up Display is one of the brand's more clever technological inclusions. This system will showcase important information right on the windshield, meaning the driver doesn't have to strain their neck as they're attempting to view information. Whether you need to see your fuel efficiency, speed, or vehicle diagnostics, it will be showcased right in front of you.
Interior
Of course, if you're pursuing an SUV, there's a good chance that you're enticed by the vehicles' array of interior space. Well, the Chevy Tahoe more than delivers in this regard, as the SUV will provide owners with all of the cargo room they could possibly need. When drivers ultimately hide all of the seats, they can capitalize on the incredible 94.7-cubic-feet of space, which is more than enough room to fit any cargo or luggage. Plus, engineers cleverly included the brand's power-release second-row seats and power fold-flat third-row seats, making it incredibly easy to configure your interior to your liking. In other words, you'll never have any issues fitting any combination of passengers and cargo.
Speaking of the interior, the Tahoe also provides drivers with one of the quietest driving experiences in the entire class. The inclusion of the acoustic-laminated windshield and the inlaid doors with triple seals will assure that the sound of the howling wind or growling motor will never get inside of your cabin. This means you can better appreciate your conversations or any radio program.