Which Silverado Heavy-Duty is Right for You?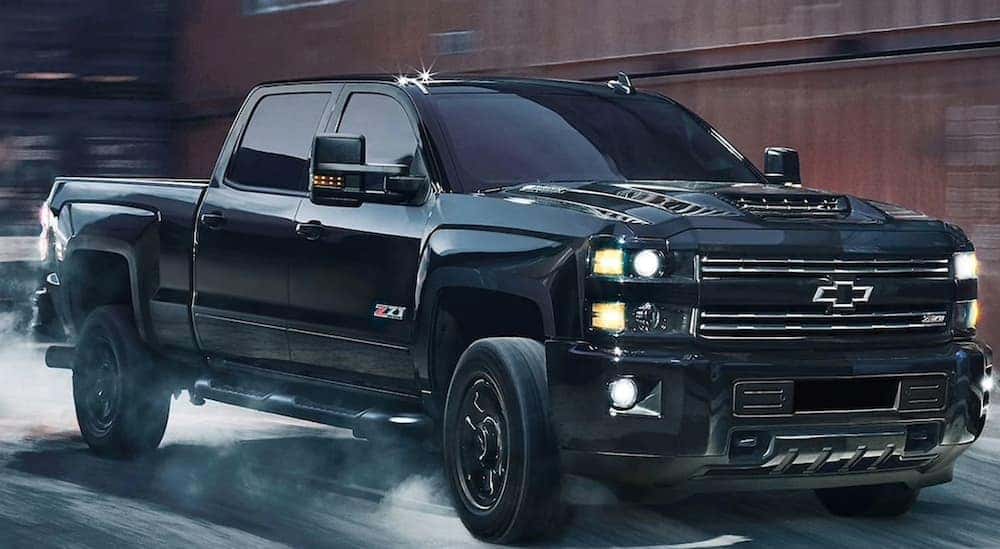 Choosing the right truck is an important decision – whether you need it for work, play, or both, the investment you make in a pickup is most rewarding when you get just the right vehicle. There are a lot of great reasons to choose Chevy trucks in Albany, NY, but you need to make sure you know which truck is right for you. Even if you narrow down your choices to a heavy-duty model, then you still need to decide on exactly which one.
There are primarily two heavy-duty pickups to consider from Chevy, the Silverado 2500HD, and the Silverado 3500HD, and while there are a lot of similarities between them, there are also some big differences. The largest distinction, overall, is the amount of weight they can handle in terms of both towing capacity and payload – with the 3500HD coming out on top in both categories. Of course, the 3500HD is also more expensive than the 2500HD, so you need to decide on which one offers you the power you need without going overboard.
Here at DePaula Chevy, we are always interested in making sure our customers drive away with the perfect vehicle for their needs. Let's take a look at these two heavy-duty options and see which one is the right choice for you. We'll also consider another option that is available if you find neither of these offers quite what you're looking for in a Chevy truck in Albany, NY.
Similarities of the 2500HD and 3500HD
In determining which heavy-duty Chevy truck is right for you in Albany, NY, let's start by looking at how the two models are similar. Both the 2500HD and 3500HD are Silverado models and feature all-new designs for 2020. Last year the standard Silverado received a major overhaul, and this year the heavy-duty models are getting that same treatment.
The new heavy-duty pickups feature fantastic options like improved trailering technology that makes it easier to connect your trailer and safer to maneuver on the road. You can utilize up to 15 camera views with the all-new Silverado HD pickups while trailering for unmatched visibility and safety. Two engines are available for both the 2500HD and 3500HD: a standard 6.6L V8 gas engine that offers up to 401 hp and 464 lb-ft of torque, and an available 6.6L Duramax Turbo-Diesel V8 that can provide up to 445 hp and 910 lb-ft of torque.
Differences – Payload Potential
Now that that's out of the way let's start looking at how these two pickups are different and figure out which is the right Chevy truck in Albany, NY for you. To begin with, let's look at payload limits for these two trucks so you can get a sense of how they stack up. Just to be clear, "payload" refers to how much weight a pickup can carry on itself – so this includes you and your passengers, anything you have in the cab, and anything you load up in the bed.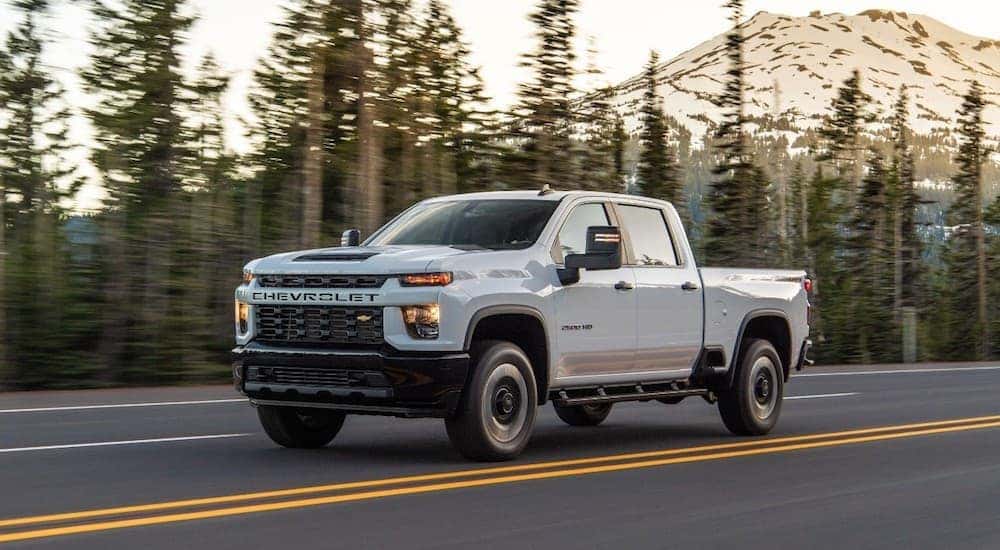 The 2020 Chevy Silverado 2500HD has a maximum payload, when configured with the standard engine, a regular cab, and 2WD, of up to 3,979 lbs. The least efficient configuration for the 2500HD gives it a maximum payload of up to 3,536 lbs. So, in other words, depending on how you configure your 2500HD, it will have a maximum payload of somewhere between 3,536 lbs and 3,979 lbs.
By comparison, the maximum payload for a standard 2020 Chevy Silverado 3500HD is 4,534 lbs – that's with a regular cab, 2WD, and the standard engine. If you choose the least effective configuration for payload, the 3500HD still has a maximum payload of up to 4,013 lbs – so the 3500HD can have a payload between 4,013 lbs and 4,534 lbs depending on how you configure it. However, it should be noted that you can get a 3500HD with dual rear wheels, which can boost that payload to up to 7,442 lbs.
Differences – Towing Capacity
As you can see, the 3500HD offers you a good amount of payload beyond what the 2500HD can handle – though configuration plays a big part in that. But what about towing? Glad you asked.
When trying to figure out which Chevy truck is perfect for you in Albany, NY, the maximum towing on each model is very important. The 2020 Silverado 2500HD has a maximum towing capacity of up to 18,500 lbs. This is only if you choose a crew cab with the turbo-diesel engine and either 18-inch or 20-inch tires – otherwise it has a maximum towing of 14,500 lbs.
By comparison, the 2020 Chevy Silverado 3500HD has a maximum towing capacity of up to 20,000 lbs if you choose a configuration with the turbo-diesel engine. That's not a huge improvement over the best the 2500HD can do, but 1,500 lbs can make a big difference if you need it. Other configurations of the 3500HD have a maximum towing capacity of between 14,500 lbs and 16,800 lbs.
Seeing such a small difference between them, you might wonder why someone would pay more for the 3500HD. The answer often comes down to gooseneck or 5thwheel trailering, where the full power of the 3500HD reveals itself.
Differences – Gooseneck Towing
Once again, the configuration of each of these trucks can play a big role in how much it can tow with a gooseneck setup. With that in mind, the 2020 Chevy Silverado 2500HD has a maximum gooseneck trailering rating of up to 18,500 lbs when properly configured. If you check that against conventional towing, you will see there's no real difference. In other words, whether you use a standard trailer hitch or a gooseneck, the 2500HD has the same limit.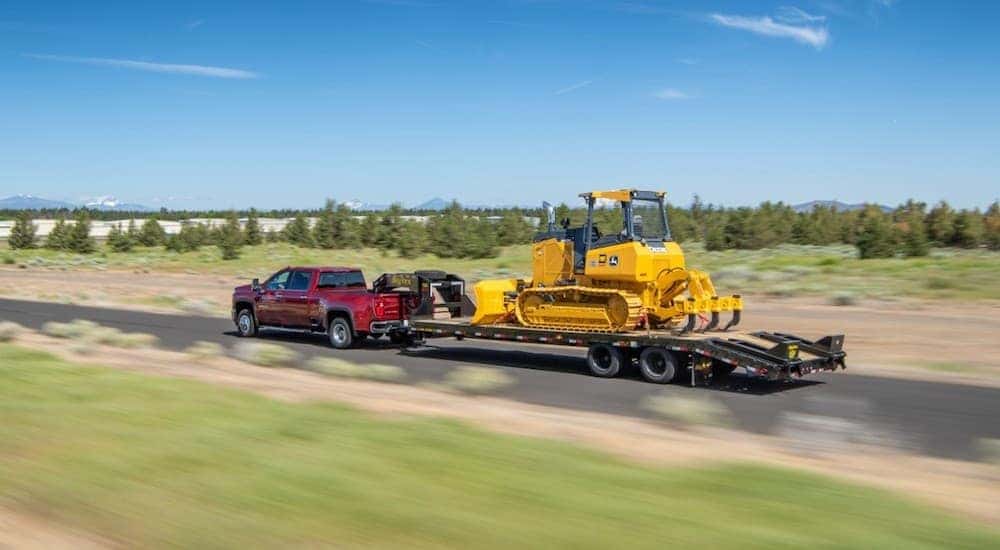 The Silverado 3500HD, on the other hand, truly shines if you are interested in gooseneck towing. When properly configured with a regular cab, the turbo-diesel engine, and a dual rear-wheel configuration, the 3500HD reaches a maximum gooseneck towing capacity of up to 35,500 lbs. You read that right – nearly double the gooseneck towing capacity of the 2500HD and a full 15,000 lbs more than the 3500HD can pull through conventional towing. So if you're interested in using gooseneck towing to haul some serious weight behind you, then the answer seems pretty clear.
The Chevy Silverado Chassis Cab
If, after looking at these specs, you are interested in this level of power, but the standard configuration of a pickup truck isn't right for you, then consider one more option. You can choose a Silverado Chassis Cab for commercial use, which offers the power of HD Chevy trucks while giving you freedom in what kind of body you place behind the cab. More advanced models are available for these kinds of commercial applications, including a 4500HD and 6500HD.
So Which One is Right?
The answer to this question is going to come down to what you're looking for and what you need in a Chevy truck. In general, take some time to figure out the highest amount of payload and towing you need in a pickup truck and then use the specs for the Silverado 2500HD and 3500HD to guide your answer. If you find the 2500HD is the right amount of truck for what you need, then it is a great choice. On the other hand, if the 2500HD falls short or you need to do some serious gooseneck towing, then the 3500HD is a clear choice.
If you're still not sure which truck is right for you, then come visit us at DePaula Chevy, and we'll help you find the perfect pickup for your needs.