Used Chevy SUVs for Under $15,000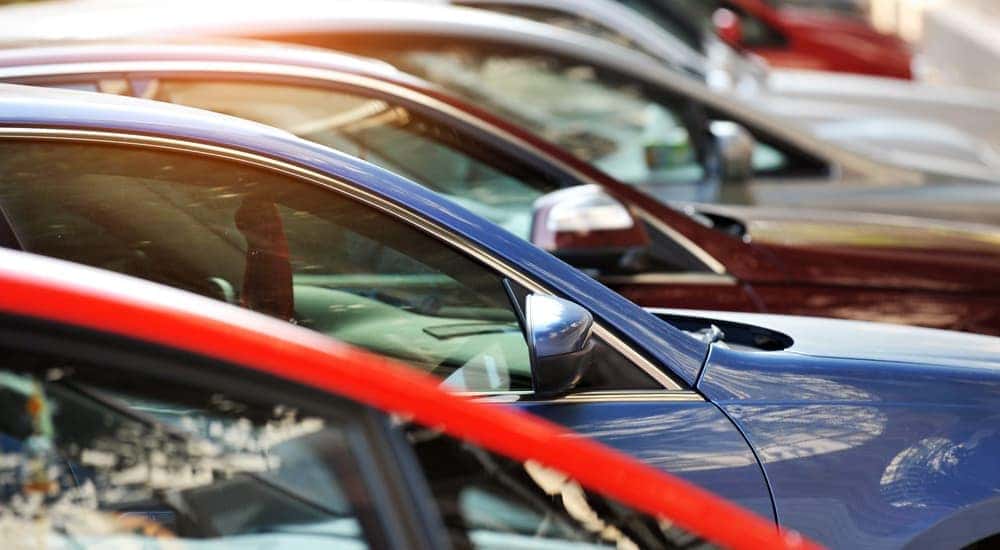 We know how exhausting a search for used cars for sale can end up being, and we're here to help with the process, with exciting financing options and great prices to simplify your search. And when we say great prices, we mean it. Let's take a look at what we're talking about. How about relatively low miles, priced under $15,000, and only 2­-3 years old? Did we mention we're talking about Chevy SUVs? That's right—these are vehicles that regularly arrive on our lot, though they don't stay long.
Every car is different with the many options and features to consider, so pricing can be fluid when considering the many variables. A couple of things to consider during your search is if you want to spend a little extra to get more features, or if you happen to fall in love with a car that has higher miles than you initially wanted. Our advice is to be open in your search because you never know when the perfect car or SUV will find you.
With that in mind, let's take a look at some of the options you probably did not expect to be so affordable. A quick example of Chevy SUVs that often roll through our lot: what if you were able to find a Chevy Trax with under 25,000 miles, an SUV that gets 31 mpg and has all-wheel drive? Does that sound like something out of your price range? You'd be surprised what you'll find, and that's just the beginning. Our inventory is filled with examples like this. Be sure to check out our under $15,000 section on our website.
What will you find there? Good question. Let's look at some of the SUVs that regularly come through at a price point we specialize in.
Chevy Trax
We'll start with the aforementioned Trax because it's one of our favorite SUVs in the Chevy lineup. This is a well-rounded subcompact SUV that was redesigned in 2017 with a new front end and improved interior, and new safety and infotainment technologies. Already one of the segment's most well-rounded cars, the 2017 model year is one to look out for. Consider what comes standard on this SUV: a 7-inch touch screen with a new infotainment system, Bluetooth audio streaming, two USB ports, rearview camera, and Apple CarPlay and Android Auto capability.
What additional features can you hunt for in your search? Keep your eye out for a sunroof, heated leatherette seats, remote-sensing keyless unlock with push-button start, a premium audio system, blind-zone alerts, rear parking sensors, you get the idea. Not only are you assured of finding the standard options mentioned earlier, but you're likely to find a car with even more amazing features at a great price.
Now let's take a look at the turbocharged engine. The Chevy Trax has a 1.4-liter turbocharged 4-cylinder with a 6-speed transmission. This provides a balance of power and fuel economy that you will appreciate. With 138 horsepower and 148 lb-ft of torque, you can still expect to get 25/33 mpg, and 24/30 for AWD models. This is the perfect car for moving around town and jumping on the highway.
You'll also appreciate the relative roominess of this subcompact SUV. When compared to other models in its class, such as the Mazda CX-3 and Nissan Juke, you'll find the Trax to be much more accommodating. With a bigger back seat and more cargo room, the Trax is a great choice if you're looking for a well-rounded SUV in the subcompact segment.
Chevy Equinox
The Chevy Equinox is a powerful compact SUV known for its affordability and tremendous value. You'll find the Equinox has a 100-horsepower edge over its competitors with the V6 engine, which makes it great for towing. A 3,500 lb towing capacity certainly would be nice from a compact SUV. If you're looking for fuel-efficiency, then we'd recommend looking for the 2.4-liter inline-4, which gets around 22/32 mpg.
Another feature the Equinox is known for is its rear-passenger space. This is one of the roomiest back seats in its class. If you find yourself hauling kids around town often, than this is the perfect SUV for you. Combined with its comfortable driving dynamics, this is an SUV built for the family.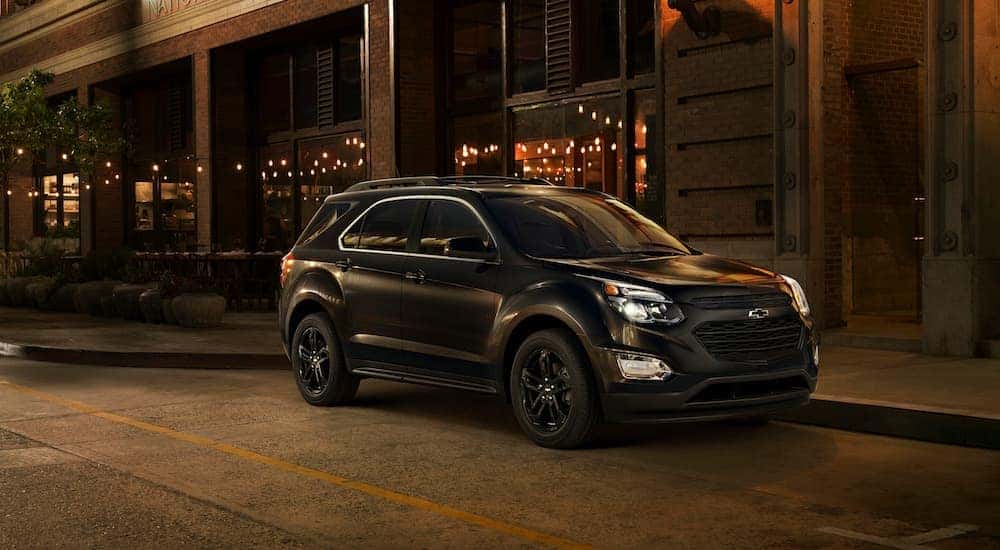 Though Chevy did not stop there when considering your family's comfort. Standard on the Equinox is an audio system with a 7-inch touch-screen display, a rearview camera, and air conditioning. Safety features are also plentiful: traction and stability control, multiple airbags, and that's just what comes standard.
Additional features you will want to check out: Chevy MyLink system with navigation, blind-spot detection, and rear cross-path detection, lane-departure warning and forward-collision alert, and a rear-seat DVD player. Very cool, and at this price point, you're sure to find a compact SUV for the family that fits into almost everyone's budget.
Chevy Traverse
This is one of the larger SUV offerings from Chevy, and so might be hard to find under $15,000, but if you're willing to go just a little higher, you will not be disappointed with the Traverse. Of course, you never know, a Traverse or two has been known to show up near the $15,000 threshold, so it's always a good idea to keep your eye out and check our website for new arrivals.
The Traverse boasts 3-row seating and a spacious cargo bay. Combined with its handsome design, this is a crossover SUV at home in any driveway. Standard on the Traverse is keyless entry, Bluetooth phone connectivity, AM/FM/CD/satellite audio with a 6.5-inch touch-screen display, a rearview camera, and front and rear USB ports, not to mention 4G LTE Wi-Fi connectivity.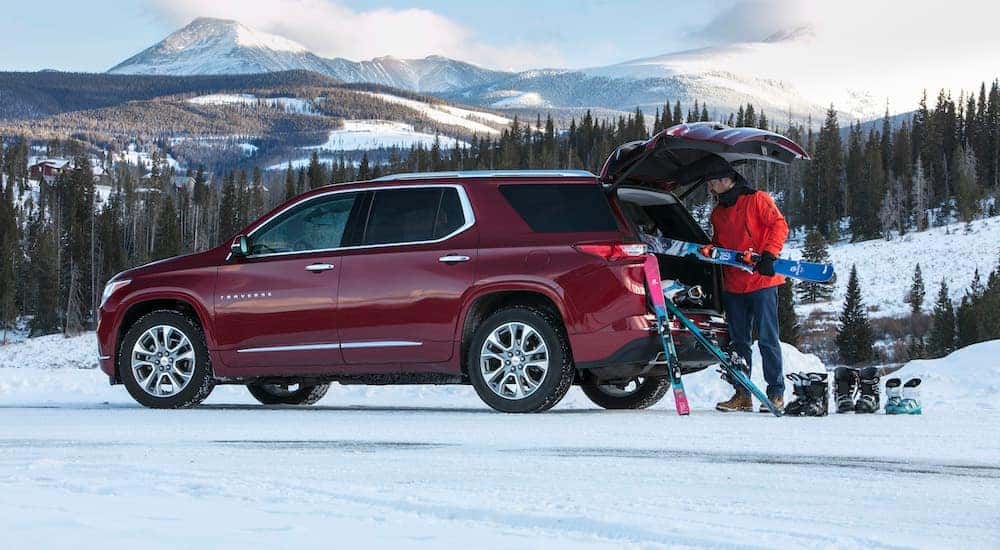 Did we mention it can tow up to 5,200 pounds? That's 281 horsepower and 266 lb-ft of torque. If you find one with the dual exhaust option, you're looking at 288 horsepower and 266 lb-ft of torque. This makes for an incredibly capable crossover SUV. All of this power comes with sedan-like ride comfort, great handling, and a remarkably quiet cabin.
That's a lot of vehicle for the money. But don't forget to look out for the many cool options available: blind-spot monitoring featuring a rear cross-traffic alert system, navigation with traffic data, a power liftgate, 10-speaker Bose audio, rear-seat DVD system, and a dual-panel sunroof.
Let's Get You on the Road Today!
Hopefully, this quick tour of the potential deals we have on our lot shows our commitment to finding the right car for everyone at an affordable price. You're officially invited to join the DePaula family and come down to DePaula Chevrolet to check out our incredible inventory of used cars.
Whether you're looking for a subcompact, compact, or crossover SUV, we have many options to get you on the road to finding the perfect vehicle for you and your family. Stop by or check out the financing section of our website and see just how easy it is to save big with DePaula Chevrolet. You can find us at 785 Central Avenue in Albany, NY. Did we mention we are the recent recipient of 6 GM dealer of the year awards, and the number one Chevrolet Certified Pre-Owned Dealer in all of the Northeast?