Understanding the Value in Buying Used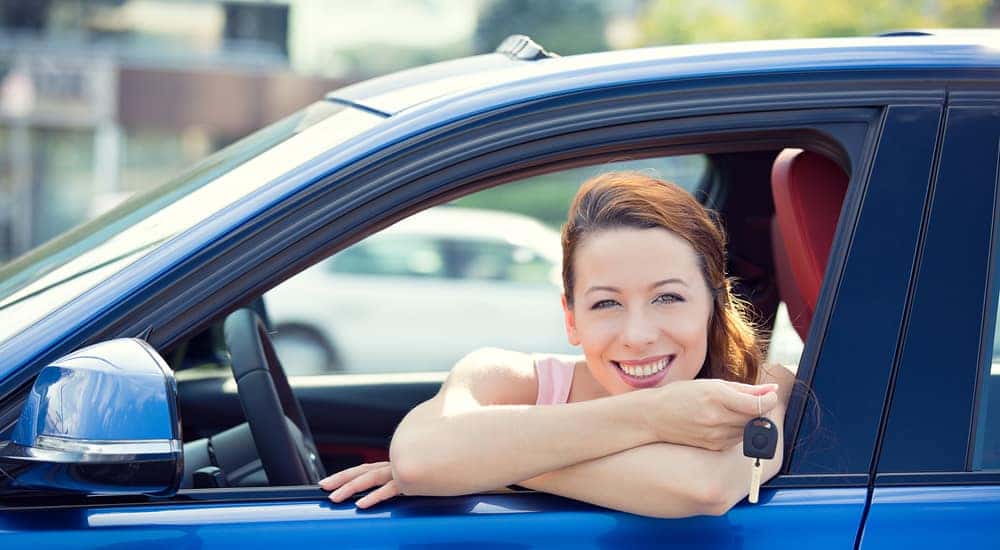 What makes a vehicle perfect for you? Choosing a particular make that you favor, a model that catches your eye, or a trim level that checks every box on your wish list? Sure, these are all important parts of creating a truly satisfying car buying (and ownership) experience, but we all know there's more to it than that.
A vehicle need to fit the unique demands of your lifestyle, and a large part of our lifestyles that we tend to glaze over is our budget. Sure, we know what we can afford in terms of down-payment and or monthly payments, but it doesn't stop many of us from over-extending ourselves in the hopes of driving off in that dream car.
But that's not you, is it? Judging by your interest in this post, you might be considering a pre-owned vehicle which shows your understanding of used car values. Because a decision to buy pre-owned isn't some sort of consolation prize for those unable to buy the newest model year. It represents an intelligent and informed choice that, with the right dealership, can satisfy you, the demands of your lifestyle (and yes, that of your budget).
So, why is buying used smart? Let's find out…
Pricing, Front End & Incremental Costs
First and foremost…buying a properly maintained pre-owned vehicle is going to cost you less. Note our mention of 'properly maintained' as it's an important consideration. As a prospective car buyer, we can only assume that you have, or are prepared to perform your due-diligence. This means researching vehicles and inspecting any potential purchases to ensure that they meet your expectations. These steps, combined with your own diligent maintenance on any vehicle, will minimize added costs down the road.
Purchase of any vehicle comes with certain costs, both on the front-end and incrementally throughout ownership. Tax, title, registration, and insurance costs are all necessary burdens associated with owning a car, but these costs are reduced (and sometimes eliminated) by choosing a pre-owned vehicle. Savings are savings, so it's definitely worth taking into consideration.
And of course, there's the price of the vehicle itself. A pre-owned vehicle will inevitably cost less than buying that same vehicle new, which brings us to…
Depreciation
We've all heard it before: a new vehicle begins depreciating the moment that you drive it off the lot. Well, it's true. A vehicle loses approximately 11% of its value by the time its rear wheels hit the road. This means that a $30,000 vehicle drops in value by over $3,000 within moments of being purchased. Fast-forward through three years of ownership, and it's now worth closer to $16,000. After five years, it's worth closer to $11,000. That said, the lion's share of a vehicle's depreciation occurs within the first 3-5 years, with the rate of depreciation slowing significantly after that.
This empowers a buyer on three levels: first, it means that they've allowed the original owner to shoulder the bulk of that depreciation. Second, by doing so, they're empowered themselves to get more car for their money and are now able to afford a make, model or trim level that may not have otherwise fit their budget. Finally, with a slower rate of depreciation, a well-maintained vehicle may still offer a strong return on investment down the road, at the time of trade-in.
Vehicle Life
Proper care and maintenance goes a long way. All-too-often, we think of today's products as disposable, and cars are no exception. But that mindset is incredibly misleading, considering that more vehicles than ever are meeting (if not exceeding) the 250,000-mile mark.
Regarding U.S. drivers 12,000 miles is used as a benchmark for annual mileage on most vehicles. Based on that estimate, a five-year-old vehicle may only incur 60,000 miles. If you continue good habits of diligent maintenance performed by the original owner, there's no reason why a pre-owned vehicle can't provide assurance of longevity.
Certified Pre-Owned
And if assurance is what you're looking for (because…well, who isn't), then a Certified Pre-Owned Chevy might be perfect for you. Available only from GM Certified dealers (such as DePaula Chevrolet) CPO status means that a vehicle meets specific criteria set by General Motors themselves.
To be eligible for GM Certified status, a vehicle must (i) have been produced within the last five model years (ii) have less than 75,000 miles and (iii) possess a clean CarFAX vehicle history report. It must then pass a rigorous 172-point inspection by GM Certified technicians, to ensure that it meets factory standards. Any major parts or operating systems that do not meet those standards are refurbished, repaired or replaced before the vehicle receives GM Certified status.
While this alone provides plenty of assurance, General Motors partners offers extended warranties that make CPO vehicles deserving of any customer's consideration. Want to find out more, just ask us. We'd love to help.
Visiting DePaula Chevy
Here at DePaula Chevy, we take great pride in offering an extensive selection of pre-owned and Certified vehicles for you to choose from. While it's not uncommon for dealerships to advertise a 'difference' in the experience that they create for their customers, we have a proven reputation to back up our claims.
As a 7-time recipient of the 'GM Dealer of the Year' award, we pride ourselves on having created a welcoming environment and customer-centric buying experience that allow us to form lasting relationships with our customers. Humbled by the recognition we have received. As a result, we are proud to represent the pinnacle of General Motors' 'Standards of Excellence' and serve as Chevrolet's #1 Certified Pre-owned Dealer in the Northeast.
For us, each and every customer provides and opportunity to re-earn these accolades. When you're shopping for your next pre-owned or Certified vehicle, we hope you'll allow us to help you find the value in your decision to do so and your decision to partner with DePaula Chevrolet.