Three Chevy Cars Built Best For Families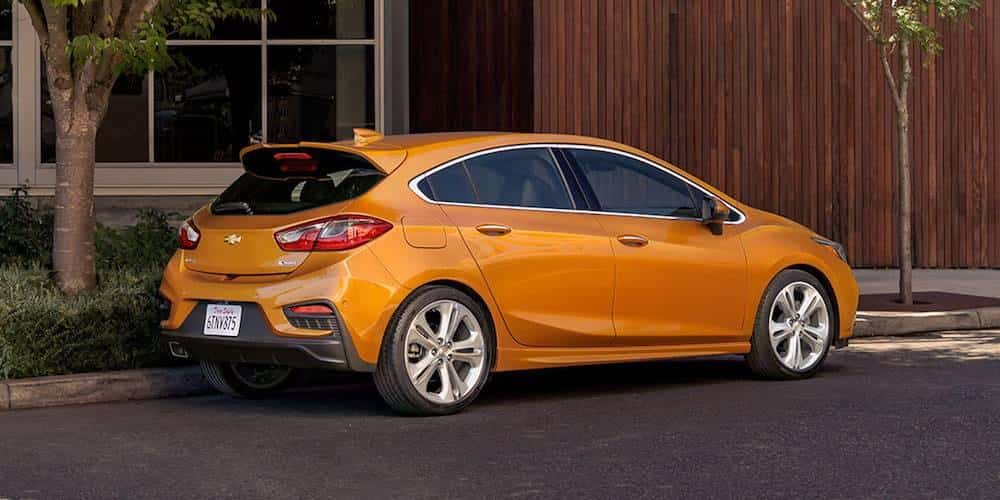 For any driver out on the roads today with friends and loved ones riding shotgun and manning the back seats, it's no secret that family is undoubtedly the most important cargo. But as far as today's vehicles have come in keeping families safe over the past few decades, not everything on the road today stacks up when it comes to safety, entertainment options, and cargo space for families on the go. Chevy noticed this need and took action, offering three impressive family-focused Chevy cars for the 2017 model year – any and all of which may just be exactly what today's families have been looking for.
When it comes to all-around safety that keeps you secure even from the most unpredictable of what the road has to offer, few other models can compare to the ingenious safety systems found in the 2017 Chevy Malibu. Or, for those looking for a fun, happening ride with plenty of ways to keep those backseat riders entertained, the 2017 Chevy Cruze Hatchback offers an impressive array of ways to keep any drive fun and interesting. And for drivers who know the pain of having to schlep luggage, equipment, or the whole team in too small of a space, the 2017 Chevy Sonic packs in plenty of cargo room so you can bring along just about anything without cramping your style.
Whatever your family may be looking for, these three Chevys each offer a considerable selection of top-of-the-line features sure to satisfy your desires and your wallet all at the same time. Here's a look at these three impressive Chevy cars – see for yourself just why so many families choose Chevy for their daily drivers.
Find All-Around Safety in a 2017 Chevy Malibu
Keeping your eyes on the road ahead while simultaneously keeping your family protected from all sides is a job that's simply too much for most drivers out there – especially with kids in the back, places to go, and schedules to keep. That's why Chevy, unlike other manufacturers, knows that leaving your safety up to chance simply isn't the best option. That's why the impressive 2017 Chevy Malibu comes packed with some of the most impressive standard safety features out there, as well as a whole host of advanced safety features available to help keep your most important cargo out of harm's way for miles to come.
A comprehensive 10 airbag protection system comes standard in the 2017 Malibu, and can offer instant airbag protection from any side mere milliseconds after sensing a collision. This system, plus the Malibu's high-strength steel cage construction, helps you stay safe even after a crash. Add in the available advanced protection of sensing systems like Forward Automatic Braking, Lane Keep Assist, Lane Change Alert, Side Blind Zone Alert, Rear Cross Traffic Alert, and even Park Assist, and you've got one Chevy that can keep you covered from just about every angle. Combine this with OnStar Emergency Services and you've got one impressive safety system in the stylish 2017 Malibu.
Top-Tier Tech Comes Standard on the 2017 Chevy Cruze Hatchback
Having fun and keeping everyone entertained on the road has never been easier than in the 2017 Chevy Cruze Hatchback. Built to be a family-friendly ride with a top-of-the-line entertainment system to match, this impressive Chevy model allows for everything from easy access to your favorite tech to a simple way to stay connected, no matter where your travels might find you.
Take, for instance, the impressive 7-inch diagonal color touch-screen connected to Chevy's MyLink infotainment system. This ergonomic array allows users to easily browse through all your favorite music and entertainment apps, as well as offer a simple pathway to connect your iPhone using Apple CarPlay or your Android Device with Android Auto.
Plus, you and your passengers can say goodbye to leaving your fun and games behind when you drive thanks to the available 4G LTE Wi-Fi throughout the cabin, which allows just about everyone to stay connected and content even on those long trips. The 2017 Cruze Hatchback is the first car in its class to offer this level of entertainment tech, and it hasn't gone unnoticed by the thousands of families that call their Cruze their own.
The 2017 Chevy Sonic Packs in the Storage Space
Of course, families who know the struggle of coordinating schedules and bringing along everything that goes with a busy life know that storage space can be incredibly important in a family vehicle. That's where the 2017 Chevy Sonic truly shines, offering an amazing 47.7 cubic feet of storage space so you can bring along just about all the luggage, sports equipment, instruments, art supplies, or whatever else you may have in tow.
And since the 2017 Sonic is built to be flexible to your needs, you have the freedom to choose just how much storage space is right for you. That's thanks to the 60/40 fold-down rear seats, which allow you and your passengers to easily negotiate passenger space and cargo room in one easy step. Plus, a spacious hatchback trunk means you can even roll all over town with all your most useful gear behind you, so you'll never have to leave things behind at home again. For families on the move, this kind of space can be about the most useful feature available in a family-friendly vehicle.
So whether you're in the market for a vehicle that can protect you through the worst of it, one that can provide hours of entertainment on the road, or one built for busy lifestyles that doesn't compromise style, these three Chevy options are undoubtedly some of the finest on the market today. And since all three proudly bear that reliable bowtie logo on their front grilles, you know you're choosing quality when you choose one of these three Chevy vehicles. Try one (or all three) out for yourself and see just how well today's Chevys fit with your family, and get on with enjoying the miles ahead.