This is Why You Should Wash Your Car Correctly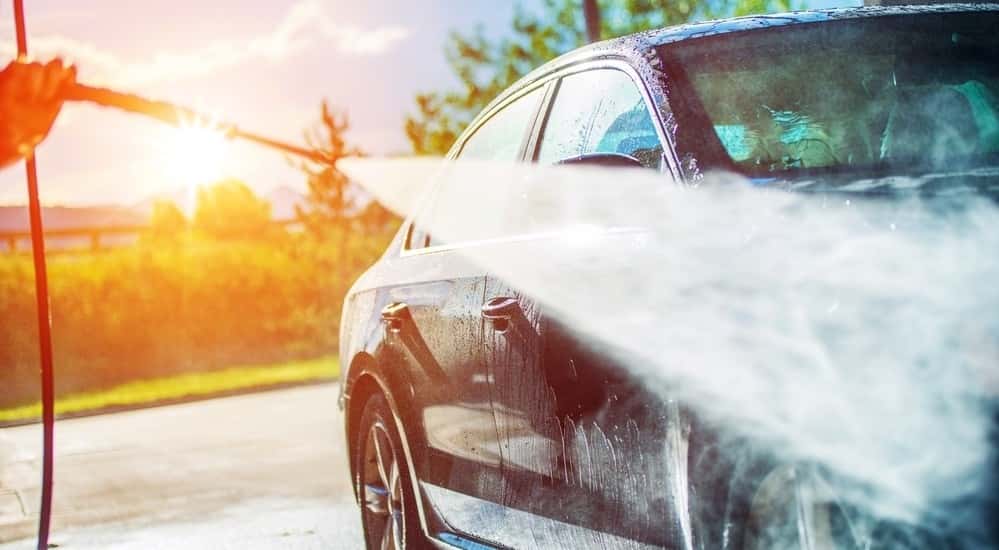 When you purchase a new car from a reputable car dealer like DePaula Chevy, we want to ensure that you take the best care of it. That means we'll assist you with service and maintenance on your new Chevy. We also will help you purchase the best genuine parts and accessories.
But another important factor is to make sure that you can take care of your car on your own. During the summer months, it's fun to get out and wash your car. You might find some time to sprinkle your kids or neighbors and have a little water battle. But if you really care about your Chevy's exterior, you'll avoid local express car washes with big brushes that can do more harm than good. Instead, try a DIY car wash that will achieve the best results. And, down the road, it will yield significant returns by adding value to your sale price.
Here are some tips from your DePaula Chevy car dealer that will help your new or pre-owned Chevy last longer…
Dress in Car-Friendly Clothes
Of course you don't want to wear nice expensive jeans or shirts to wash your car. That's obvious. But also do not wear zip-up hoodies, belt buckles, bracelets, or clothes with buttons that can scratch your car and hurt your paint job. You might even consider investing in premium microfiber clothes or an apron to wear when you wash the car.
Read the Label
Before you even begin to clean your car, make sure you're using the right car cleaning products. Read your vehicle's owner's manual and the label of the car washing soap. Then rinse your car to remove large pieces of dirt or pebbles that can scratch your car while washing. Choose the right product, such as car washing soap and not a liquid detergent or dish cleaner so that you don't damage your wheels or paint. The wrong products can damage the paint or strip away the wax. For example, if you use extremely acidic chrome wheel cleaner on your aluminum wheels, you'll ruin them.
Choose the Right Mitt
You might be inclined to find an old t-shirt, towel or rag in your house to wash your car. Don't do it. Treat your vehicle with the care it deserves by using soft microfiber cloths like a microfiber chenille noodle mitt. A waffle-weave towel is also perfect for a fast, streak-free finish. Keep separate piles of mitts for those used on your paint, wheels, and windows. Make sure that you wash your towels and cleaning mitts after every use.
Use Two Buckets
Now that you're ready to begin the wash, choose to use a bucket with two separate sides to it. By using this type of bucket, you'll keep the warm soapy water in one side and fresh water in the other, where you can rinse the mitt. Here's the best method: wet your wash mitt in the soapy water, suds up your car, then dip the dirty mitt into the rinse side of the bucket to eliminate the grime. This way you won't be rubbing dirt and debris from the mitt onto your car's paint.
Brush and Vacuum the Floor Mats
A key part of a car wash is keeping your floor mats clean. To do the best job, use a stiff brush to loosen the dust and dirt on the interior carpet and mat. Afterward, use your hose to efficiently clean the mats and carpeting.
Don't Use a Circular Motion 
There's a very certain technique involved in washing your car that eliminates accidental superfine scratches. Do not use a circular motion to wash your car's exterior. Rather, move your mitt or towel in straight lines or a Z-pattern. Washing it correctly will allow you to avoid any scratches during the wash process.
Clean and Protect Your Seats
After you've finished the exterior of your Chevy, clean the interior cabin. You'll need to take special care of the seats, no matter if they are cloth or leather. For cloth seats, apply a fabric guard to make it easier to wipe up spilled liquid. For stains, spray on a non-foaming all-purpose cleaner directly onto the seat and scrub it with a horsehair brush. Then pat it with a microfiber towel to dry.
If your car has leather seats, you'll probably notice that they dry out and crack after several years due to use or being in the sun. To eliminate this, use a leather conditioner every month to every six months to moisturize them.
Remove Those Scratches
If, after washing your car, you can still feel little bumps from tree sap or oxidation from paint, you'll need to go a step further. Purchase a clay bar that will remove everything from the surface of your vehicle, including wax. Take the clay bar and knead it into a flat wafer and use a detailer as a lubricant. Then, holding it in the palm of your hand, run it across the surface of your car. If you need to remove deeper scratches below the car's surface, you'll need to purchase a compound. This can be applied by hand and wiped away soon after application.
Wax On, Wax Off
Finally, you'll want to wax your car. Why is this so important? Waxing is like a protective layer of sunscreen for your car. It shields it from UV rays to prevent fading and it preserves your high gloss finish. You'll find both carnauba and polymer forms of wax. Both types of wax are good choices, except the polymer wax is a bit more expensive, performs better, and won't haze as it dries and can usually be wiped off soon after applying.
Reputable car dealers like DePaula Chevy encourage their car customers to ask them questions and learn the best way to keep their car protected. Washing your Chevy is important, but knowing how to do the best job is even more important.