These Trucks Were Made for Hauling: Chevy's Most Powerful Towing Pickups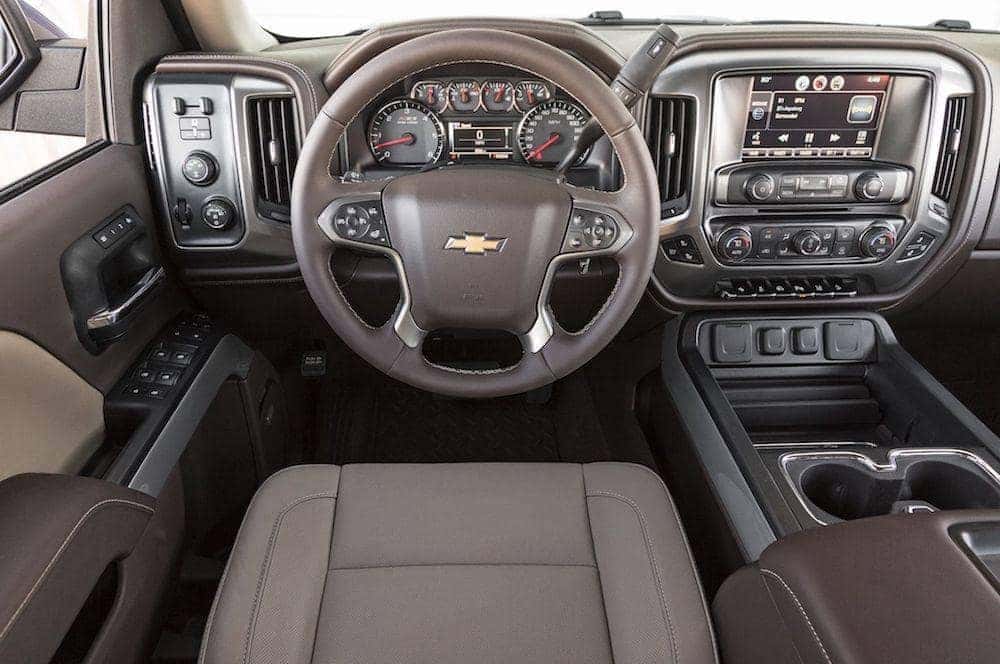 It takes more than a flashy paint job and nice rims to make a truck worthy of a place at the top. True trucks pack power – not just speed, but real towing, hauling, and crawling capabilities. Whether you're bringing a loaded trailer to a work site or schlepping gear out to the mountains, nothing can quite top a truly powerful pickup when it comes to performance and precision on the road. And when it comes to producing top-tier trucks, there's one automaker that comes out on top every time: Chevy.
Ask anyone who's experienced the power and style of used Chevy trucks in the past and they'll tell you: nobody makes a pickup quite like Chevy. That's because all Chevy pickups bring with them a legacy of excellence in automotive craftsmanship, and it's been that way for decades. That means every used Chevy can be held to a higher expectation than pickups from other brands, and Chevy continues to step up to the task year after year with each new truck they produce.
Chevy brings a long lineup of powerful trucks to the table, and to go through them all would take hours. Instead, here's a quick look at some of Chevy's most impressively powerful tow-ready used trucks; take a look for yourself and see what a tradition of an excellent truck making really looks like.
2011 Chevy Silverado 1500 LTZ
Built to be both versatile and enviable, the 2011 Silverado 1500 LTZ was an impressive trendsetter among pickups at a time when efficiency ruled the market. Built to handle steep inclines and rough terrain with ease, the 2011 1500 LTZ features an impressive 5.3L V8 Flex-Fuel standard engine, capable of up to 326 horsepower and 348 lb-ft of torque to pound over the pavement like it was born to do. Plus, since this pickup brings 15 miles per gallon city and 21 miles per gallon highway fuel economy to all that power, you can keep cruising for miles without having to waste time at the pump.
The 2011 Silverado 1500 LTZ was a special edition for several reasons, power being only one of them. When featuring a special XFE engine option, this Silverado can operate on E85 flex-fuel blend, boosting highway fuel economy up to 22 miles per gallon. Plus, for those who can't get enough of that off-road action, the 2011 Silverado 1500 LTZ comes with a choice of five suspension systems, each tailored to suit unique driving needs: Z83 for a smooth ride, Z85 for improved handling and trailer towing, Z71 for better off-roading, and even the Z60 for street riding with 20-inch wheels and NHT for maximum towing capacity. Plus, the Active Fuel Management system shuts down four cylinders when they are not necessary for engine operation to further improve fuel economy.
2014 Chevy Silverado 1500 Work Truck
Built to help the toughest work crews get hard work done from sunrise to sunset, the venerable 2014 Silverado 1500 Work Truck is no slouch when it comes to raw power on the road. Featuring a standard 4.3L Flex-Fuel V6 engine capable of 285 horsepower and 305 lb-ft of torque, this base-level work truck packs plenty of giddyup! to tackle even your heaviest payloads, and enough towing power to bring up to 7,100 lbs with you on your longest journeys.
And since the 2014 Silverado 1500 Work Truck also carries on the tradition of the Flex-Fuel engine, it's remarkably efficient with an EPA estimated 18 miles per gallon city and 22 miles per gallon highway fuel economy. That gives this Chevy a range of up to 624 highway miles – meaning you can get where you need to go without having to constantly worry about the gas gauge.
2015 Chevy Colorado
All-new for 2015 and a leading model in what would be an industry-rocking re-introduction of the Colorado nameplate, the 2015 Chevy Colorado is one impressively power-packed mid-size that's perfect for even tough hauling jobs without sacrificing on its convenient compact size. Built to handle up to a 7,000 lb towing capacity thanks to its available 3.6L V6 engine, the 2015 Colorado to pump out up to 305 horsepower and 269 lb-ft of torque for all your towing and hauling tasks, while maintaining a respectable 24 miles per gallon city and 26 miles per gallon highway fuel efficiency with the automatic 6-speed transmission.
The 2015 Colorado is also a seriously impressive off-road model, a surprising distinction for a mid-size that's not unwarranted, especially in the amazing Z71 trim. This features a distinctive style that can't be missed, including 17-inch aluminum wheels and tires, and an off-road suspension package to take you up just about any mountain you might like. All that power packed into a small model pickup – only from the minds at Chevy.
2016 Chevy Silverado 2500HD High Country
There are good trucks, and there are great trucks – and then there's the 2016 Silverado 2500HD High Country. Built with a distinctive and utterly enviable style to match an amazing power level, this special trim level is nearly unequaled among luxury pickups that can still pull their weight on the job site.
Featuring an available 6.6L Turbocharged Diesel V8 engine, capable of a whopping 14,300 lbs max towing capacity, 397 horsepower and an absolutely crazy 765 lb-ft of torque, this Silverado is one you won't want to miss when the rough terrain starts to approach. Plus, the High Country model represents an amazing interior and exterior styling package featuring navigation, heated and ventilated front seats, a Bose audio system and perforated leather seating. That means you and your passengers can stay comfortable and entertained for as long as your adventure may last – and in a Chevy like this, we're guessing it may last quite a bit of time.
Tow a Used Chevy Right Home to Your Driveway
These Chevy pickups are all from years past, and yet they still manage to impress for their power and performance capabilities. Check out a used Chevy truck at a dealer near you and see for yourself just how much raw power that bowtie badge brings with it.