The Used Cars Near Me Buying Guide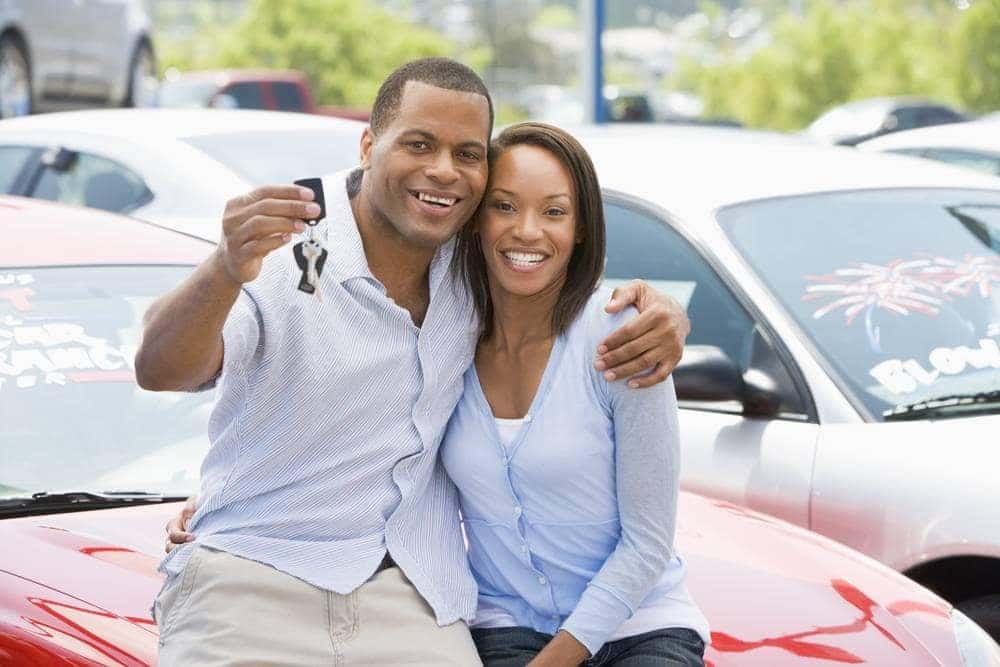 If you've searched for the term "used cars near me" that means you're ready to buy a used car. After all, according to dealersimplified.com, 50% of people who perform a local business search on their phones visit that business within a day. So whether you know it or not, searching for "used cars near me" means you're a serious car shopper.
Before You Visit the Dealership
But before you walk into a used car dealership, make sure you've done your research – not just on the used vehicle you want, but on the dealership as well.
1. Decide which kind of vehicle you want. Kind of obvious, but you'd be surprised how many people walk into a dealership without having given this some thought. What will you do with this used car? Will you use it primarily to get to work? Do you plan to go on weekend getaways? How about tailgating or hauling stuff? Answering these questions will help you decide if you need good fuel economy, lots of passenger and storage space, towing capability, or a combination of these features. Have an idea of what type of vehicle and features will best suit your needs before you start browsing.
2. Know what you "should" pay. Check local dealerships for the models you're interested in and know what a fair price is. While it doesn't hurt to check national websites like KelleyBlueBook.com and Cars.com, local pricing will always be the most relevant to your used car search. After all, local dealers have the car you're eventually going to buy!
3. Assess the dealerships you plan to visit. Take the time to research local used car dealerships. Read any reviews on the dealer's website but also sites like Cars.com and DealerRater.com. Has anyone you know purchased a car from them? If so, get their assessment of how the dealer treated them. Err on the side of dealerships that are established in the community. Longevity means something! Has the dealer won local awards? Don't forget to check if the dealership is accredited with the Better Business Bureau and to look up the dealer's rating at BBB.org.
Of course, you should log on to the dealer's website to get vehicle information and get a sense for how they present themselves. Can you find the information you need easily? Is it real, meaningful information that helps you make a car-buying decision, or is it a lot of marketing? Used car dealerships that provide lots of relevant information and tools like CarFax vehicle history reports right on their site show that they care about you end up with the vehicle that's right for you.
Also, see if you can apply for financing on the dealership's website. This will save you time when you work out the financial details in person. It's also a good test of the dealership's integrity. Salespeople who claim ignorance of numbers generated from their own site or who won't honor their online pricing don't deserve your business.
To get a vibe of the salespeople, prepare a list of basic questions and call or email the dealership before you visit. Are they friendly? Do they listen to you and answer your questions to your satisfaction? Don't be afraid to talk price, too. A good dealer will be willing to negotiate over the phone, rather than force you into a pressure-filled conversation in the showroom. If you're like most people, a good shopping experience is even more important than price when determining whether you buy a used car, so be sure to talk to the dealer before you stop in.
4. Look for a certified pre-owned program. Used dealers that offer these programs should get your attention. Certified pre-owned vehicles undergo a multi-point inspection and often come with features like roadside assistance and solid warranties. For example, Chevrolet's certified pre-owned program includes a 172-point inspection and both powertrain and bumper-to-bumper warranties (actual terms may vary by the dealership).
At the Dealership
Once you've decided what vehicle you want and where you might buy it, here are some pointers for handling the salespeople and the car itself.
1. Don't tolerate disrespectful salespeople. Used dealers don't have special permission to intimidate you, so don't stand for it. If you need a minute to gather yourself, take a trip to the restroom and think about what's happening. A good dealer will actively listen to you and answer your questions. The goal should be to solve your problem – finding the right car for your style and budget. If the salesperson suggests a different car from the one you came in to see, is it in your best interest because it's a better fit, or is it in the dealership's best interests – more expensive, an old car that's been sitting on the lot a while, etc.?
2. Inspect the car. Before you take the vehicle out on the road for a test drive, give it your own personal inspection, inside and out. Even if the car is part of a certified pre-owned program, you should still check the exterior, interior, and under the hood for certain things.
Exterior:
Verify brake lights, headlights, and turn signals work
At least ¼ inch of tread on tires, even wear on all tires
Doors and trunk close completely
Doors lock and unlock properly from the inside and outside
Examine body for parking lot dings, chipped paint, or rust
Glass is clear and free of scratches
Interior:
All internal systems work properly—heat, A/C, radio, etc.
Mats and upholstery clean and in good condition
Dash panels and gauges clear and crack-free
Under the hood:
No evidence of fluid leaks (with engine off and running)
Battery terminals clean
Engine oil looks light in color (which means it's recently been changed)
3. Test Drive! At last, the moment you've been waiting for! If you don't want a salesperson with you, speak up. This is your test drive, so it should be conducted the way you want.
On your drive, in addition to focusing on the basics, like how the car handles on corners, accelerates, brakes, etc., pay attention to any vibrating or rattling, the kind of imperfections that could indicate a future issue.
Notice if the car pulls to one side or another. Do the brakes and steering seem tight enough? And when you turn the wheel, do you hear the suspension making noise?
Take your time and vary the roads on which you drive, as certain problems manifest at slow speeds, others at faster speeds. You'll definitely want to take the car on the highway and make sure it doesn't shake or shimmy!
As you've probably seen by now, Googling "used cars near me" will return a big list of used car dealerships in your area; but if you're really ready to buy, do your homework and keep these tips in mind. A little preparation will help you have a great car-buying experience!