The Top 9 Reasons To Buy The 2018 Chevrolet Impala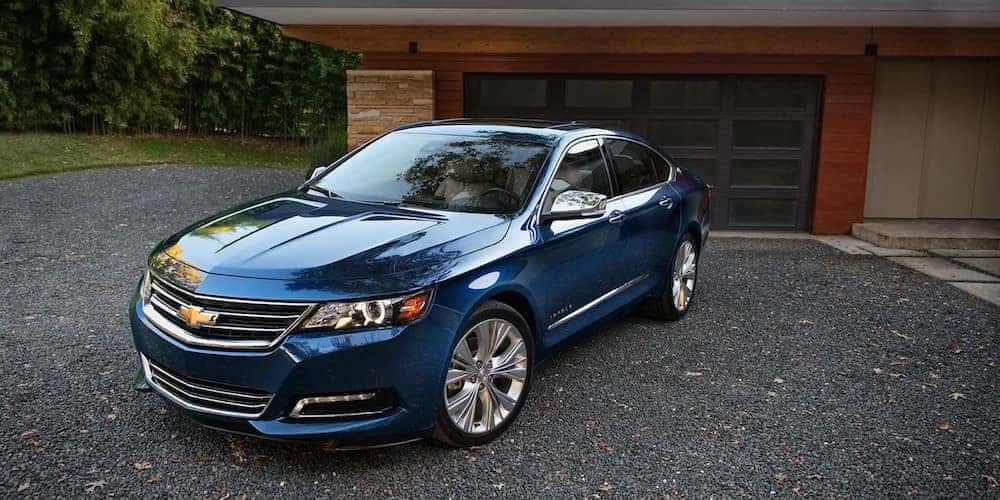 The 2018 Chevrolet Impala is a car like no other. It's got a great style – but great features too. It's roomy, but compact at the same time. It's a car that makes the opposites work, and this list will show in just how many ways it does so. From advanced connectivity and safety technology to entertainment and convenience features, here are nine reasons why the 2018 Chevrolet Impala could be the perfect vehicle for you and your lifestyle.
#1. Available Accessories
There are tons of fun accessories available that not only are a joy to use but help to protect your car too. These accessories range from a cargo organizer, to keep all of your belongings secure no matter where you might be going or what you might be bringing along, to all weather floor mats. All weather floor mats are a particularly good idea, as they prevent you and your passengers from tracking in any dirt. For those who live in climates that see their fair share of mud and sleet, all-weather mats are nothing if not an essential.
#2. Advanced Connectivity
Because let's be real here – we're all a little bit too attached to our technology, especially since almost everybody nowadays has some type of smartphone. And no matter what type of smartphone you have, you're in luck, as the 2018 Chevrolet Impala allows connectivity for Apple phones (through Apple CarPlay) as well as Androids (through AndroidAuto). No matter what brand of smartphone you're loyal to, you'll be able to access all of your information and have it clearly displayed on the touchscreen system that comes as a standard part of the car, from your contacts to any preferred navigational tools.
#3. Onboard 4G LTE WIFI
And you can stay connected wherever you go, as the 2018 Chevrolet Impala comes standard with 4G LTE internet connectivity. This feature is ideal for everything from sitting in rush hour traffic to taking a road trip and can connect up to seven devices in total, making it ideal for the whole family – even for the crankiest of teenagers and impatient of young kids.
#4. Preventative Safety Features
These serve the purpose of preventing a car accident before it ever has the chance to occur, and allows you to drive more safely than ever before – even if you are not the most confident of drivers (or are perhaps even a brand new driver that does not have all that much experience). These features include a side blind zone alert so that you are always aware of your surroundings when you may not be able to see them directly. The standard feature of the forward collision alert is similarly useful, watching out for you and for all those operating vehicles around you. The forward collision system won't just alert you to potential danger, but will also actively begin to apply the brakes on your car if you do not take heed of the first warning given. And there are even more preventative safety features than this, including a lane departure warning as well as a rear cross traffic alert.
#5. Protective Safety Features
But there are still many important safety features to keep you safe in the event that a crash still does occur, such as ten airbags strategically placed all throughout the body of the car. On top of this, you can drive peacefully knowing the 2018 Chevrolet Impala was the recipient of a 5-star overall vehicle score when it comes to safety.
#6. Interior and Exterior Customization
There are lots of options. With ten total exterior colors to choose from and a selection of interior colors as well, the 2018 Chevrolet Impala is truly a car that you can change to express you as a person.
#7. Driver and Passenger Comfort
It's comfortable too, with bucket seats for both the driver as well as the front passenger. On top of this, the driver's seat is adjustable in eight different ways, particularly impressive for a car that has multiple drivers, as this allows all drivers to find the seating set-up and configuration that works best for them.
#8. Convenience
You'll never be without charge, not with the USB ports that come as a standard part of the 2018 Chevrolet Impala. For those of us who are addicted to our cell phones, this is a good thing and as many people use their phones for work-related purposes, to contact family members, and for the navigational services that they offer. For many drivers, these types of conveniences are often an essential factor when purchasing a new vehicle and the 2018 Chevrolet Impala will not disappoint.
#9. Price
Finally, the 2018 Chevrolet Impala has a fair starting price at just over $27,000. You can even choose to lease the 2018 Chevrolet Impala if you are not in a place in your life where you can easily buy a car. Financing the car is also a very viable option and one that many people take advantage of with a reputable dealership like DePaula Chevrolet. If you're worried about financing this vehicle, chat with the finance team at our Chevrolet dealership today.
Choose DePaula Chevrolet for Your 2018 Chevrolet Impala
Finally, going to see the 2018 Chevrolet Impala in person is key, and going into a reputable Chevrolet dealership like DePaula Chevrolet gives you a chance to not only to ask any questions that you might have, but to actually take the car out for a spin and see what it's made of.
All in all, the 2018 Chevrolet Impala is a full-size sedan that anyone should be proud to drive, a car that will go the distance and then some.  So, come visit your local Chevrolet dealership, DePaula Chevrolet, today and let our knowledgeable and helpful staff help get you started with your next vehicle purchase!