The Silverado 1500: The Best Pick-Up for School Pick-Ups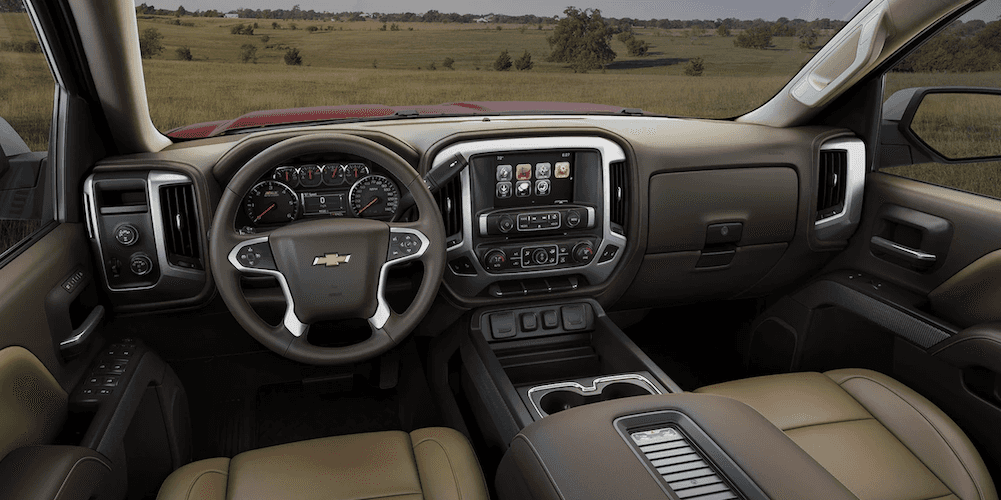 Most people consider trucks to be the domain of the working man: rugged, tough and bare-bones. In fact, most people would find a truck to be the antithesis of a "family-friendly" car. But if you've recently started exploring Chevy trucks for sale in your area, you probably already know that Chevy trucks are more than just workhorses – in fact, some Chevy trucks are downright luxurious. If you're looking to stand out from the crowd of sedans and SUVs that flood the school parking lot, then don't let your old perceptions of what a truck is stop you from seeing what Chevy trucks actually are. Don't believe us? Take a look at the Chevy Silverado and then tell us that you wouldn't want to take your turn in the carpool in this ride.
The first thing to know about the Chevy Silverado 1500 is that there are probably no two Silverado's that are exactly the same. This is a truck that can be customized and optioned to suit your needs exactly – no matter if that means adding additional seating or maxing out the towing capacity so you can get your boat to the lake for a fun-filled family weekend. But to get us started, we'll take a look at the Chevy Silverado 1500 in the most general terms of performance, seating, and amenities – and if you like what you see, then stop by your local Chevy dealer and see how the Silverado's can easily be designed to meet your wants and needs.
Plenty of Room for All Your Passengers (Including Infants!)
The standard Silverado (known as the regular cab) can seat three people thanks to a bench seat. If you're considering the Silverado as your family car, this probably won't suffice, so opt for the Double Cab or Crew Cab models – then you'll get a rear bench seat that doubles your seating capacity to six people. In fact, if you're still in the early days of growing your family, you'll be happy to know that even if triplets are on the horizon, the Silverado's got you covered. You can fit three car seats across the back bench with ease thanks to the three sets of LATCH anchors and two top tethers. So while you might not think you have space in your actual house for three little tots, you won't have to worry about having space in your truck.
No matter if you need to haul strollers or T-ball equipment when you drive a truck you don't have to worry about running out of cargo space. The Silverado offers buyers their choice of three bed sizes, so if you just need the standard amount of space, go with the 6-foot-6-inch bed that comes standard on all cab models. If you're nervous about parking such a long truck, that's okay – the Crew Cab also is offered with a 5-foot-8-inch bed, so you'll feel more at ease parallel parking or reversing out of the daycare center.
If you opt for the smaller bed and are worried that you'll regret the extra cargo space, don't worry – Chevy's got you covered with great interior storage options, such as rear storage bins that hide under the backseat so you can corral all of the toys and miscellaneous paraphernalia that seems to follow you around once you have a few kids. Additionally, the large center console can be used to store files or copious amounts of junk food that you don't want to share with your children. How you utilize the space is up to you, but you definitely don't have to sacrifice on cargo room if you're driving a Silverado.
The Silverado 1500: The Safe Choice
There's no point to extolling the virtues of the Silverado and neglecting to discuss safety – after all, no parent is going to put three children in the back of a truck that isn't safe. Luckily, the Chevy Silverado 1500 is a very safe option for families – in fact, it has a five-star overall safety rating from the National Highway Traffic Safety Administration. Additionally, the Insurance Institute for Highway Safety was also impressed with the Silverado, rating it Good – the top possible score. So while we move on to discuss the great trim options and interior features of the Silverado, you can rest assured that the comfort and convenience that Chevy has imbued into the Silverado has not come at a cost to safety.
The Silverado 1500: Comfortable Cruising for the Whole Family
The 2017 Chevy Silverado in double and crew cab models are offered in a choice of five trims with a variety of additional packages also available. We think that for most families, the LT trim is the way to go – it equips your Silverado with a rearview camera, a leather-wrapped steering wheel, an EZ Lift and Lower tailgate, carpeting, an eight-inch touchscreen display, satellite and HD radio, a CD player and wireless charging. The 2017 Chevy Silverado in LT trims has a starting MSRP of $45,595. With plenty of ways to blast your kids' favorite tunes and enough high-end touches to make you feel like a fancy chauffeur, the Silverado in LT trim is an excellent choice for families on the move.
Of course, if you want to go top-of-the-line, you should opt for the High Country trim. Then you'll really ride in style with 20-inch chrome wheels, a seven-speaker Bose sound system, wireless charging, a heated steering wheel, a navigation system, front and rear parking sensors and ventilated front bucket seats. Even better, you'll have the Enhanced Driver Alert package included, which means your Silverado will have forward collision alert with low-speed emergency braking, automatic high-beam control, lane departure warning and lane departure prevention. The Chevy Silverado 1500 in High Country certainly isn't one of the cheapest pickups on the market, with a starting MSRP of over $50,000, but it is easily one of the nicest and will make any family road trip a pleasure.
You've Been Schooled on Silverado's
Now that you know that Silverado's are more than just great work trucks, you need to head to your local Chevy dealer to see for yourself just how perfect a pickup can be for your family. Don't head into another school year driving the same old SUV as everyone else… break the mold, be unique and start the school year off in style in a Silverado.