The Pick-Up Choice: The 2017 Silverado 1500 or the 2017 Colorado?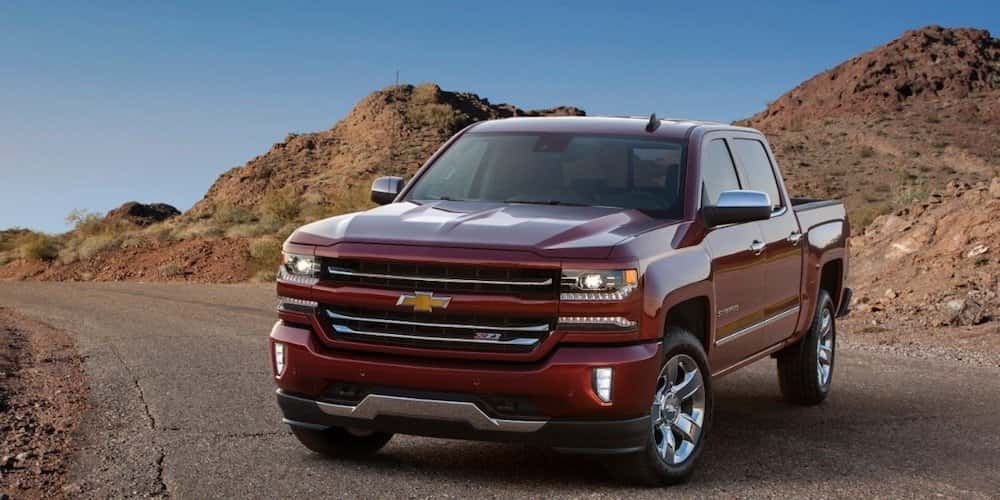 So you've made up your mind and you're buying a pickup truck. It doesn't matter the reason: maybe you're using it to haul work equipment around. Maybe you're using it as a make-shift pool at a Jimmy Buffet concert (terrible idea by the way). Either way, you're making a good decision; trucks are versatile, fun to drive and increasingly offer a more luxurious ride than ever before. Nowhere is this more apparent than when you consider the 2017 Chevy truck lineup. Take a look at the 2017 Chevy Colorado and the 2017 Chevy Silverado 1500, and you'll soon see why the trucks are so popular – although you'll still have to decide which one you're driving home. We've broken down the differences below to help you figure out which truck best suits your needs.
Engines & Performance
Right off the bat, the most obvious and crucial difference between the Colorado and Silverado 1500 is that they are actually in two different class sizes: The Colorado is considered a midsize pickup truck, while the Silverado is a full-sized pickup truck. So what does that mean? It means the Colorado is just a little slimmer and lighter than its big brother… and that the big brother packs a slightly stronger punch. But we'll get to all that a minute. For now, let's take a look at what powers these two pickups.
The base model Colorado is driven by a 2.5-liter inline four-cylinder engine that delivers up to 200 horsepower and 191 pounds-feet of torque. It also comes with a six-speed manual transmission. The Silverado 1500 base model comes with a 4.3-liter V6 engine that offers 285 horsepower and 305 pounds-feet of torque. Again, the base model Silverado comes with six-speed automatic transmission, as opposed to the manual transmission found on the Colorado. Of course, these are just the engines that come standard on the base models – you can always upgrade your Silverado to one of the two V8 engine options offered if you need a little more oomph… and if your Colorado isn't quite strong enough for you, again, you have your choice of two other engines: a 2.8-liter turbocharged four-cylinder diesel or a 3.6-liter V6.
Sometimes when you're in the market for a new car or truck, it's easy to get lost in the sexy exterior or the fancy interior and forget about what actually gives the vehicle it's get-up-and-go. But if you're looking into getting a truck, it's really important to explore your engine options and understand what your needs are. Maybe you are just commuting around town and happen to like trucks – that's great and the base model Colorado should do you just fine. However, if you're really looking to tow and haul heavy equipment around, you're going to really want to examine the different engine options and probably set your sights on the Silverado 1500.
Towing & Hauling
The base model Silverado 1500 is able to tow up to 9,800 pounds but maxes out at 12,500 pounds when properly equipped. You'll be able to haul 2,250 pounds in the Silverado 1500. The Colorado's base model will get you towing 3,500 pounds, but again, with the proper engine and equipment, you can up that to 7,700 pounds… one of the best towing capacities in the midsize pickup truck class. You'll max out your payload in the Colorado at 1,574 pounds. So again, before you go and fall in love with any pickup truck, be sure you know what you're actually getting it for. You don't want to get home with your Colorado and realize you can't actually tow or haul as much as you had hoped… likewise, you don't want to end up with way more truck than you need and take the hit on both sticker price and filling up at the pump.
Price
Nailing down a price on any truck can be more difficult than on a car because the availability of options is just staggering. However, what we can tell you is that a base model Colorado is going to start with an MSRP of $20,055 and a base model Silverado 1500 has an MSRP of $27,785. Of course, that number will increase as you configure the engines and move up the trim levels. Additionally, both the Colorado and Silverado 1500 come in different cab styles, so you'll need to adjust your price expectations depending on how many passengers you want to be able to carry.
Interiors
We know we keep saying it, but when it comes down to the interior of your pickup truck – again – you need to know yourself. Why is this important when it comes to the interior? Because the base model of both the Silverado and the Colorado are just that: basic. Both offer a 4.2-inch display screen and a USB port. The base model Silverado has a four-speaker sound audio system while the Colorado has a six-speaker audio system. The base Colorado can only carry two people, while the base Silverado fits three. However, both truck cabs have been noted for their comfortable and roomy interiors, so if you don't need all the bells and whistles, the base model should do you just fine.
So again, why do we keep saying you need to know yourself and your needs? Because take the Silverado in its top trim, the High Country. Opt for that trim level and here is a non-exhaustive list of features you'll be paying for: a heated steering wheel, a navigation system, ventilated front bucket seats with four-way power lumbar support, wireless phone charging, a seven-speaker Bose audio system, 110-volt power outlet, dual-zone automatic climate control, leather upholstery and driver-seat memory settings. No one is going to argue that those aren't great features, but if you're using your car primarily to haul and tow, you may not want to load your workhorse down with all the goodies.
Colorado or Silverado?
The beauty of the Chevy pickup trucks is that they offer themselves up to so much customization and personalization – you just have to know what you want and need. So go check out the Colorado and Silverado 1500, because whether you're thinking "go big or go home" or "comfortably midsized," one of those trucks is the perfect size for you at your local chevy dealer.