The Chevy Suburban: Then and Now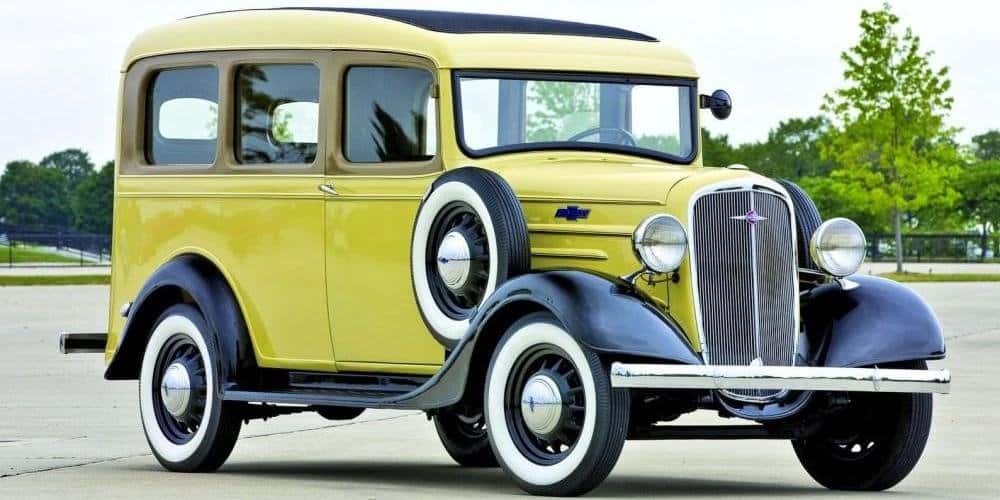 You know when you find out something that just blows your mind? I had that experience recently while doing a little bit of research on certified pre-owned Chevrolets, specifically the Chevy Suburban. I had always thought the Suburban was sort of like the equivalent of the Cadillac Escalade, as in it was introduced in the late '90s/early 2000s as a larger alternative to the Ford Explorers and other mid-sized SUVs that were (and continue to be) so popular at the time.
I was completely wrong.
The Suburban was first introduced in 1935! Let's put that in historical perspective: In 1935, Amelia Earhart flew solo across the Pacific Ocean, Parker Brothers released Monopoly, Franklin D. Roosevelt was up for reelection for a second term and the United States was still six years away from official involvement in World War II, but deep in the middle of the Great Depression. An average person lived in a new home that cost less than $4,000 and they typically took home a salary of a little over $1,500. A loaf of bread cost eight cents, a Studebaker cost $665, and the gas to fill that car? A whopping ten cents a gallon.
The Chevy Suburban Then
When the Suburban was introduced, it was as a two-door, three-row, eight-passenger vehicle that was basically a cross between a truck and a station wagon. And it carried a base price of $675… of course, if you added the optional heater, radio or rear bumper, you were going to have to pay a little extra for those luxuries. Powered by an inline six-cylinder engine known as the "stovebolt," pumping out 60 horsepower, the 1935 Suburban was technically called the Suburban Carryall, as it could indeed carry-it-all. While it was marketed more towards commercial ventures than to civilians, the introduction of the Suburban helped Chevrolet truck sales increase more than 20 percent between 1935 and 1936.
There were 75 Chevrolet Suburbans produced in 1935, so it may be tough to find a certified pre-owned 1935 vintage. Luckily the years that followed saw a massive increase in production of what many consider to be the world's first SUV, so you may want try your luck with another model year, or perhaps even explore the newest member of the family.
The Chevy Suburban Now
82 years down the line and officially the longest running nameplate in production, the Suburban we are all familiar with today still bears some similarities to its ancestors. For starters, the Suburban still seats eight, although now instead of three rows, the first "row" – the passenger and driver's seats, are bucket seats. And the Suburban can still "carry-it-all" with its 39.3 cubic feet of trunk space. Collapse the third row, and the trunk expands to 76.7 cubic feet. Lay down the second row of seats, and the Suburban's cargo space grows to 121.7 cubic feet. Not bad by any decade's standards!
And aside from having four wheels and a roof, that's pretty much where the similarities to the original Suburban end. Today's base model Suburban is powered by a 5.3-liter V8 engine and has 355 horses galloping under its hood, offering just a little more power than the original 60 horses in 1935. You'll get about 16 miles to the gallon in the city and 23 mpg on the highway, which is decent and typical for the large SUV class, but will certainly make you long for the days of ten cent gasoline.
Interior Improvements
However, you probably won't long for the original Suburban's interior. Remember how your options included a radio and a heater? Here's a partial list of what comes standard in the 2017 Suburban: an 8-inch touch screen display screen, smartphone integration, Bluetooth, remote start, a rearview backup camera, rear parking sensors, satellite radio, HD radio, five USB ports, a six-speaker audio system, tri-zone automatic climate control, and every Suburban comes equipped with its own Wi-Fi hotspot.
If all of those features don't make you realize how far we've come, you can opt for additional features including: navigation, a Bose audio system with either nine or ten speakers, wireless smartphone charging, a sunroof, rear cross traffic alert, blind spot monitoring, front parking sensors, lane keep assist, low-speed automatic emergency braking, and a vibrating safety alert driver's seat. I know it's all the rage now to talk about having self-driving cars in the future, but you've got to think that in comparison to 1935, we're pretty much on par with the Jetson's (which debuted in 1962). Goes to show that not everything really was better in the good ole' days!
Safety Standards
Not surprisingly, they weren't especially rigid about safety ratings or standards back in 1935. I can guarantee there were no LATCH connectors for car seats back then (car seats weren't even invented until 1962), and while it goes without saying that the Suburban of today is loaded with seat belts, airbags, and two full sets of LATCH connectors, most likely you were just hoping for the best if you had an accident back in the day. Today the Suburban has been given four out of five stars by the National Highway Traffic Safety Administration (which wasn't founded until 1970) for overall and front-crash protection, five star for side-impact protection, and three for rollover protection. So, while it's not the safest car on the road today, it's certainly much safer than its predecessors.
Cost Comparison
It's safe to say the Suburban of 2017 has come an extremely long way from its humble beginnings. In fact, it's moved so far away from where it started that a Suburban today will now cost you almost 74 times what it did in 1935. If you want to blow your mind, consider this fact: the 2017 Suburban has a starting MSRP of $49,915. In 1935, that dollar amount – $49,915 – would be equivalent to spending $899,334.20 today. Oh, how things change.
The Future
It's incredible if you think about how much has changed since the first Suburban was released. The Interstate Highway System wasn't even authorized until 1956! The fact that we are only 18 years away from the 100th anniversary of the Chevrolet Suburban makes me wonder what incredible innovations will have taken place by then to drive this Chevy even further into the future. We'll just have to wait to find out.