The Chevy Colorado: A Long History of Off-Road Performance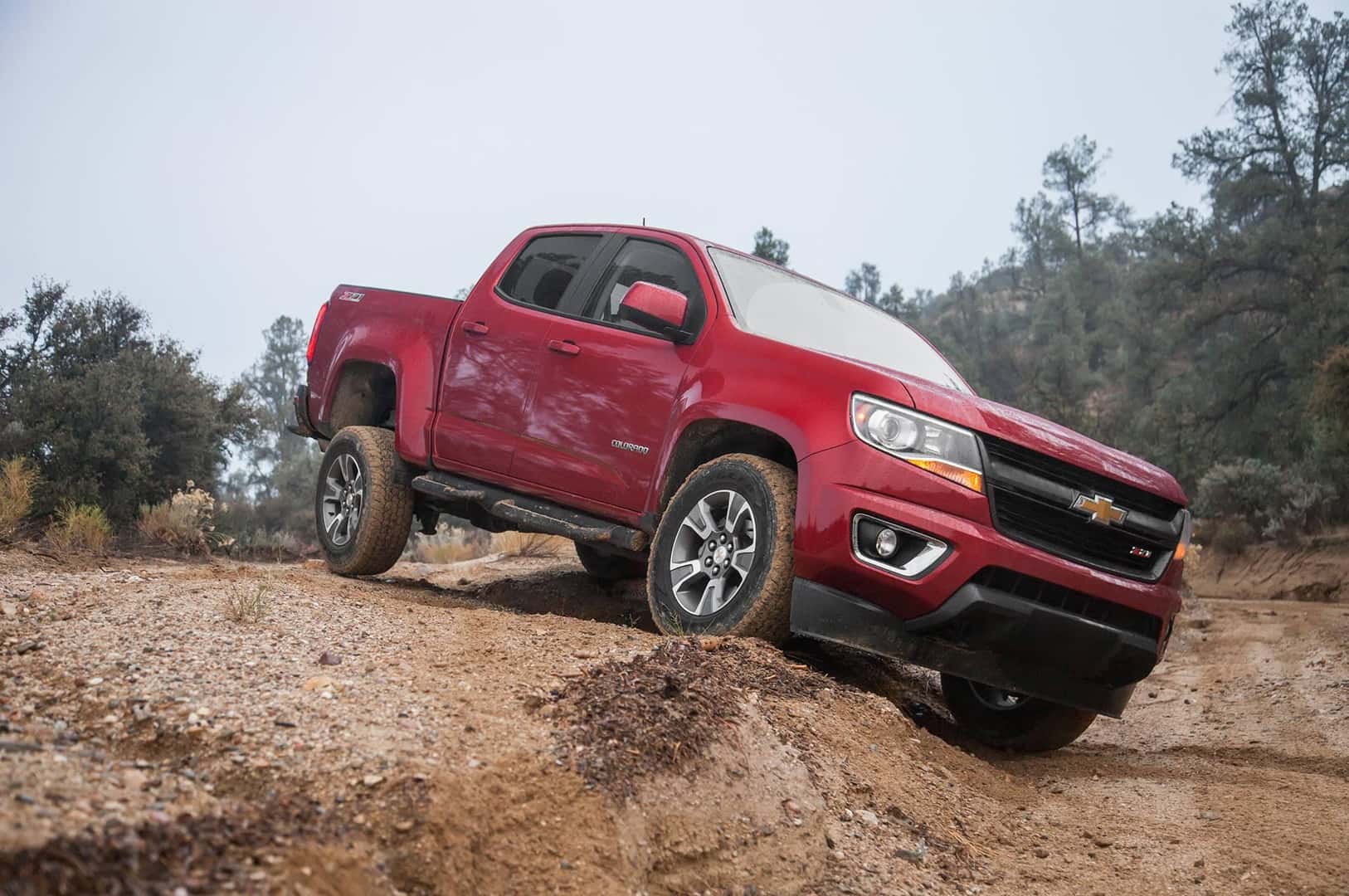 With the immense popularity of the new 2017 Chevy ZR2 off-road truck, there's a lot of attention on this time-honored line of Chevy trucks for their storied off-road performance. This impressive new model doesn't come out of thin air – the Colorado line proudly lays claim to a long history of off-road excellence, and those who know the Colorado know this Chevy has long been a master of tackling tough terrain with ease.
Take just one look back at the history of the Colorado and it's evident that Chevy has had off-road riding in mind from the very beginning. Between a tight, compact style and impressive power under the hood, the Colorado has long been a beloved mid-size model that's dominated in sales year after year. This newest iteration – and the acclaim it's earned – is all just evidence of a long trend of off-road excellence in the Colorado line.
Here's a look at some of the most impressive, off-road ready Colorado options from recent years, and why anyone looking for quality used Chevy trucks may want to consider picking up a classic Chevy Colorado.
2008 Chevy Colorado – Breaking Onto the Off-Road
Although it wasn't the first Colorado to hit the trails, the 2008 Chevy Colorado really made a name for the Chevy line in the off-road market. That's because the 2008 Colorado features a new body-on-frame chassis that is much more rigid than previous Chevrolet compact pickups, offering more robust handling even on tough trails.
That trail power comes underpinned by a standard four-cylinder engine, which is surprisingly strong and boasts a two-wheel drive EPA-rating at 24 miles per gallon on the highway. Or, for those looking for unbridled off-road power, the new Z71 package adds the Z71 off-road suspension, auto-dimming mirror, rear sliding window and the 3.7-liter five-cylinder engine. With all this you'll be able to take on just about anything out on the trail – and it's all contained in one compact Chevy truck.
2010 Chevy Colorado – Adding to the Adventure
Built to be an attractive alternative to the full-sized trucks that dominate the market, the 2010 Colorado offers a small and impressively capable mid-size option that can handle off-road terrain better than the best of the competition. That's thanks, in part, to the 2010 Colorado's 185-horsepower four-cylinder and 242-horsepower five-cylinder engines. These offer impressive power and excellent fuel economy, and that's supported by a four-wheel-drive option to tackle deep snow and venture off-road as far as you might like.
Plus, the 2010 Colorado features notable improvements on driver-focused design, including all the gauges and instrument controls easily within the driver's reach, firm and comfortable seats with premium upholstery, and fender flares and bright alloy elements on the exterior to give it that true Chevy shine. Add in a clever 55-degree angle tailgate for easy lay-flat hauling of even huge payloads and you've got one Chevy truck that's built for whatever you might need to bring on your off-road adventure.
Those looking for unparalleled Chevy power might choose a 2010 Chevy Colorado with the optional the ZQ8 performance package. This features 18-inch wheels, a sport suspension and a 5.3-liter V8 engine for ultimate off-road power in one convenient mid-size pickup. Or for those looking forward to weekends out on the range, a Sun and Sound package adds a six-disc CD changer and power sunroof. Whatever you choose, there's a Colorado that's right for you – and that can tackle the trail any day of the week.
2015 Chevy Colorado Z71 – Go Further
Reborn to be better than ever, the 2015 Chevy Colorado was a comeback for the nameplate that brought an impressive series of driver-centered features to the forefront. Built with the quietest cabin in its class and a sturdy construction that can handle the worst of what the trail can offer, the 2015 Colorado Z71 is no slouch when it comes to ripping through dirt.
Designed with off-roading in mind, the 2015 Colorado Z71 has its own unique style, thanks to its 17-inch aluminum wheels and tires, and an off-road suspension package that allows you to tackle chasms and ravines on any off-road adventure. Add in the available OnStar system, an 8-inch touch screen with connectivity support, and an available navigation system and you've got one Chevy truck that's perfect for any outing to the great outdoors.
And say goodbye to leaving your gear behind in this Chevy. The available GearOn system includes an available platform that's the length of the bed, and this can serve as a storage system. That allows you to tie down bikes, work supplies or other gear on top and stow gear and tools underneath, out of view and ready to travel for any outdoor adventure.
2016 Chevy Colorado – Modern Day Capability
Perhaps no mid-size model made for a better consumer truck and versatile, off-road capable option than the 2016 Chevy Colorado. New for 2016, this Colorado adds a new 2.8-liter Duramax 4-cylinder diesel engine, capable of 200 horsepower and 191 lb-ft of torque with an impressive 20 mpg city and 27 mpg highway fuel economy with the automatic 2WD transmission. Drivers can also choose from manual and 4WD alignments, meaning you'll have total flexibility to find the Colorado that best fits your off-road needs.
Plus, the 2016 Colorado features cool technology like Apple CarPlay and a 4.2-inch touch-screen audio system with USB for easy connectivity and entertainment out on the road. That means you can head out as far as you'd like on your adventure without having to leave your tunes or your life behind.
Choose the Colorado that Can Take You Where You Need to Go
Regardless of how hard you may be looking to push your pickup, there's a Chevy Colorado out there that's perfect for your needs. This impressive mid-size lineup has a history of surprising truck lovers everywhere with its off-road capable performance, and we're pretty sure you'll be surprised just how much you'll agree once you're behind the wheel. Try one for yourself and see just how much power the Colorado packs under the hood – and get ready for some amazing adventures ahead.