The 2020 Chevy Trax vs the 2020 Chevy Equinox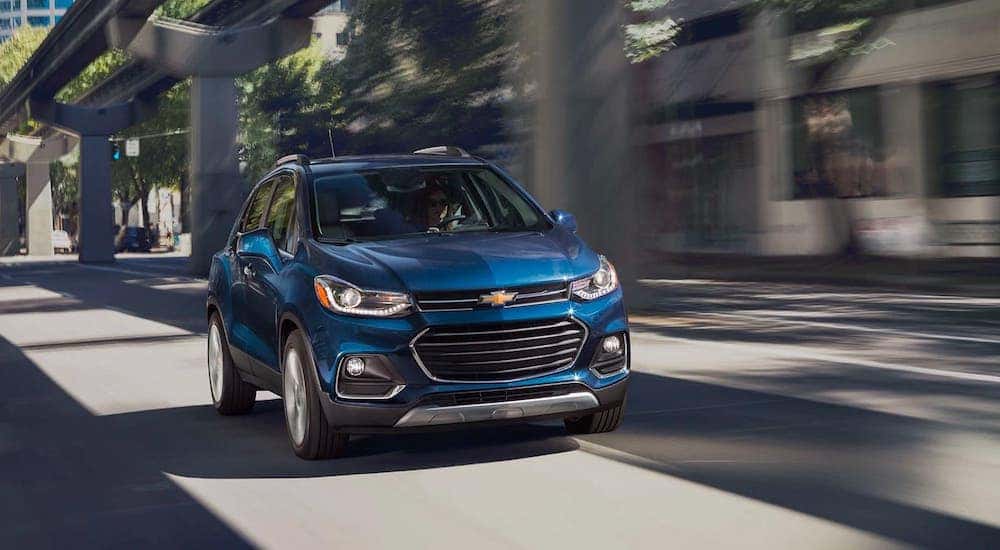 When it comes to SUVs, the number of selections between models and manufacturers can be somewhat overwhelming. Should you purchase a compact model with a stellar fuel economy and a zippy yet nimble engine? Or would you find more satisfaction in a full-sized SUV equipped to the gills with some pretty groundbreaking tech and power? What type of SUV you buy has become a question of preference and necessity rather than one of the particular features or styling. This is especially true within the Chevrolet family lineup. Chevy is a manufacturer that develops all kinds of cars from subcompact vehicles to hulking pickup trucks that tip the scales in terms of power. That said, across the spectrum of vehicles, two SUVs stand out the most: the 2020 Chevy Trax and the 2020 Chevy Equinox. These are two SUVs that do a pretty good job of providing a tremendous initial package; however, we'll need to dig considerably further to get an understanding of which SUV might make the better pick. So on that note, let's take a look at the two SUVs you can find at a Chevy Dealership near Clifton Park, NY, the 2020 Chevy Trax vs 2020 Chevy Equinox.
Cut from the Same Cloth
At first glance, the 2020 Chevy Trax and the 2020 Chevy Equinox look like the small and large of the same vehicle; and in many ways, that's true. The Chevy Trax is a rather compact SUV that attempts to provide the kind of experience offered in the larger Chevy Equinox but for a lower price and in a smaller package. The starting price of the Chevy Trax is a low-entry $22,295 MSRP, while the Chevy Equinox starts at a moderately higher $24,995 MSRP. Although the Chevy Trax is cheaper, it is not wise to judge a vehicle just by its sticker price.
Both the Chevy Trax and the Chevy Equinox offer a simple spread of trims. Within the Chevy Trax, drivers will get to choose from the LS, LT, and Premier. Meanwhile, drivers of the Chevy Equinox choose from the L, LS, LT, and Premier. While the Chevy Equinox has one extra trim option, it isn't enough to discredit its competitor, especially when both vehicles put a lot of configuration between them.
This striking similarity in trims brings us back to the style of these two vehicles. If there were one word that could be used to describe the design of these two SUVs, it'd be: basic. Sure, the Chevy Equinox is a large minimalist, and the Chevy Trax looks like a charming beetle, but these characteristics are far from unique. Unfortunately, both vehicles risk blending into the already crowded field of SUVs. Although, it goes without saying that one shouldn't judge a car by its chassis, which is why we'll delve a little deeper to pin down what makes both of these vehicles so special.
Lopsided Performance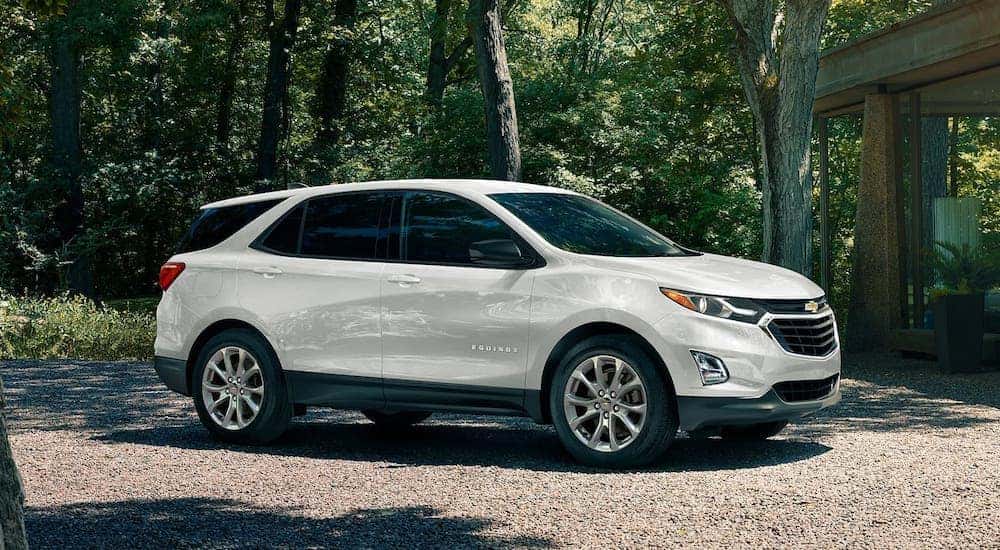 Power and performance is a big deal when it comes to SUVs, and both the Chevy Trax and the Chevy Equinox fall a little short of remarkable, but still manage to get the job done. The Chevy Equinox, for instance, derives power from a turbocharged 1.5-liter inline-4 engine that delivers on a promise of 170 hp and 203 lb-ft worth of torque. This base engine comes equipped with a 6-speed automatic transmission and a rather standard front-wheel drivetrain.
Should you want more power, and chances are you probably will, you can find it in the turbocharged 2.0-liter inline-4, which takes things up a notch or two with a rating of 252 hp and 260 lb-ft worth of torque. The pairing of a 9-speed automatic transmission makes the performance of the Chevy Equinox a little lighter on its feet. With an available all-wheel-drive option, you should have no trouble navigating rough road conditions. However, it should be noted that the Chevy Equinox is not an off-roader, and ought not to be treated as such. The 2020 Chevy Equinox also excels in terms of gas mileage, with base models earning 28 MPG combined. Towing capacity also isn't half bad in the Chevy Equinox with 1,500 lbs in base models and a 3,500 lb capacity in higher-end models.
That brings us to the Chevy Trax, and we should start off saying that even when tweaked for fuel efficiency, this small SUV only gets 28 MPG combined, precisely what you'll find in the Chevy Equinox a car of much greater stature. This lack of power might be due in part to the engine, which is a 1.4-liter turbo-4 that puts out 138 hp and 148 lb-ft worth of torque. A 6-speed automatic transmission is paired to the only engine in the Chevy Trax, but if you want a better drivetrain, you can upgrade to one of the all-wheel variety. Although, it should be mentioned that the Chevy Trax excels at city driving, and while you won't be hauling anything with it, you'll undoubtedly get a nimble little metropolitan SUV.
Bells and Whistles Matter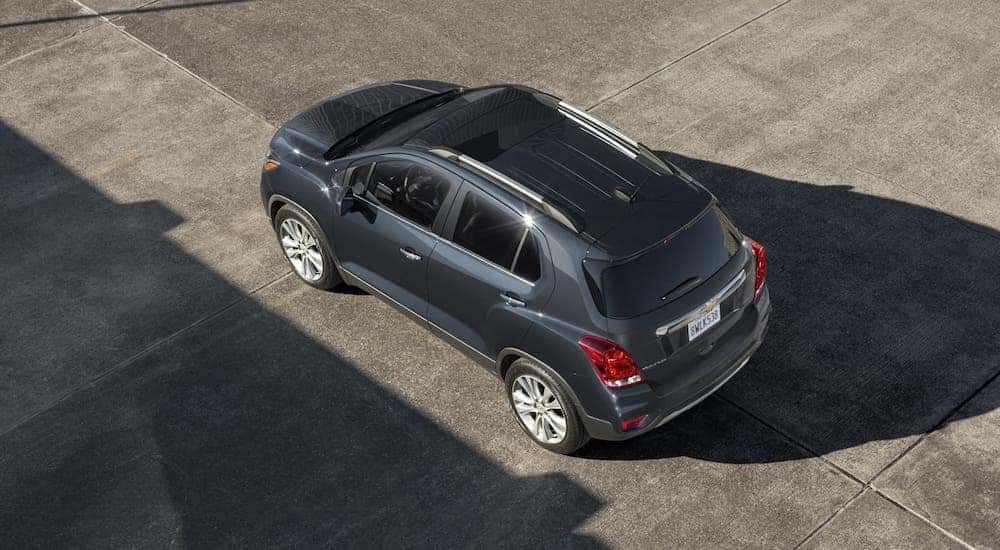 Stepping inside both the Chevy Equinox and the Chevy Trax offers a worthwhile experience, with both vehicles offering plenty of soft-touch plastics, cloth upholstery, and the option to upgrade to more premium materials. Starting with the Chevy Trax, this compact SUV makes use of all 167.7 inches to give drivers 48.4 cubic feet of cargo room. While this can't rightly be compared to the Chevy Equinox, when matched up against other compact SUVs, the Chevy Trax manages to hold its own. Meanwhile, the Chevy Equinox vastly outsizes the Chevy Trax with ample room for five passengers and a maximum of 63.5 cubic feet of cargo space.
Now, let's move onto the tech. The 2020 Chevy Trax and Chevy Equinox both offer a decent amount of high-tech gadgetry onboard, with base models having a touch-activated infotainment screen that is integrated with Apple CarPlay and Android Auto. The Chevy Trax does a decent job when it comes to other amenities, with remote start, a Bose designed audio system, and heated front seats in higher trims, although if you want cruise control, you'll have to upgrade to the LT model. The 2020 Chevy Equinox, on the other hand, doesn't skimp on cruise control in base models, and you can get Bose speakers, an automatic dual-zone climate control system, and a panoramic moonroof should you decide to upgrade to it.
The Chevy Trax's standard safety features include the basics, rearview camera, ten airbags, and stability control. Unfortunately, there are not a lot of options for upgraded safety smart-technology. The 2020 Chevy Equinox, on the other hand, offers a spread of safety equipment, with automatic emergency braking, active lane control, and automatic high-beam headlights all standard.
Which Chevy SUV Should You Pick?
Deciding to purchase a 2020 Chevy Trax or 2020 Chevy Equinox can be hard. However, the choice is all in your hands because it is dependent on what you are looking for. While the Chevy Trax is lower in price and masters city-driving, the Equinox is more powerful and better equipped to be what SUV drivers typically see. No matter what you are looking for, we at DePaula Chevy in Albany, NY, are here to help. Whether you have more questions about a vehicle or want to take a test drive, just call or visit us, and we will be sure to find you the vehicle you have been searching for.