The 2019 Chevy Silverado 1500 vs the 2019 Ford F-150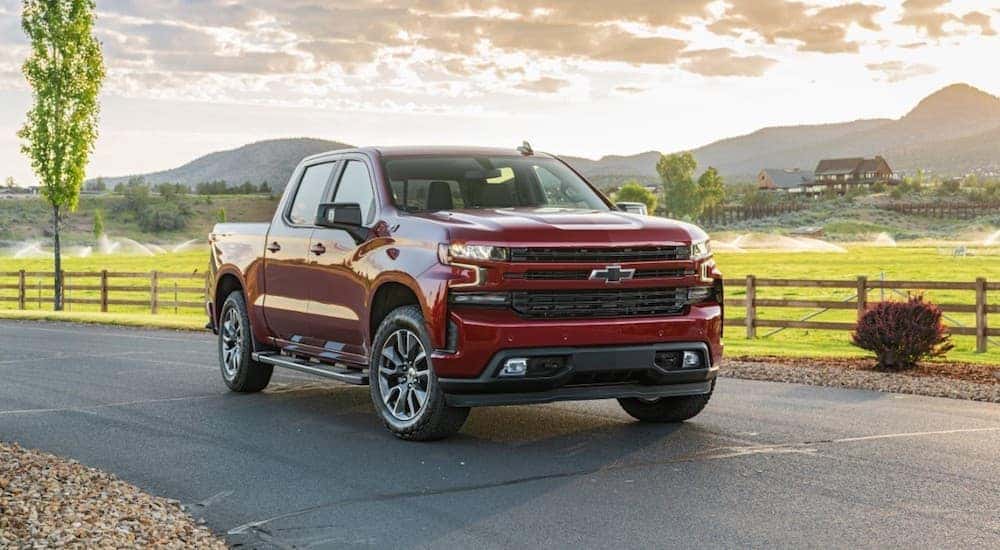 While you are sitting behind the wheel of a top-notch pickup truck, there are a number of things that you should expect, but power, class, and impressive utility should remain near the top of the list in terms of importance. As one of the leading Albany car dealerships, here at DePaula Chevy, we're home to one of the most legendary pickup trucks on the market, the 2019 Chevy Silverado 1500. The Chevy Silverado is a classic with nearly two decades of unparalleled performance and customer satisfaction. However, one of the Chevy Silverado's main challengers has always been the Ford F-150, a classic in its own right with a rich history backing its place in the market. That said, at DePaula Chevy, we're unafraid of matching up some of our most popular vehicles against the competition. As can be expected, we were eager to compare our 2019 Chevy Silverado 1500 vs the 2019 Ford F-150.
The Power At Your Disposal
When it comes to matching two pickup trucks head to head, the first, and possibly the most important aspect to consider is the amount of engine power that you can expect beneath the hood of either vehicle. Both the 2019 Chevy Silverado 1500 and the 2019 Ford F-150 come with a diverse spread of engine options, each variant tuned to a certain style of driving. Whether you're a heavy hauler or a casual off-roader, both of these pickups bring plenty to the table; that said, only one can be considered the superior option.
The 2019 Ford F-150 starts fairly strong, equipping its base model with a 3.3-liter V6 engine that puts out 290 horsepower and 265 lb-ft of torque. These specs would be reasonable in a turbocharged four-cylinder, but the lack of torque may be somewhat disappointing for pickup drivers who want a standard pickup that has a little more hauling power. The 2019 Ford F-150 tries to make up for it, with a 6-speed automatic transmission that is reasonable, although drivers may be more satisfied by the 10-speed automatic that higher trims offer. The underpowered factor of the Ford's V6 comes to a head when you focus in on towing capacity, as base models can only tug up to 5,000 pounds.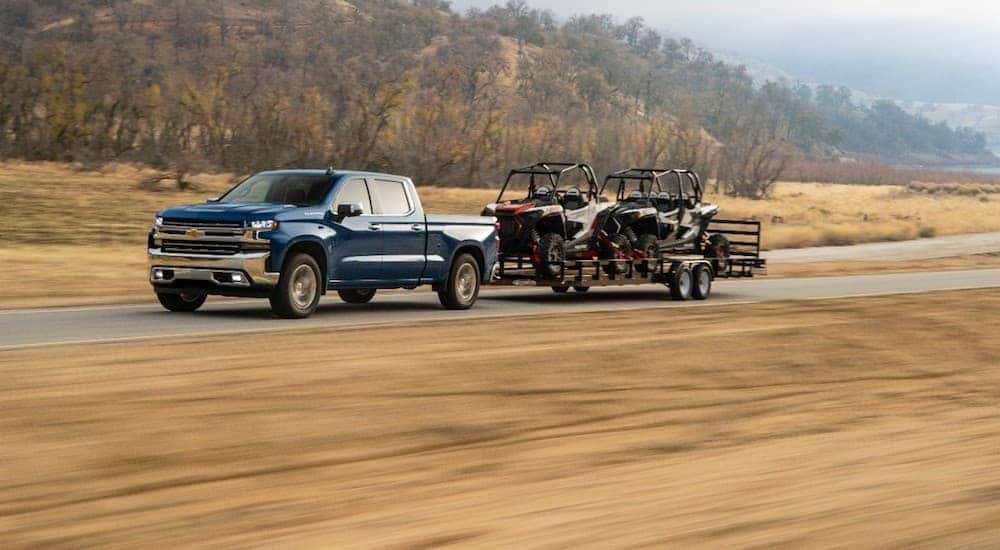 The 2019 Chevy Silverado 1500, on the other hand, makes up for the lack of power offered in the 2019 Ford F-150. The base model Chevy pickup rolls off of the factory floor with a 4.3-liter V6 engine that is rated for 285 horsepower and a much more satisfying 305 lb-ft of torque. These components work together to provide a max towing capacity of 6,700 pounds giving drivers plenty of options.
While power and towing capabilities make a huge difference in defining a great pickup truck, it isn't the only thing that drivers look for. A substantial aspect of the driving experience is the feeling behind the wheel and the number of interior features. 
Interior Luxuries
Before we dive into the features, it's important to note that when you purchase a Ford F-150, you'll have the option of three different cab styles, the Regular Cab, Super Cab, and Super Crew and respective 5.5 ft, 6.5 ft, and 8 ft truck beds. When it comes to the interior, the base model Ford F-150 is somewhat spartan. Base model drivers will find manual windows, an AM/FM radio, air conditioning, and cruise control, potentially the most advanced tech on board. While you can certainly upgrade the Ford F-150 to offer far more than these basic features, drivers might be sorely disappointed when they sit behind the entry-level model.
The 2019 Chevy Silverado 1500 offers three different cab styles much like the Ford F-150 including the Crew Cab, Double Cab, and Regular Cabs. Onboard you'll find infotainment and comfort features that are far more modern than the Ford pickup including a 7.0-inch touchscreen system that is equipped with Apple CarPlay and Android Auto compatibility. On top of this state-of-the-art infotainment screen, you'll also find cloth upholstered seats, vinyl flooring, and 17-inch wheels.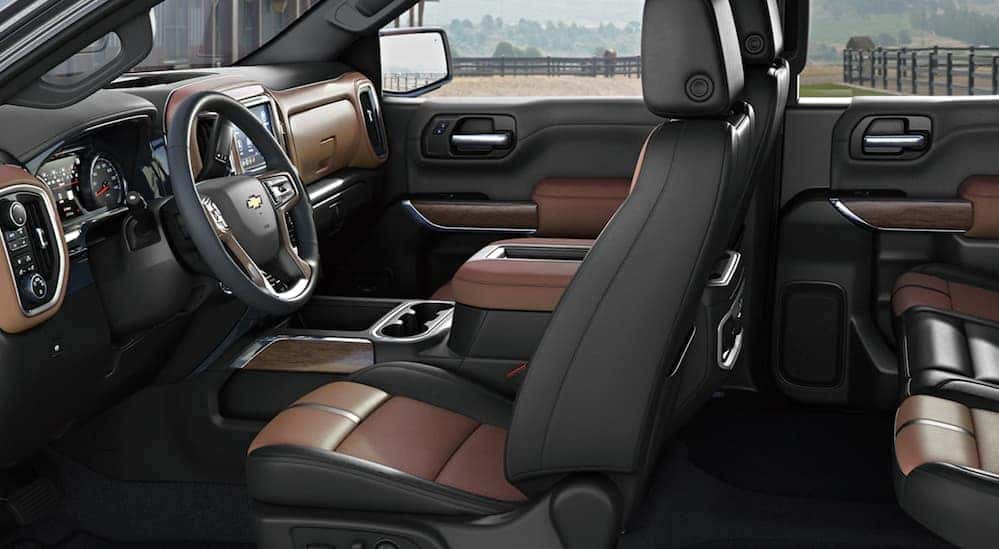 Onboard Safety
Automotive safety features are a big deal for drivers, and unfortunately, the Ford F-150 kind of drops the ball when it comes to basic offerings. Sure, you can purchase a Ford F-150 with a full package of active safety, but you'll have to upgrade all the way up to the Lariat trim option to get it.
The 2019 Chevy Silverado 1500 offers a near similar basic spread, including six airbags, trailer sway control, hill start assist, and a rearview camera. Just like the Ford F-150, you can upgrade the 2019 Chevy Silverado 1500 to offer a sweeping range of safety features including active lane control, automatic high beams, lane departure warnings, and automatic emergency braking.
Buying the 2019 Chevy Silverado 1500 at DePaula Chevy
While the 2019 Ford F-150 comes with plenty to love, the underperforming basic engine and the subpar interior features put it a step below the 2019 Chevy Silverado 1500. Although, if you want to see the difference for yourself, our team of auto dealers at DePaula Chevy can schedule a test drive for you so you can get the full scoop on this top-performing Chevy pickup truck.