Six Reasons Why the 2017 Chevy Spark Shouldn't Be Underestimated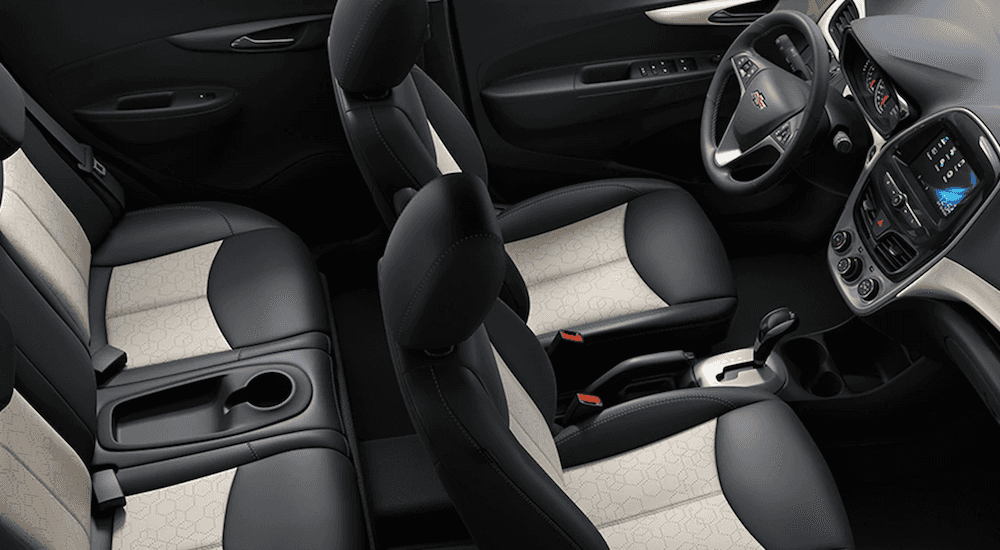 When browsing Chevy's assortment of available vehicles, a customer may naturally ignore the 2017 Chevy Spark. After all, the vehicle is significantly smaller than the brand's other offerings, and many consumers might associate this attribute with reduced performance or amenities.
Well, this couldn't be further from the truth. While power is slightly compromised due to the smaller construction, every other aspect of the nameplate is top-notch. The vehicle includes a number of amenities and capabilities that customers are usually seeking during the car-buying process, including innovative technological features and an array of safety functions. Ultimately, when you're driving in the 2017 Chevy Spark, you might forget that the model is considered to be the brand's smallest offering.
Below, we've provided several reasons why consumers shouldn't be underestimating the 2017 Chevy Spark despite its size. That way, when you're ready to start shopping for a new Chevrolet, you can add another vehicle to your list of targets…
Reason #1: Impressive Efficiency
The Chevy Spark is undoubtedly the brand's smallest vehicle offering, but that attribute can lead to some positive factors. For instance, while the single-engine offering isn't all that powerful, drivers can still anticipate incredible fuel efficiency. The 1.4-liter Ecotec four-cylinder engine delivers an incredible 38-miles-per-gallon highway fuel efficiency, which proves to be one of the best marks in the entire segment. These excellent numbers can partly be attributed to the vehicle's smaller, aerodynamic design, although the five-speed manual transmission and Continuously Variable Transmission also play a significant role. Thanks to these specs, drivers can expect to save some extra money at the gas station.
Sure, the 98 horsepower and 98 pound-feet of torque leave a bit to be desired. However, at the end of the day, these power specs are still respectable, and they'll surely provide you with enough muscle to keep up with other drivers on the highway.
Reason #2: Innovative Technology
The Spark may be one of the brand's smallest offerings, but that doesn't mean engineers skimped out on power. Rather, they still included a number of technology offerings that will keep every occupant entertained during a long journey.
The vehicle is equipped with the brand's MyLink system, which can easily be accessed via the accompanying seven-inch diagonal color touch-screen. Thanks to this inclusion, drivers will have quick and easy access to an assortment of applications, including radio and navigation. The unit also offers Apple CarPlay and Android Auto compatibility, meaning you can jam out to your favorite playlists or perform many of your phone's basic functions (like phone calls or text messages).
One of the more innovative inclusions is the available 4G LTE Wi-Fi, which provides a consistent wireless connection to the internet. With the ability to connect up to seven devices, all of your occupants won't have any issues using the internet on their preferred gadget.
Reason #3: Trustworthy Safety Functions
You might feel like your safety is partly compromised when you're driving in the 2017 Chevy Spark, but the brand did an admirable job of including a number of functions that will keep occupants protected. For instance, engineers added several features that are intended to help drivers avoid accidents altogether. The Forward Collision Alert can detect when a crash is imminent, and if the driver doesn't respond to the vehicle's audible and visual cues, the vehicle can automatically apply the brakes to help lessen or prevent the impending collision. The Lane Departure Warning plays a similar role, alerting the driver when it may be unsafe to switch over. Meanwhile, features like the Rear Park Assist and rear vision camera will decrease the chance that you collide with another vehicle or object when trying to squeeze into a parking spot.
In the event of an emergency, the Spark includes a number of features that should assure every occupant's well-being. For instance, the extensive 10 airbag system will provide occupants with the necessary amount of cushion, thus reducing injuries during a crash. The high-strength steel safety cage will play a similar role, as the vehicle's sturdy construction should absorb the majority of a collision's energy. In the event that help is needed, drivers can use the OnStar Automatic Crash Response system, which will connect them with an OnStar Advisor. This individual can summon emergency personnel, and they'll arrive at the crash site in no time.
Reason #4: Abundance of Cargo Space
Despite being a smaller vehicle, the Chevy Spark still manages to deliver an impressive amount of interior room. While the vehicle can only fit four passengers, drivers can take advantage of that rear space when the car is empty. Ultimately, when owners fold down their rear seats, they'll have access to an impressive 27.2-cubic-feet of cargo space. That should be more than enough room to fit any luggage or equipment.
Reason #5: Numerous Exterior Color Options
If you're considering opting for the 2017 Chevy Spark, then you presumably want your new ride to stand out from the crowd. Well, that will be a distinct possibility thanks to the array of exterior color options that are available. Customers can choose from an array of paint offerings, including
Kalamata
Mosaic Black
Nightfall Gray
Red Hot
Silver Ice
Splash
Summit White
Toasted Marshmallow
Brimstone (extra $395)
Mint (extra $395)
Ultimately, if you're looking to customize your vehicle's cosmetics, you'll have that ability thanks to the array of color offerings.
Reason #6: Upgraded Trim Options
Customers can further customize their vehicle by opting for one of the available trims. For instance, the 1LT version of the Spark elevates the vehicle to a whole new level. When customers choose this specific variation of the nameplate, they'll find that engineers included 15-inch alloy wheels, a revised front and rear fascia, new roof rails, and a rocker panel. Meanwhile, the interior was slightly revised, as the brand included heated leatherette seats and a leather-wrapped steering wheel. Best of all, engineers added their suspension package to this specific trim, elevating the vehicle's performance capabilities.