Selecting The Best First Car For a New Driver
At DePaul Chevy, we hear it from parents all the time asking us, "What's the best first car for a new driver?" That can be a tricky question, and it's certainly one that we don't take lightly. Finding the perfect car for a new driver in your family means putting safety on the very top of the priorities list. Luckily, Chevy offers several high-tech safety features that are available to first-time-drivers at reasonable prices. When it comes to car dealerships in Albany, NY, no one cares more about your family's safety than DePaula Chevy. We are honored to guide parents in the right direction towards new vehicles that are both reliable and affordable.
Why We Love The Chevy Cruze
The Chevy Cruze is a stylish sub-compact car that parents and teens can easily agree on. It's sporty look combined with high-tech connectivity is sure to excite any new driver in your family. Parents will breathe a sigh of relief when they get a peek at its fabulous safety features and unbeatable price tag. Whether you opt for the hatchback or sedan style, you'll find a variety of innovative upgrades and stylish trim options to suit your needs.
The 2019 Cruze is available in the L, LS, LT, Premier, and Diesel Models. Even the least expensive model includes several useful features, such as the StabiliTrak, electronic stability and traction control systems, and electric rack-mounted power steering. For the tech-obsessed, this vehicle doesn't disappoint. All models come with a 7-inch infotainment system that's easy to use. Drivers also enjoy 4G LTE WiFi Hotspot Capability with any trim level. 
To add to the list of perks, a rear vision camera and OnStar capability are nice options also included in the L model. These helpful features can be especially good for new drivers to have. With OnStar crash response, accidents are reported to emergency services right away. This ensures that help will be on its way even if the driver isn't able to call in an accident themselves. With great safety and driver assist features, there's certainly a lot to like about the standard Cruzes.
If you choose to upgrade to the LT trim, you can add Lane Change Alert with Side Blind Zone Alert to the mix. Rear Cross Traffic Alert and Rear Park Assist are also available in the LT model. Although not totally necessary for this smaller vehicle, having the extra safety features can give parents a greater peace of mind for their teenage drivers. Giving your new driver every advantage on the road will help them stay safe as they gain more real-life driving experience with time.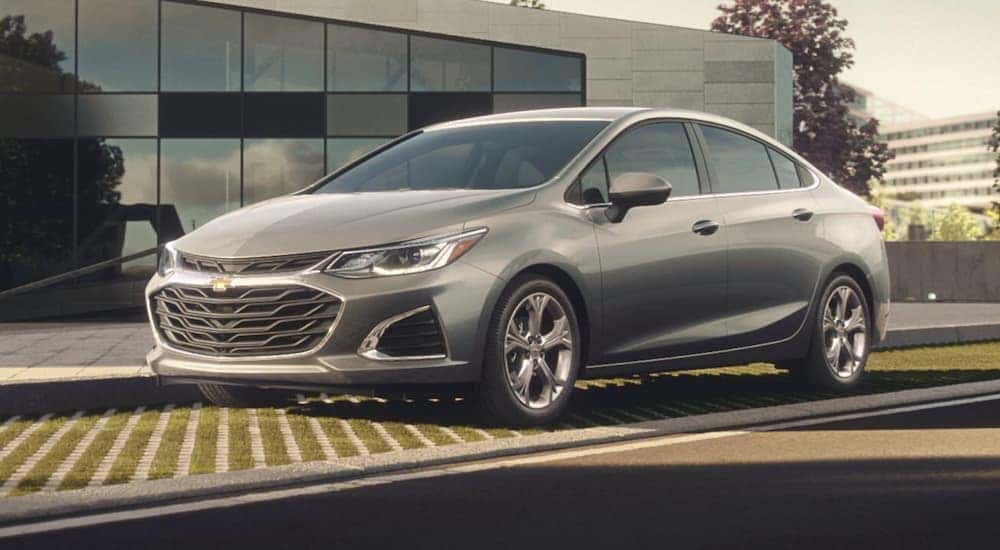 Are you interested in supreme fuel efficiency? Choose the diesel engine to get a combined fuel economy of 37 miles per gallon and an impressive 48 miles per gallon on the highway. The Chevy Cruze is one of the only subcompact cars to offer a diesel option. For the additional cost upfront, you can enjoy luxurious features on the diesel model, including heated seats, Sirius XM Radio trial, and a remote starter. 
Chevy's Teen Driver Program
If you aren't totally convinced yet about choosing Chevy for your teen driver, you may not have heard of their Teen Driver System. Included in even the standard models, Chevy's Teen Driver technology gives parents more control over the vehicle, even when they aren't physically present for the drive. Did you know that only 61% of high schoolers wear a seatbelt when riding with someone else? Another startling statistic is the fact that a whopping 93% of teenage drivers play distractingly loud music while driving. Teens are also more likely to speed than older drivers. With all the concerning facts around teen drivers, it's no wonder parents are worried. Chevy has taken all these areas into account when designing this smart feature.
The amazing Teen Driver program lets you set speed limits and volume limits. It's a parent's dream come true. Rather than reminding your teen to slow down, you can make sure it actually happens. Turn on the Buckle to Drive feature, which ensures teens are wearing their seatbelts behind the wheel. This feature reminds teens to buckle up by providing audio and visual alerts, along with a 20-second freeze if the driver attempts to shift out of park before buckling up. Don't bother nagging your teen driver, let the car do some of the legwork for you. To top it all off, the Teen Driver technology gives parents a report card to track and identify dangerous driving behavior before it becomes a habit.
Great Things Come in Small Packages
There's so much to love about the new Chevy Cruzes. Their small size makes them a great choice for teen drivers who are still getting used to maneuvering a vehicle into parking spaces and navigating through traffic. Although they are small, the Cruze is known for being a quiet and comfortable ride that even parents will like to drive. Rather than overwhelming your new driver with an oversized and heavy vehicle, the Cruze is small enough to keep them feeling in control behind the wheel. 
Another bonus related to its size is that you won't have to worry about your teen overloading this car with a bunch of rowdy passengers. Having more passengers in the car adds distraction and can be very unsafe if not everyone is properly belted in. With the limited space in a Chevy Cruze, it simply doesn't lend itself to being much of a party bus. For parents, that's definitely good news.
Customize It With A Variety of Accessories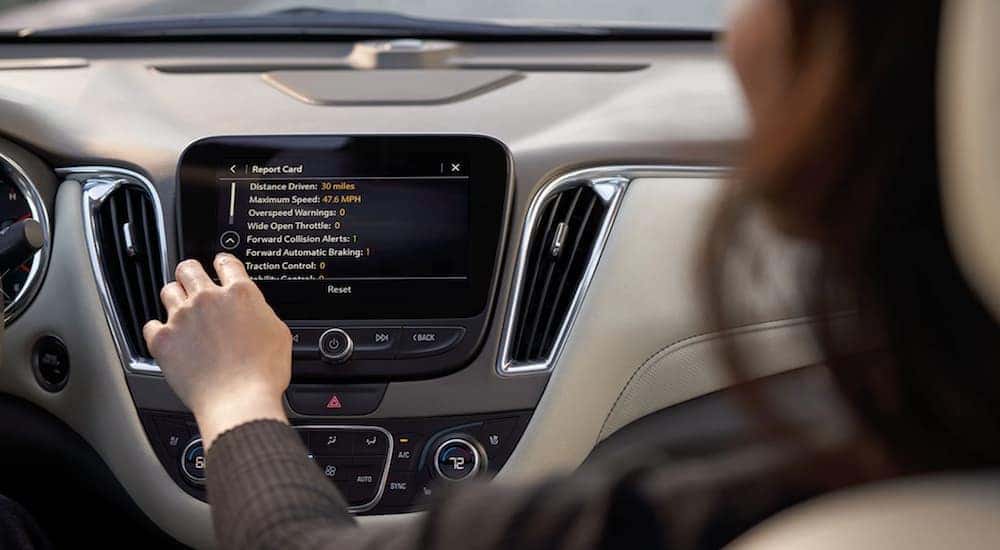 For a new driver, getting that first car is a big deal. Teens want to make things their own, and their first car should be a reflection of their personal style. The Cruze's attractive exterior is available in a choice of ten different paint colors. Additional exterior accessories include an illuminated bowtie emblem, rear nameplates, molded splash guards, hood protectors, license plate frames, and spoiler kits.
To keep passengers entertained in the backseat, a universal tablet holder is available with integrated power. A variety of Bluetooth Speakers and headphones would make a great gift to go along with this celebratory new car purchase. To keep the interior looking as clean as the day you bought it, Chevy has a collection of all-weather mats. Stainless steel pedal covers, interior trim kits, and illuminated front door sill plates all help give the Cruze a unique and personalized look.
The Price is Right
The MSRP for a 2019 Cruze Sedan is only $18,870. As noted previously, you can get quite a bit for your money through its standard features. While price shouldn't be the only consideration for your car purchase, everyone likes to get a good deal. Considering that a new driver may be more likely to accumulate scratches and dents than a more experienced driver, it only makes sense to choose an affordable vehicle. A small bump after opening the car door or a scrape along the side won't be as big of a deal on this affordable vehicle. Given all the great safety and tech features that the Cruze has to offer, it certainly provides an amazing value for families. Whether you're ready to purchase a new Chevy Cruze or want to check out some of our lightly used options, head on over to visit our Albany, NY dealership and speak to a helpful salesperson about your new driver's first car.