Most Exciting New Features in 2020 Chevy Vehicles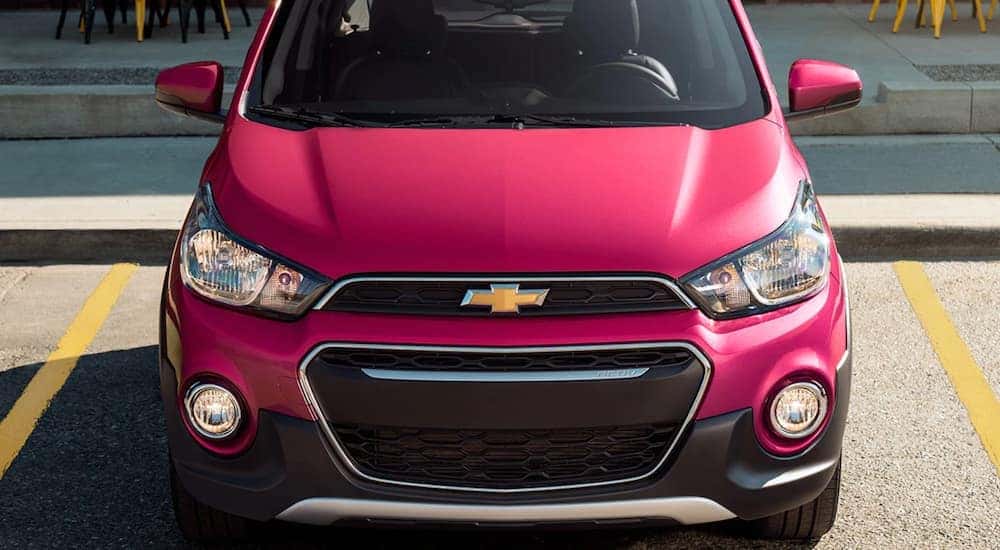 Cars are changing, and its all for the better. There once was a time where all that was expected of a top-notch vehicle was a solid engine, some decent seating, and maybe if you're lucky, a CD player; that has changed drastically. Not only are 2020 Chevy vehicles becoming sleeker and more fuel-efficient, but they're also becoming smarter. Features like adaptive cruise control, automatic emergency braking, and keyless ignition are bringing our vehicles and the way we interact with them closer to the future. At the forefront of this sudden push forward, is Chevrolet.
The 2020 Chevy family lineup is filled with vehicles that exist at the cutting edge of innovative auto technology, and at DePaula Chevy, we're proud to show you everything that this legendary automaker is bringing the table. When you visit our Albany showroom, you'll be introduced to a fleet of vehicles that are equipped with a wide array of incredible features that truly bring your driving experience to the next level, and we're here to show you some of our top favorites.
Automatic Emergency Braking 
When driving in cities or crowded parking lots, the chance of a fender bender is significantly increased. While these collisions can seem trivial at first, even a small bump can do a lot of damage to your car. Not only that, but in more severe frontal collisions, your and your passengers can sustain injuries like whiplash and even concussions. While cars of the past expected you to rely on good hand-eye coordination, and solid reflexes, the cars of today are taking things a step further with automatic emergency braking.
Automatic emergency braking is a feature that is becoming more and more common across automakers but has been offered by Chevy for some time now. Automatic emergency braking is a feature that uses an array of sensors to detect the area in front of your car. These sensors can sense whether a collision is imminent or not, and will grab control of your brakes to stop the car, hopefully before a collision can even occur. This feature can also include pedestrian detection, which can determine whether a person, or car, is passing in front of your vehicle. This innovative safety feature is also often paired with features like forward collision alerts, which also alert you when a frontal collision is imminent.
It is important to note that this feature is far from fool-proof. While it can give you an edge against collisions, there is no guarantee that it'll stop your car in time to avoid hitting another car, object, or pedestrian. That said, automatic emergency braking is an innovative new feature that offers drivers greater peace of mind when sat behind the wheel.
Apple CarPlay and Android Auto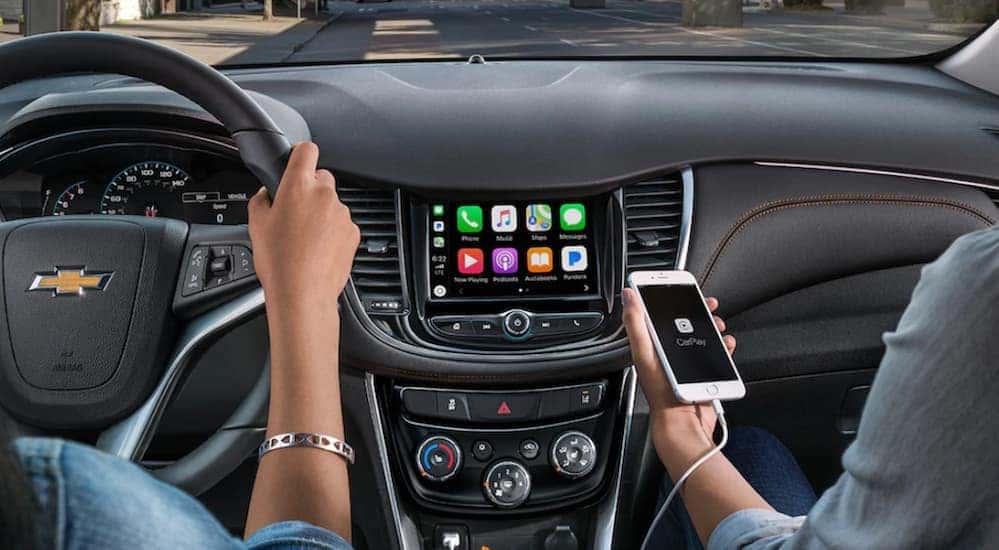 Picking up your phone to adjust audio or change your navigation settings can be quite dangerous when driving. Fortunately, Apple CarPlay and Android Auto compatibility allow you to access your smartphone without fumbling in your pocket or center console for it. This is a feature that isn't new to 2020 Chevy vehicles; however, we're glad that it continues to be an essential feature across the Chevy family. All with the press of an intuitive infotainment screen, you can access things like navigation, audio, and messages with ease. There once was a time where cars weren't designed to pair with smartphones, nowadays, as smartphones become more and more a central part of our lives, features like Apple CarPlay and Android Auto make driving that much easier.
Lane Keep Assist with Lane Departure Warnings
As automotive technology advances, we're drawing closer and closer to having self-piloting cars. While no car on the road today has reached this level of automation, Chevy brings us one step closer with lane keep assist and lane departure warnings. If you've ever driven on a busy highway, sometimes it can be easy to drift out of your lane, especially at high speeds. This intuitive safety feature is designed to make lane drift a thing of the past, and to protect not just you and your passengers, but other drivers as well.
How does this feature work? Well, it uses cameras to scope out the lane lines on the road and will use a complex network of software and hardware to keep your vehicle within those lines. It should be said though, this feature won't work as well, or at all, on roads that don't have lane lines or when the lane lines are difficult to read. So during particularly poor road conditions, or when it's dark out, you may have trouble accessing this feature. That said, this drawback shouldn't discredit what this incredible smart feature can do and how it can dramatically alter your driving experience for the better.
Wireless Charging
Cars are becoming more and more designed to accommodate our lifestyles, and for most of us, a huge part of our lives is our smartphones. In the past, you'd be lucky to have an AUX cord for your phone, let alone a USB port or Bluetooth connectivity. Today, that's changed, especially in some 2020 Chevy models. Wireless charging is a feature working its way into the Chevy family, and it allows you to simply charge your phone by setting it down on a wireless charging pad in your center console. While this will only work on phones that have wireless charging capability, it allows you to free up a USB slot, or to avoid having to deal with troublesome charging cables at all.
On-Board Wi-Fi
Cars have always served as a central source of transportation, carting to work, school, or just around town. Although, in the age of the long-distance commuter, some people spend a good-sized chunk of their day behind the wheel of a car. Chevy has realized this and has designed their vehicles to be closer to a roving piece of home than a machine that can move you from point A to point B. They make this convenient and comfort-focused driving experience possible by including onboard Wi-Fi in some of their vehicles.
Through a 4G LTE hotspot, drivers can stay connected even once they've left home or the office. Instead of draining your mobile data, or settling to listen to music that's on the radio, the 4G LTE hotspot allows you to remain linked to the web while on the move.
Checking Out New Features in 2020 Chevy Vehicles First-Hand
Sure, all of these features are truly incredible; however, before you decide on a new 2020 Chevy vehicle, we urge that you first visit our dealership to experience these features first-hand. Auto tech is changing the way we drive, and our team at DePaula Chevy is excited to show you all of the ins and outs of how these features work and how they'll better your drive.
At DePaula Chevy, were firm believers in providing a driving experience that is tailored to the specific needs and wants of our customers. Over the years, we've learned that every driver is different, and as such, every person that walks onto your lot has come to our dealership seeking different things. Our trained staff of auto experts will work with you one on one no matter what you're looking for. Whether you're in the market for a new Chevy or just want to have your existing vehicle looked at by one of our technical professionals, DePaula Chevy is your main source for all things automotive.