Leasing a Chevy? Target One of These SUVs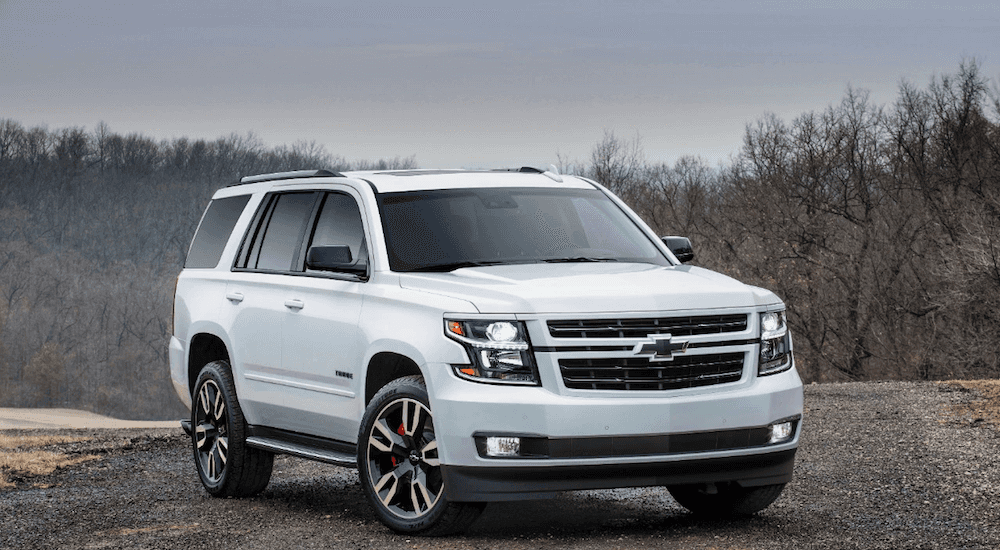 Do you have expensive tastes? Is your budget not large enough to accommodate these expensive tastes? Then, if you're currently searching for a new vehicle, it may be in your best interest to lease a ride. By opting for this car-buying option, you'll be able to realize some notable savings, allowing you to better fit a more expensive ride into your budget.
This is especially notable when it comes to SUVs. These hulking rides are predictably pricier than a generic sedan, and they often prove to be too expensive for some prospective buyers to afford. However, leasing will make driving that respective vehicle a possibility.
By pursuing a Chevy lease deal, customers can easily afford to opt for any of the brand's impressive SUV offerings. Of course, just because you can lease one of these SUVs, it doesn't mean your decision will be all that easy. Below, we've explored Chevy's various SUV offerings, and we've landed on an attribute that best describes the nameplate.
Continue reading below to see which of these offerings may be the ideal target. That way, when you're finally looking to capitalize on that Chevy lease deal, you'll already know exactly what vehicle you want to pursue…
Luxury: 2018 Chevy Suburban
This hulking SUV certainly isn't classified as a luxury vehicle, but an unknowing customer wouldn't be able to identify the difference between this nameplate and that particular class. That's because the 2018 Chevy Suburban is fully equipped with a number of amenities that improve the elegance and enjoyment of the ride.
A big reason for this sentiment has to do with the technological amenities that are included under the hood. It starts with the innovative Chevy MyLink system, which provides customers with their own personal concierge service. Whether you're looking for music, navigation, or another application, it's all available at the push of a button.  Plus, thanks to the inclusion of the Apple CarPlay and Android Auto compatibility, drivers can seamlessly connect their smartphone to their ride.
Rear occupants will appreciate the Rear-Seat Entertainment System, which will be the perfect distraction during those long road trips. The system includes a screen in both the second and third rows, and the Blu-ray playback means they can enjoy any of their favorite movies. The HDMI connection even means occupants can connect their favorite gaming system! Plus, thanks to the inclusion of wireless digital headphones, drivers will never be distracted by the audio coming from out back.
To top it all off, the brand also allows customers to opt for the 4G LTE Wi-Fi, which provides a strong wireless internet connection for up to seven different devices. Combine this amenity with the sound-deadening construction and the high-quality materials, and you're looking at one of the brand's most luxurious vehicles.
Safety: 2018 Chevy Tahoe
This hulking SUV was previously named the "Most Dependable Large SUV" in the USA, so it only makes sense that the nameplate contains a number of notable safety functions.
The Tahoe is equipped with a number of features that will play an important role in preventing accidents from occurring in the first place. For instance, the Low-Speed Forward Automatic Braking will be especially useful when riding in traffic. If your Tahoe is traveling below 50 miles per hour, the vehicle can automatically apply the brakes when a collision is imminent. Of course, the drivers will initially be notified by the Forward Collision Alert and the Safety Alert Driver Seat, which will warn the driver of the impending danger.
Meanwhile, the Lane Change Alert (with Side Blind Zone Alert) will be useful when traveling on the highway, providing the driver with an extra set of eyes. The Rear Cross Traffic Alert assures you don't bang into another vehicle when reversing from a parking space, and the Rear Park Assist will guide you into that spot when you first arrive to your destination. Of course, drivers can monitor everything that's happening behind their ride thanks to the Rear Vision Camera.
Power: 2018 Chevy Traverse
Now, to be clear, each of Chevy's SUVs manages to deliver a whole lot of power. However, when analyzing which of the nameplates most makes a name for itself via this attribute, it's clear that the 2018 Chevy Traverse is the proper answer.
The 3.6-liter V6 SIDI VVT engine is the real star, as the smaller unit manages to deliver a whole lot of power. Drivers can anticipate an impressive 310 horsepower and 266 pound-feet of torque, meaning owners can keep up with their fellow drivers on the driveway. Plus, the smooth nine-speed automatic transmission will deliver a smooth, consistent ride. Despite all of this power, the Variable Valve Timing, direct fuel injection, and Start-Stop technology play an important role in the engine managing to deliver a 27-mile-per-gallon highway fuel efficiency.
The 2.0-liter turbo four-cylinder engine may be smaller, but that doesn't mean it skimps out on any of those specs. Ultimately drivers can anticipate 255 horsepower and 295 pound-feet of torque, numbers that are rarely seen from such small offerings. Plus, drivers can anticipate a respectable 26-mile-per-gallon highway fuel efficiency, saving the owner plenty of additional money at the gas pump.
Convenience: 2018 Chevy Equinox
If you're seeking an SUV that will accommodate all of your daily chores, then the 2018 Chevy Equinox is a logical target. Ultimately, if you need to commute to work and serve as a de facto school bus for your children, this nameplate will do the trick.
If you're required to truck your kids' school projects or sports equipment to school and/or practice, the Equinox is more than ready to serve. The 60/40 split-folding rear seats allow owners to configure their interior to fit both passengers and luggage, while the 63.5-cubic-feet of space is more than enough room to fit whatever you need to bring on your journey.
Perhaps best of all, the hands-free gesture liftgate will automatically open with a simple motion of your foot. That way, if your hands are full with groceries or any other cargo, you'll never have an issue accessing the rear of your new SUV.