Leaf-Peep in a Chevy Silverado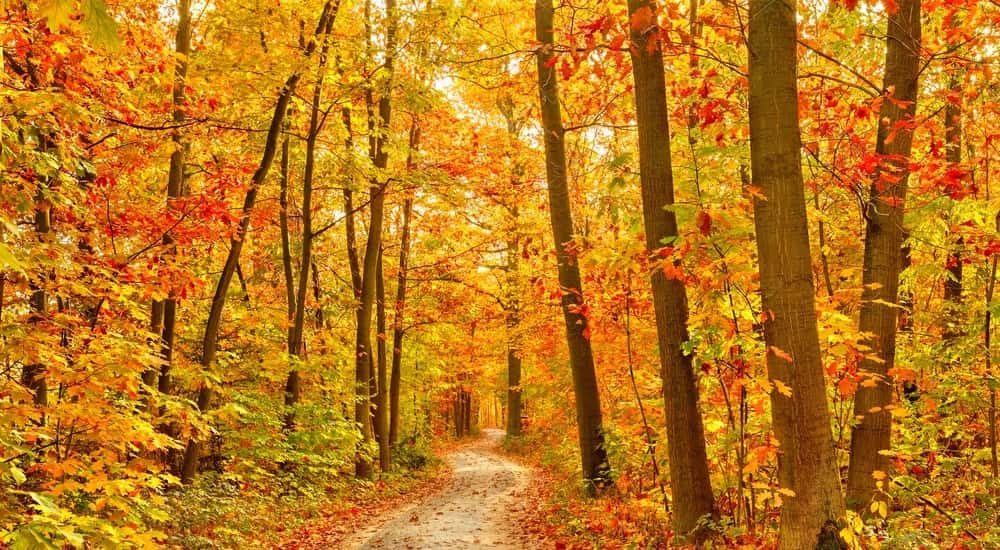 The fall is the perfect time of year to own a pickup truck. Why's that, you ask? Well, if you are located in New England, we've got one word for you: leaves. That's right, nothing screams fall in New England like leaves. Everyone waits anxiously to see the gorgeous fall foliage, and in fact, some people are so keen on seeing the bright hues transform the sky they venture up into the mountains of New Hampshire and Vermont. These people are, of course, the leaf peepers.
Whether you are an avid, annual leaf-peeper, making the trek year after year to see greens turn to fiery reds and oranges or if you are a novice, just testing the waters to see if the leaf-peep pilgrimage is worth planning a weekend away, you're going to want to take your adventure in the right vehicle, which is why now is the time to start researching Chevy trucks for sale. In fact, simplify your life and just jump straight into a Chevy Silverado, the perfect truck for all seasons.
A Chevy Silverado For All Seasons
You can probably figure out why we're big fans of the Chevy Silverado in the summertime – it's pretty awesome when you can haul your grill, pool floats, beach chairs and anything else your heart desires up and down the coast, scoping out the waves with no worries. And if you're stuck staying local and there's no body of water to be found? Well, nothing is stopping you from turning the bed of your Chevy Silverado into your very own pool – just don't forget to blast the Jimmy Buffet tunes as you're kicking back in your very own above-ground pool.
It's also no wonder that we love the Chevy Silverado in the winter – again, you can load up your pickup with as much ski and snowboard gear as you could possibly ever need and still have room for your buddies to hitch a ride and hit the slopes with you. And nothing tackles snow like a Chevy Silverado, so you won't be stuck waiting around for the plow to clear your street. Also, while the Chevy Silverado certainly has a comfortable cab, it's also pretty romantic to sit with your honey and watch the snowfall all snuggled up on the bench seats.
The Chevy Silverado is a gem in the spring – roll those windows down and enjoy splashing through the melting snow with no worries about getting stuck in the mud. Plus, when it comes time to do some spring cleaning and repairs around your house (not to mention spruce up the landscaping), the Chevy Silverado is ready to make as many trips to Home Depot as you can stand. Fill it up with flowers, trees, lumber, roofing – anything you need to get your house out of hibernation can fit in the bed of the Chevy Silverado.
But fall – fall is where the Chevy Silverado shines.
Fall Into A Chevy Silverado
First of all, there's the engine. The 2018 Chevy Silverado is powered by your choice of one of three engines: the standard V6 that gets 285 horsepower, a V8 that gets 355 horsepower or an even larger V8 that gets 420 horsepower. So no matter if you want to leaf-peep by cruising the Kangamangus Highway or if you want to go deep into the woods, far off the beaten track, there's a Chevy Silverado engine with enough power to get you to your favoring leaf-peepin' spot.
Of course, if you're planning on taking a long journey to see the foliage, you probably don't want to have to turn around and drive back the very same day. Luckily, the Chevy Silverado won't empty your wallet at the gas pump, so you'll have more than enough dough to spring for a hotel room once you get to your final destination. With an estimated 18 miles per gallon in the city and 24 mpg on the highway, the standard V6 is your best option if you want to rein in your fuel costs. Otherwise, you'll have to plan to spend a bit more refueling if you opt for the V8's – although, with 15 mpg in the city and 21 mpg on the highway, the V8s hold their own against similarly equipped competitor models.
Obviously, the Chevy Silverado is a great pickup truck choice for fall because of its performance and fuel economy, but what about the inside – is this a truck you're actually going to want to spend time staring at leaves in?
The short answer: yes. The 2018 Chevy Silverado offers a high-quality cab no matter if you start at the base model or head straight to the top-of-the-line trim. Of course, you could always opt for something in between: with six trims and various cab configurations available, nothing is easier than customizing a Chevy Silverado to meet your needs. But if you're wondering what comes standard in a mid-range 2017 Chevy Silverado, let's take a look at the 2017 Chevy Silverado in LT trim. Starting at $37,400, the truck comes with a host of features you're going to want when you head into the great outdoors, such as:
A rearview camera – how else are you going to see if a bear wanders behind you when you're reversing?
A leather-wrapped steering wheel – leather keeps your hands nice and toasty, which you're going to be grateful for when those temperatures start to dip.
An 8-inch Touchscreen Display – if you're really roughing it, this might be the closest you get to a TV all weekend.
HD Radio, Satellite Radio, and a CD Player – everyone knows the best part of a road trip is singing along to your favorite jams, and with three ways to get your beats blasting, you won't have to worry about getting sick of hearing the same song on repeat.
Of course, these are just a few of the features that make the Chevy Silverado perfect for your leaf-peeping expedition, but since the trucks are so customizable, we suggest visiting your local dealer to see all the great options available for your pickup.
Skip the Leaves, Check the Scores
All that said, maybe you don't want to go up north. Maybe you actually hate leaves. Well, if that's the case, there's one more great reason to own a Chevy Silverado in the fall… it's tailgating season!