How to Know if Your Car Dealership Really Has Your Best Interest in Mind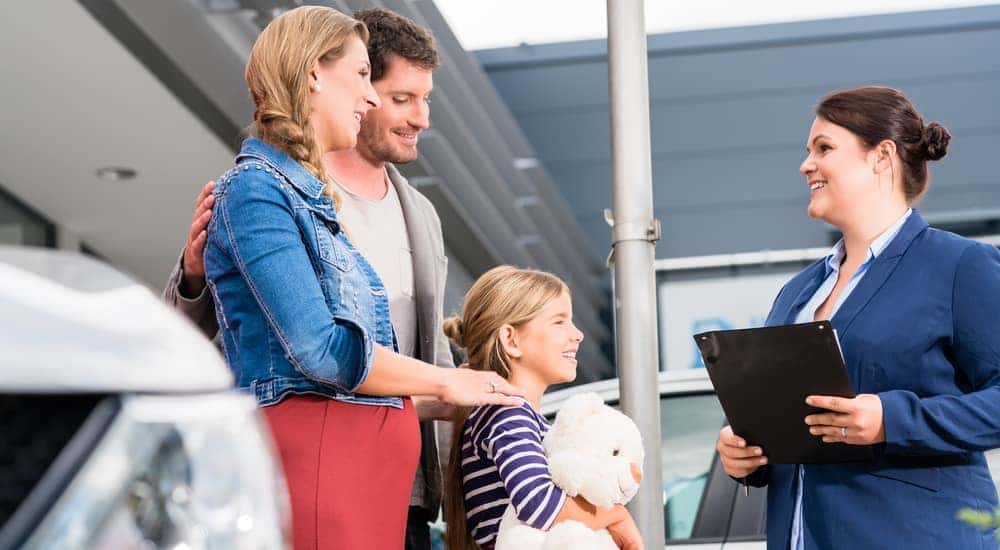 We've all been there, right? The awkward, pressured conversation with a car dealer who convinces us to buy the "luxury package" because we need it. You don't know how to politely say "no." Then, the conversation progresses and you actually start to believe that you'll need some of these very elaborate features. The worst part of the entire encounter is when you get home and don't feel like you love the vehicle you just invested in. Sound familiar? There are plenty of signs that indicate that this may happen to you. If you're looking for car dealerships in Albany, NY, that have the customers at the forefront of their business model, we encourage you to read on.
The Approach
An excellent dealership is one that is customer-focused and spends time getting to know the customer and their specific needs prior to trying to make a sale. The age-old cliche is still true today at some dealerships: you walk in and are instantly swarmed by salesmen trying to make their commission. The approach to the potential car sale will tell you a lot about the dealership and their priorities. If you're in the market for a new vehicle, you'll find what you're looking for at DePaula Chevy. We pride ourselves on being customer-focused, which means that we take the time to understand your needs, wants, and budget, before showing you any inventory. We listen to your concerns and validate your opinions because, at the end of the day, you should be elated with your new purchase. We have been local to the Albany area since 1985, which just goes to show how much our customers love shopping with us.
The Inventory
A dealership that truly cares about the customer will provide inventory that is exciting and diverse. If a dealership is only invested in making a sale, then the inventory will be sure to show it. If you walk into a dealership with a lackluster inventory, it's going to allude to the fact that they are not invested in your happiness as a new car owner. In fact, it may signal that the dealership is only driven by the prospect of making money. If this is the case, you should turn around and find a dealership that cares about their customers.
Customers have been shopping with DePaula Chevy for years and have been loyal to us due to the fact that we provide them with almost "too many" options to choose from. It's no wonder that customers love shopping at our car dealership in Albany, NY, as we carry all of the latest and greatest models, right alongside the tried and true used models. We have a great inventory of new, used, and work vehicles that will be sure to excite any customer.
The Transparency
This is huge when it comes to choosing a dealership. You'll want to find a dealer that is transparent when it comes to prices and, if you're buying a used vehicle, the car history. Your best bet is to find a dealership that provides the CarFax report up-front, to ensure that you know all of the car history before investing in it. Furthermore, you'll want to find a dealership that includes transparent pricing, which means that you won't be blindsided by "hidden fees" when you meet with the financing department.
Lucky for you, DePaula Chevy has all of the aforementioned traits. We work with our customers to ensure that they understand the pricing and the car history before ever meeting with the financing department. We also take pride in the fact that the entire process is simple and fast. We know that your time is valuable, and we try to respect that.
The Availability
Most dealerships operate on a 9-5 basis, sometimes they'll be open for a few extra hours on Saturdays. Which leaves many people in the working-class wondering: "when would I ever be able to make it into the dealership?" This has been an ongoing problem for generations. However, there are definitely some workarounds to this shortcoming.
First, find a dealership that offers an online service where you'll be able to view the inventory, specials, and specs for each vehicle. Additionally, find a dealership that provides you with 24/7 access to representatives over the phone or online chat. This will ensure that you can have any questions answered in a timely manner, without having to ruin your lunch break by calling into the dealership.
Are you thinking: "where am I ever going to find that dealership?" If so, we urge you to come check out DePaula Chevy. We work hard to be extremely accessible for our customers, which means we have an extensive website that provides customers with a lot of details prior to ever setting foot in the dealership. Additionally, we aim to accommodate the working-class folks by having our sales floor open from 8:30 AM to 8 PM. Also, if you've already purchased a vehicle with us, our service department is open from 7 AM to 8 PM. We are open Monday through Saturday in an effort to make the car-buying process easier for those with hectic schedules.
The Prices
Be very cautious around a dealership that does not offer any kind of specials to their customers. If a dealership appears to be greedy, they probably are. Chances are that you don't want to overpay for your next vehicle. So, if this is the case, find a dealership that provides the customers with specials, sales, and promotions to save you money. At the end of the day, it's you who will be making the monthly payments. If you're not impressed by how low the dealership is able to make your payment, it may be time to shop around. By going into three or four different car dealerships in Albany, NY, you'll begin to realize which dealerships are in the business to truly help their customers fairly quickly. You'll also recognize when dealerships are only looking to make money.
At DePaula Chevy, we save you money in a variety of ways. We offer a VIP program, which includes exclusive discounts, offers, and rewards. Additionally, we'll buy your old car with an instant cash offer. When it comes down to it, we are always offering specials on new and used inventory. Additionally, our staff members are knowledgeable about Chevrolet rebates and incentives, which will save you even more money in the long run. If you're looking for a dealership that truly cares about their customers and wants to save them money in the long run, DePaula Chevy is the place to shop!
The DePaula Advantage
DePaula Chevy is an excellent place to purchase your next new or used vehicle. If you're looking for reputable car dealerships in Albany, NY, DePaula Chevy has to be at the top of your list. We will work with you throughout the entire process and provide you with the information needed to make an informed and smart decision. Purchasing a vehicle is a major investment, and not one that should be made on a whim. By shopping at DePaula Chevy, you're partnering with the experts in the car-buying industry who have extensive experience. If you want to see what we can do for you, you can easily find us right at 785 Central Ave in Albany. We are happy to help you find the vehicle of your dreams.