Grow Your Business with Chevy Commercial Trucks and Vehicles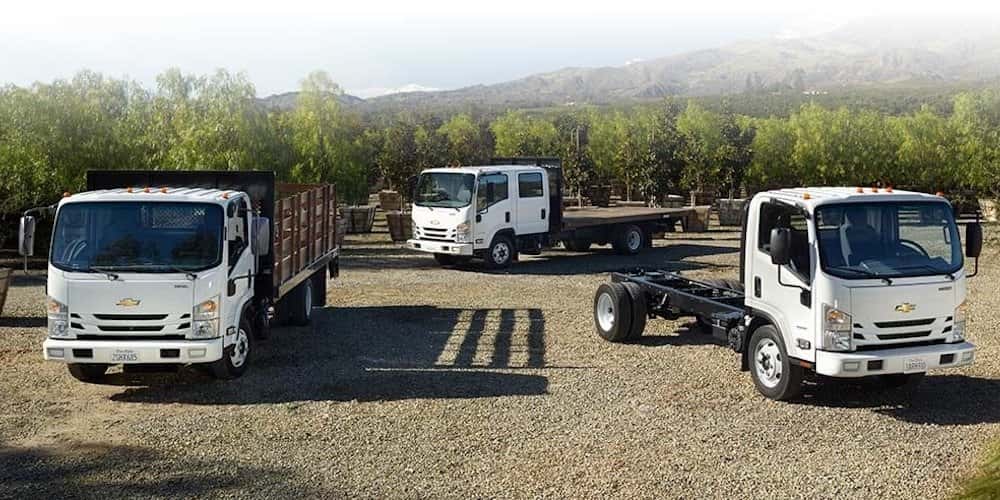 Starting or expanding your business and realizing that your little sedan or mid-sized SUV is not going to cut it? Looking for a dedicated vehicle that is built tough enough to withstand long hauls and heavy duty cargo towing? Need the ability to cart people as well as cargo? Then it's time to check out Chevy's lineup of commercial vehicles and make your business best-in-class using the best-in-class Chevy lineup.
Long known for quality and reliability, Chevy offers more than just great cars, and you'd be remiss not to check out Chevy work trucks for all of your commercial needs. If you need something bigger than a 4×4 pickup truck, don't worry – Chevy's got that covered as well with its line up of Chassis Cabs, Cutaways, and Van options.
No matter what your business goals are – whether you're a country cowboy, roaming open fields and rounding up horses, or a hard-driving, high-mileage highway hauler, or a concrete jungle urban emissary, Chevy's got a commercial vehicle to give your business the power to get up and go.
Commercial Pickup Trucks
Chevy offers three pickup trucks for your commercial needs: the Colorado, the Silverado, and the Silverado HD, and each one is a best-in-class powerhouse. Midsized or full-sized, you won't be disappointed in the towing or handling ability in Chevy's pickups. And with the trucks' comfortable interiors, you'll be just as happy on the commute as you are on the job site.
Best in class towing capability makes the midsized 2017 Chevy Colorado a workhorse not to be underestimated. Able to haul 7,770 pounds, the Colorado runs off of either the advanced 2.5-liter four-cylinder engine, a 3.6-liter V6 engine or the Duramax 2.8-liter Turbo-Diesel engine. Opt for the 3.6-liter V6 and you're going to enjoy having the best-in-class 308 horsepower sure to get you up and running.
Need a full-size pickup but don't want to sacrifice towing capability? With its 6.2-liter V8 engine, the Silverado 1500 offers class-leading towing up to 12,500 pounds for those who need a little help with the heavy lifting. The Silverado's bed is made of high-strength steel, so you won't have to worry about punctures or dents if your hauling instead of towing.
Of course, if you're looking for the truck named JD Power's "most dependable large heavy duty pickup" three years in a row, then you're looking for the Silverado HD (Heavy Duty). Towing up to 23,300 pounds using a Duramax 6.6-liter diesel engine, the Silverado HD offers up to 910 pound feet of torque and class-leading 445 horsepower. If you're plans are to tow the big stuff, then you're going to want to go HD.
Of course, towing and engine capability are what gives the Chevy its muscle, but we all know what happens when it's all work, no play. Chevy work trucks might be mechanical beasts, but slide into the cabs and be surprised by how easy it is to stay connected to your business – no matter where the road may lead you. The Colorado, Silverado, and Silverado HD all come standard with Commercial Link technology, Bluetooth, and WiFi capability. A host of other luxuries are available depending on your model and trim type, but it's safe to say if you're in a Chevy, rugged does not mean rough.
Chassis Cabs and Cutaways
If you actually really do need to go big or go home, Chevy has you covered with either the 2017 Silverado Chassis Cab, the 2017 Low Cab Forward or the 2017 Express Cutaway. Not sure which one suits your business needs? Chevy offers a utility body, dump truck body and flatbed body for its Chassis Cab, and the Low Cab Forward can be modified to suit a plethora of commercial needs, including wholesale delivery. The Express Cutaway is perfect for modifying a shuttle bus, ambulance or any number of passenger haulers. Not only do you have the freedom of choice when modifying your Cab or Cutaway body, but you also have the choice to add a wealth of innovative features and technology to truly make a Chevy perfect for your commercial needs.
Vans
Need something big, but not quite big enough you need your own cab? Then take a look at Chevy's commercial vans. Offering Express Cargo Vans, Express Passenger Vans, and City Express vans, Chevy has you covered no matter if you're delivering packages or people. The Passenger Van offers standard seating for 12, but seating for 15 is available as well. You'll also feel secure knowing that your van comes equipped with advanced safety features including Chevy's StabiliTrak® Electronic Stability Control System to protect you and your passengers.
Want to work remotely? The City Express Van can be easily converted to your office on wheels when you collapse the passenger seat to create your desk. With two 12-volt outlets and a place to store your laptop and your hanging files, the only things missing from your office are the watercooler and the annoying coworkers.
Check out Chevy's Commercial Side
Starting or growing a business is daunting and expensive work. Chevy knows that it's not just dependable vehicles you need to keep your business trucking along – you also need money, which is why Chevy offers special incentives for members of certain groups and associations, like the National Association of Homebuilders and the Associated General Contractors of America.
Moreover, you may be eligible for certain tax breaks if you purchase an eligible Chevy Commercial vehicle. Additionally, check out Chevy's pre-owned certified commercial fleet options at your local dealer for additional savings. Finally, Chevy knows that buying your commercial vehicle is just the first step. Outfitting the vehicle to fit your needs can quickly become a pricey proposition. That's why Chevy offers cash allowances to help you accessorize your vehicle with the tools you need to get the job done.
Don't limit yourself or your business to working with or out of cars that just aren't right for the job – check out Chevy's commercial vehicles and get your company moving in the fast lane.