Getting a Great Deal On Used Cars For Sale: The 2015 Chevy Cruze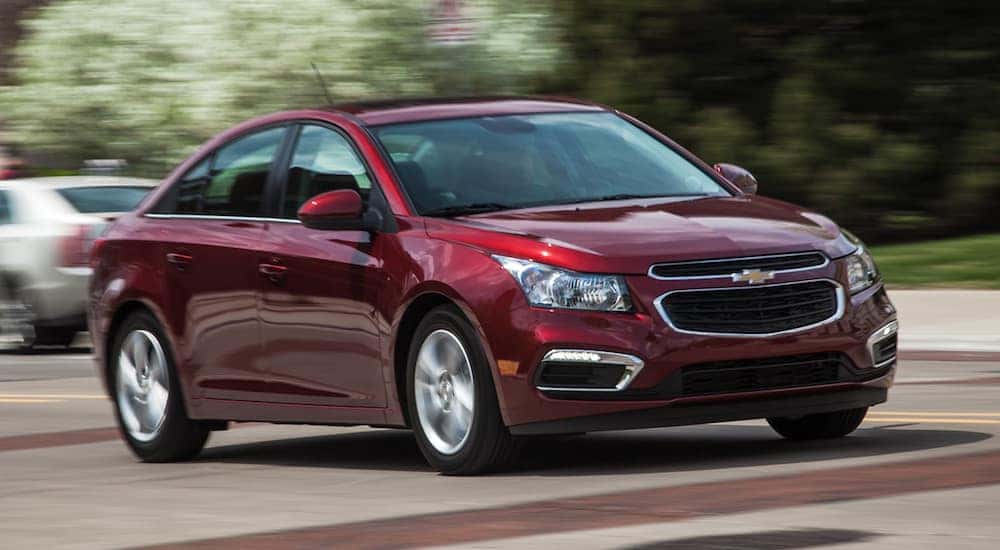 The DePaula Chevy Dealership is the best place to go if you're looking to economize but not skimp on sportiness and class. At DePaula Chevy we have over 200 used cars for sale and are dedicated to helping match each of our valued customers to their individual needs in a preowned vehicle. Right now, there is a special offer on the 2015 Chevy Cruze.
The 2015 Chevy Cruze
The Chevy Cruze is an exciting model, as it won many safety and reliability awards. It was also a customer favorite when it came to judging fuel economy. The handling and drivability have a sporty feel, which can make any test drive of this vehicle fun.
The 2015 Chevy Cruze was designed with customer comfort in mind. The exterior of that year was also designed to make driving a compact car more luxurious, but for half the price of a car that has the same amenities.
The 2015 model was also pretty a recent incarnation of the standard technological advancements that you now wouldn't dream of living without.
If you are interested in coming to DePaula to check out one of our many choices, which include lots of options and variations, let us tell you a little more about this particular model.
Safe and Reliable
When it comes to safety among used cars for sale, the 2015 Chevy Cruze is a great choice. With smooth handling, quiet conveyance, and an injection of sportiness, the handsome and competent Cruze is also a very safe vehicle to drive. Safety and reliability scores were and continue to be high for the Cruze.
The Insurance Institute for Highway Safety (IIHS) gave the Chevy Cruze the highest rating. The National Highway Traffic Safety Administration (NHTSA) gave the Chevrolet a perfect five-star rating. It earned four stars in roll-over testing.
An Enhanced Safety package is available in some trims which includes rear parking sensors, blind spot monitoring, and rear cross-traffic alert. Even standard models come with full-length side curtain airbags, front knee airbags, and front and rear side-impact airbags. They also include stability control, anti-lock brakes and two full sets of LATCH connectors for securing child safety seats.
With above average reliability, the Cruze earned a score of 3.5 out of five from J.D. Power and Associates. This bested competitors such as Hyundai, Subaru, Honda, and Toyota.
Tech-Savvy and Contemporary
The Cruze has Bluetooth capabilities with 4G LTE data connection, turning the car into a convenient Wi-Fi hotspot. It allows iPhone iOS 6 and iOS 7 to use Siri Eyes Free voice recognition, which also enables customers to have their incoming text messages read aloud.
2015 Cruze sedans are equipped with a 7-inch MyLink touchscreen with navigation, keyless entry, air conditioning, and remote car starter.
Fast and Sporty
The Cruze is known to Chevy lovers as an outstanding vehicle in drivability and economy, but its fun sportiness also increases its appeal among other used cars for sale. The Cruze handles corners confidently, with a decidedly sporting character when pushed to its limits. It is nimble and well composed through fast turns.
The Cruze's powertrains are very popular. 2015 Base models have a 138-hp, 1.8-liter, or you can get a 138-hp, turbocharged 1.4-liter as an option.
The Cruze diesel which is a 151-hp, 2.0-liter turbo-diesel four-cylinder earned the highest in EPA fuel-economy rating of 46 mpg.
Multiple Cruze trim levels (LS, LT, RS, and LTZ) were available in 2015, and boast their various amenities.
Fuel Economy
The 2015 Chevrolet Cruze fuel-efficiency numbers are as follows, according to the EPA:
Cruze with a 1.8-liter engine and automatic transmission: 22/35/27 mpg (city/highway/combined)
Cruze with a 1.8-liter engine and manual transmission: 25/36/29 mpg
Cruze with a 1.4-liter engine and either transmission: 26/38/30 mpg
Cruze Turbo Diesel: 27/46/33 mpg
Cruze Eco with manual transmission: 28/42/33 mpg
Cruze Eco with automatic transmission: 26/39/31 mpg
Fun Exterior
If you're shopping for a used car for sale, the Chevy Cruze is the way to go. The Cruze's split-grille brings a touch of class to the standard compact sedan. Here you will find standard LED daytime running lights. With its hatchback designed, it definitely has a younger, sportier look.
Comfortable Interior
2015 was the year that Chevy redesigned its console with fancy new cup holders and moved their door-lock buttons more conveniently to the outer doors. The 2015 model even comes equipped with a sunroof.
It was designed with a quiet cabin making road noise is almost nonexistent, a deliberate effort by Chevy to buffer the cabin with advanced sound-deadening materials. The cabin can also seat five, which is uncommon in the compact car class.
The Cruze boasts a crisply designed interior with seats that are supportive, comfortable, and contoured offering plenty of adjustment. With a classy two-tone color scheme, it definitely looks more upscale than the average sedan. In 2015, cloth upholstery was standard; but in other trims heated leather seats are available.
Choose DePaula Chevrolet When Looking For a Used Car for Sale
Whether you are looking for a new or used car for sale, DePaula Chevrolet wants to make sure that you have nothing but a positive experience with us. Start with our user-friendly, intuitive website, a highly valuable resource for all of our customers. We maintain a more than full inventory listing of all our new Chevys in stock. It's never been more simple to confirm vehicle availability in real time.
Our vehicle listings always confirm the trim package, a full breakdown of up-to-the-minute features, and the perfect glimpse of the vehicle with high-resolution images of its exterior and interior. We want to ensure that you find the perfect fit.
Please contact us via chat, telephone, or in person to ask more about our current specials, lease options, and financing programs.
Better yet, come test drive a 2015 Chevy Cruze today at DePaula Chevy and see for yourself. We're sure you'll love its versatility and performance!