Four Reasons Why the Inexpensive 2018 Chevy Cruze Is the Perfect Choice for Those on a Budget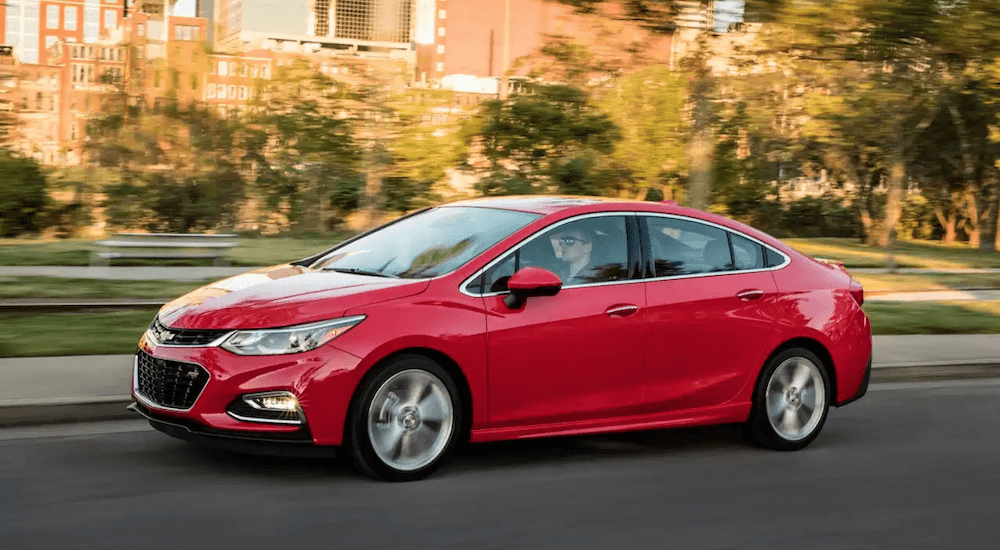 If you're in the market for a new car, you may be operating on a limited budget. In this case, you may assume that your list of targets won't be all that enticing, as a lower-priced vehicle usually results in a subpar product. However, that isn't the case with the 2018 Chevy Cruze. Despite being one of the brand's most inexpensive offerings, the nameplate is still incredibly impressive. After all, prospective buyers can expect commendable engines, reliable safety, innovative technology, and even an impressive amount of cargo space.
If you're in the market for a new ride, you couldn't do much better than the 2018 Chevy Cruze. Continue reading to find out why, and then when you start searching for Chevy cars in Albany, New York, you'll already know what specific nameplate you're going to pursue…
Reason #1: Engine Capabilities
Inexpensive sedans aren't generally known for their power, but the 2018 Cruze is looking to buck that preconceived notion. The 1.4-liter turbo engine is one of the most impressive offerings in the segment, as the unit is capable of cranking out a solid 153 horsepower and 177 pound-feet of torque. Plus, thanks to inclusions like Continuously Variable Valve Timing, drivers can also anticipate an incredible 40-miles-per-gallon highway fuel efficiency, meaning drivers can expect to save additional money at the gas pump.
There's even an alternative option for those seeking a diesel offering. The unique 1.6-liter turbo-diesel engine delivers an astonishing amount of power when compared to similar offerings, as drivers can anticipate 137 horsepower and 240 pound-feet of torque. Plus, thanks to the diesel configuration, the vehicle can also achieve a practically unprecedented 52 mile per gallon highway fuel efficiency, meaning drivers can travel more than 700 miles on a single tank of gas. While prospective buyers will have to dish out some extra money for this specific unit, they can account for the savings at the pump.
Reason #2: Safety Functions
Chevy has done an admirable job in recent years of including a number of notable safety functions to their vehicles, and that sentiment undeniably pertains to the 2018 Chevy Cruze. The vehicle is stocked with features that won't only protect during a collision, but could also prevent those accidents from occurring in the first place. This is a big reason why the nameplate earned a five-star Overall Vehicle Score from the National Highway Traffic Safety Administration.
These preventative functions include ordinary offerings like the rear vision camera, as well as some unique features like Forwarding Collision Alert. This technology relies on sensors to determine if a crash is imminent, and the vehicle will alert the driver and subsequently adjust the brakes if necessary. Other available preventative safety functions include the Rear Park Assist, Lane Keep Assist (with Lane Departure Warning), Lane Change Alert (with Side Blind Zone Alert), and Rear Cross Traffic Alert.
As we mentioned, in the event of an accident, drivers can remain confident that the 2018 Chevy Cruze will keep them safe and secure. The vehicle is equipped with an extensive 10 airbag system (including the innovative knee airbags), which will provide occupants with the necessary amount of cushion during a collision. Meanwhile, the accompanying high-strength steel safety cage shouldn't compromise during a crash, thus preventing injuries to your passengers. If help is needed, drivers can turn to the OnStar Automatic Crash Response System, which will connect them with an OnStar Advisor. This individual will contact emergency personnel, who will immediately travel to the site of the crash.
Engineers even included one of their more creative innovations to the 2018 Chevy Cruze: the Teen Driver Technology. This system has proven to be the perfect accompaniment for those younger drivers, as the unit will help promote safe driving habits. For instance, the vehicle will refuse to activate the vehicle's sound system until seat belts are secure. The vehicle will also compile details on the driver's tendencies, so parents can monitor their child's habits when a trip is complete.
It's pretty evident that Chevy focused on designing some of the safest vehicles on the road, so these individuals shouldn't have any reservations about traveling behind the wheel of the 2018 Chevy Cruze.
Reason #3: Innovative Technology
Of course, if you're shopping for a new ride, you'll surely want that vehicle to be equipped with a number of technology amenities. Unsurprisingly, the 2018 Chevy Cruze delivers. The real star of the nameplate's interior is the seven-inch diagonal color touch-screen, which provides easy access to an assortment of applications, including radio and navigation. Plus, thanks to the Apple CarPlay and Android Auto compatibility, drivers can seamlessly connect their smartphone to the unit. Therefore, if you want to listen to your favorite playlists or make a phone call, it's possible in the 2018 Cruze.
The technological amenities don't end there. The vehicle can be equipped with the available 4G LTE Wi-Fi, which provides a strong internet connection for up to seven devices. If you or your passengers are ever required to complete work while on the road, it won't be an issue in the 2018 Cruze. Finally, the MyChevrolet Mobile Application is a notable inclusion, as the smartphone program allows drivers to remotely access various areas of their ride. Whether you're looking to lock the doors, start the engine, or view vehicle diagnostics, it's all possible thanks to this mobile app.
Reason #4: Cargo Space
While this specific attribute doesn't necessarily pertain to the sedan variation of the model, it's still relevant to the nameplate overall. If drivers are seeking more cargo room, then they could consider opting for the hatchback version of the Cruze. The vehicle provides a whole lot of interior space, as drivers can unlock up to 47.2-cubic-feet of space when the rear seats are hidden. If you're pursuing a vehicle that would be a logical choice for road trips, then the hatchback version of the 2018 Chevy Cruze could be the best choice for you.