Four Perfect Pickups for City Driving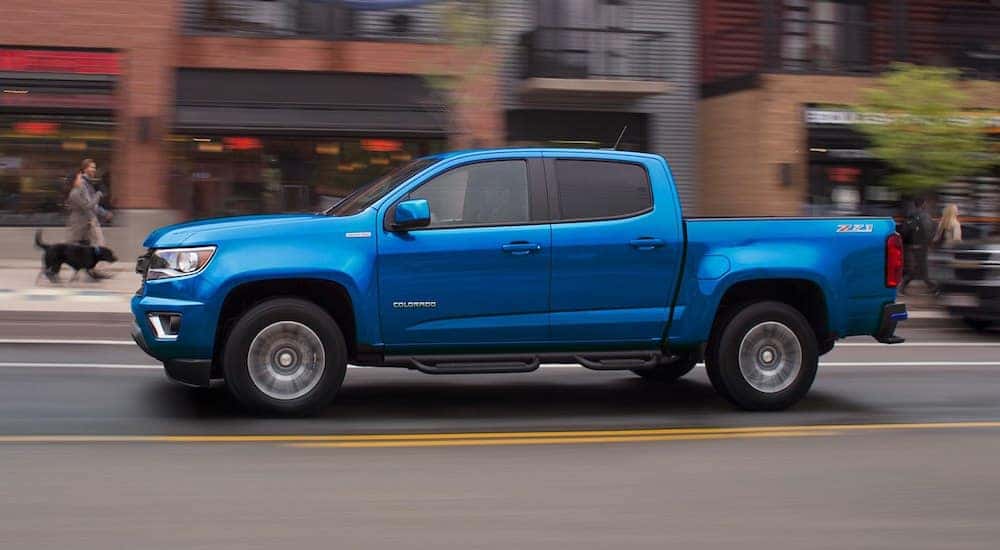 Pickup trucks are wildly popular in America. Unfortunately, though, there are times when they can feel somewhat unwieldy, especially when you're driving around in cities. Whether you're heading all the way into Manhattan or just staying in Albany, it can often seem impossible to navigate in tight traffic when you're behind the wheel of something that big. Thankfully there are compact truck models to help with this sort of thing, and though they're often overlooked for more powerful pickups, their smaller size works wonders for maneuverability. If you're on the hunt for trucks for sale in Albany or the surrounding area, you might want to consider one of these four mid-size models to help save yourself from frustration down the road.
Honda Ridgeline
The Ridgeline stands above competitors when it comes to handling, and its average price point is well below that of popular full-size pickups like the Ford F-150. In terms of design, it bears a strong resemblance to the Honda Pilot, and it shares the same maximum towing capacity (3,500 lbs with the standard front-wheel drive, and 5,000 lbs with the optional all-wheel-drive system). The truck bed also offers a host of innovative features, thanks in part to the implementation of a unibody construction.
It seems like tailgating was a heavy focus when Honda was building the Ridgeline because nearly every part of the bed has something to compliment a good time. An audio system is available for the truck bed, as well as a fully capable power outlet. If that wasn't enough, there's also a water-tight, hidden trunk space in the bed, with over seven cubic feet of space— perfect for use as a cooler on hotter days. The tailgate is equipped with a side-hinge so it can be opened horizontally, but it can also be opened in the traditional way as well.
The Ridgeline is one of the most maneuverable trucks on the market today. It can accelerate to 60 mph in just seven seconds, which is well above average for its class. Its handling feels much more similar to the Honda Pilot than other mid-size pickups, providing a smooth, comfortable ride, and capable of navigating tight spaces with relative ease.
Nissan Frontier
The Frontier is highly praised for its overall value, and it's definitely one of the cheaper trucks on this list. The truck bed is much smaller than many competing pickups', but it's still plenty big enough for most of the tasks that you might need done. The biggest drawback with the Frontier is a noisy interior, with sounds from the road and the wind permeating the cabin. At times, it can even be loud enough to interfere with phone calls (when using Bluetooth integration). The interior is also a bit outdated, with much fewer of the modern bells and whistles that we've come to appreciate in recent years, but at a reduced cost compared to other trucks in its class it still stands out.
Acceleration is a highlight for the Frontier, achieving a speed of 60 mph from a full stop in just over eight seconds. It provides a relatively smooth ride as well, and it's capable of tighter turns than a lot of other pickups out there. It doesn't bounce around going over bumps either, which is a massive plus for any truck. Power steering is especially effective as well, and there's never a shortage of control when driving at highway speeds. The Frontier is an altogether solid truck with above average handling and great value, but if you're looking for fancy features then it might not be your best fit.
Toyota Tacoma
While the Tacoma is commonly known for the utility and capability of its off-road trims, it also has a few versions built for street driving as well. Some taller drivers might wish for more adjustability when it comes to seating thanks to a slightly awkward sitting position, but it still delivers a balanced and comfortable ride even despite this minor inconvenience. Due to its off-roading roots, the Tacoma has a higher ground clearance than other standard mid-size trucks, which can make getting in and out of the cabin more difficult for shorter drivers, but that issue can be easily rectified with optional step bars. It doesn't have a particularly quiet interior, but it isn't loud enough to be intrusive either.
Acceleration is about on par with the Frontier, if not a little better, but its transmission can sometimes be a bit slow to respond. Steering feels confident and coordinated, whether you're zigzagging over backroads or driving through the city. The Tacoma takes turns gracefully, and without much effort.
The Tacoma also manages a fair amount of utility, from convenient hidden storage compartments in the cabin and bed to an available 120-volt truck bed outlet. Its towing capacity isn't at the top of its class, but it should be perfectly capable of delivering the strength most casual truck owners need. All that coupled with a state-of-the-art interior makes the Tacoma a sensible mid-size option.
Chevy Colorado
The Chevy Colorado offers an incredible amount of utility, pushing the limits of what defines a compact truck. Seeing as it has the power and handling to compete with full-size models but the size and control of mid-size ones, it might help just to think of it as a slightly smaller Silverado. It doesn't have a two-seat option, and so the difference in size between the two Chevy pickups comes mostly from the length of the truck bed. The body of the Colorado is also a bit more narrow than other pickups, giving it added maneuverability and making parking significantly easier.
Despite its narrower design, the Colorado still manages to provide an impressive amount of space for its bed, with a higher total volume than even the Ridgeline. Its maximum towing capacity is 3,500 lbs when equipped with the base engine, but that's bumped up to a class-leading 7,700 lbs when utilizing the 2.8L diesel engine. The diesel engine also delivers outstanding fuel efficiency, getting up to 30 MPG on highways. A 3.6L V6 option is available, and gives the Colorado the best acceleration on this list, capable of reaching 60 mph in under seven seconds.
Body roll is well managed by a sturdy suspension and the Colorado's steering is precise and well-weighted. The cabin is spacious and comfortable, with a much more appealing sitting position than the Tacoma. It's also got the most advanced interior of all the trucks on this list, with an exceptionally intuitive infotainment system, and multiple optional USB ports and 110-volt outlets spread throughout the truck. At the end of the day the Colorado surpasses the competition in capability, bordering on the level of utility you'd expect to find in a full-size option.
Closing
If you're interested in a new Chevy Colorado, we at DePaula Chevy can help you find exactly what you need. If one of these other models seems like more your style, then come down to our used dealership to find great deals on all kinds of mid or full-size trucks for sale in Albany. No matter what truck you decide on when you shop with DePaula, you're in good hands.