Four Industries That Could Use a Chevy Express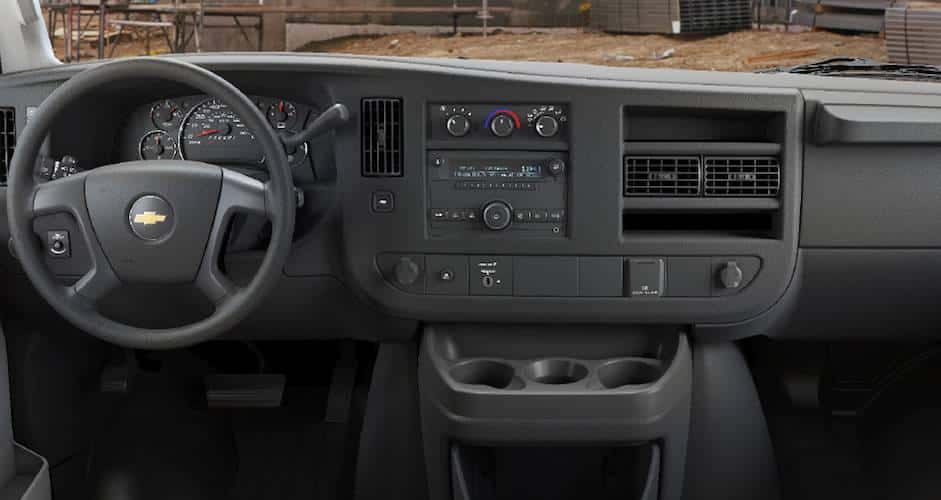 The 2017 Chevy Express is one of the most dependable and versatile passenger vans on the market, but many consumers may assume that this vehicle isn't a proper fit for them or their business. Well, once you begin exploring everything that this van offers, you'll understand that the Express may actually be the perfect choice.
The vehicle includes one of two powerful engines, meaning drivers won't have any worries about getting to their destination in time. As a result of these capabilities, drivers can also expect an incredible towing capacity, meaning they'll have no issues hauling any necessary equipment. Of course, the abundance of interior room will make it incredibly easy to fit a number of passengers, while the technological inclusions will allow you to enjoy the vehicle in more ways than one.
If you've been eyeing a Chevy Express for your business, see if the vehicle would be a logical choice for your respective industry…
Delivery Services
There are a number of industries that could logically use the engine capabilities of the Chevy Express. For instance, a florist may be required to deliver wedding flowers as soon as possible, while a catering service may be required to quickly travel from one gig to another. Fortunately, thanks to the Express' 6.0-liter V8 engine, it won't take very long for any of these drivers to get to their destinations.
This specific unit is capable of pumping out an impressive 342 horsepower. Meanwhile, thanks to the Hyda-Matic six-speed automatic transmission and the Tap-Up/Tap-Down Driver Shift Control, drivers won't have any issues controlling this powerful vehicle. Alternatively, drivers can opt for the Vortec 4.8-liter V8 engine, which is available in both the 2500 and 3500 Express. This specific unit is capable of cranking out 285 horsepower and 295 pounds-feet of torque.
Thanks to all of this incredible power, these delivery services won't have any issues getting to their gig in time. All a result of the inclusion of these muscular engines, drivers should be able to unlock all of the speed and acceleration specs that they need.
Pick-Up Services
If you own a small hotel or a bed and breakfast, then you may offer services to pick up your guests from an airport. In this case, you'd surely need a vehicle that can fit a bevy of passengers and all of their luggage. Predictably, the 2017 Chevy Express provides all of the interior room you could possibly need.
For starters, the vehicle is capable of fitting up to 12 passengers (customers can opt for the 15-passenger version if they prefer). The vehicle was also specifically designed to accommodate these occupants, as the swing-out doors make it incredibly convenient to store any cumbersome cargo and the rear passenger doors make it easy for passengers to stream into the van. Inclusions like the Hitch-Mounted Storage Container will also assure that everyone's luggage is secured.
Of course, you'll want your passengers to be as comfortable as possible, and that usually isn't possible in these giant, uncomfortable vehicles. However, that doesn't apply to the 2017 Chevy Express, as the van provides a number of amenities that will keep every occupant content. The power front windows will make it incredibly easy to appreciate the fresh air or drivers can opt for the rear passenger air conditioning to keep their clients comfortable. Therefore, you're unlikely to hear any complaints as you're transporting these individuals to your hotel.
Electricians
Electricians may assume that a giant van isn't necessary. However, if your specific service requires an abundance of equipment, you'll surely need a vehicle to accommodate all of this cargo. Well, the 2017 Chevy Express will be more than capable of lugging along all of the applicable equipment.
Thanks to the maximum 3,449-pound payload, owners can literally stack up their equipment in the back of the van, and they surely won't hit the maximum weight threshold. However, in the event that a piece of equipment is too heavy or too awkward, you can alternatively haul the cargo to your destination. The 9,600-pound maximum towing capacity makes it incredibly easy to tow whatever cargo you see necessary. Therefore, there should never be any questions regarding whether it's possible to transport the required equipment.
Labor-Intensive Job
If you work in an industry that requires a fair bit of labor, you'll surely want some type of technology as you look to make your day a whole lot more bearable. The Chevy MyLink seven-inch diagonal color touch-screen system will provide the owner with all of the entertainment they could possibly need. The system delivers an array of applications that will make the workday a lot more enjoyable, including radio. Meanwhile, the navigation system will make it significantly easier to find your respective work site.
Owners will especially appreciate the 4G LTE Wi-Fi system. The strong wireless connection will make it incredibly easy to access the internet, allowing you to read your emails or visit any necessary web pages. If you need to do some quick research on a particular topic while you're on the job, you won't have to waste your phone's precious data.
While we're on the subject of technology, the myChevrolet Mobile Application is another appreciated inclusion on the Chevy Express. Users of this app won't only be able to access their vehicle remotely (although having the ability to lock/unlock doors, operate the engine, and even send directions directly to your vehicle is as convenient as it can get). Rather, users of the application can also access the application to monitor their vehicle's diagnostics and location. Therefore, if you suspect that somebody may be mishandling the vehicle, you'll have some evidence to back up your hunch.
Regardless of your industry, the 2017 Chevy Express is surely the ideal choice. The vehicle's array of features and capabilities will undoubtedly help you during the workday, especially when compared to rival passenger vans. Therefore, it's in your best interest to pursue this vehicle for your business.