Five Numbers to Know When Pursuing a Chevy Pickup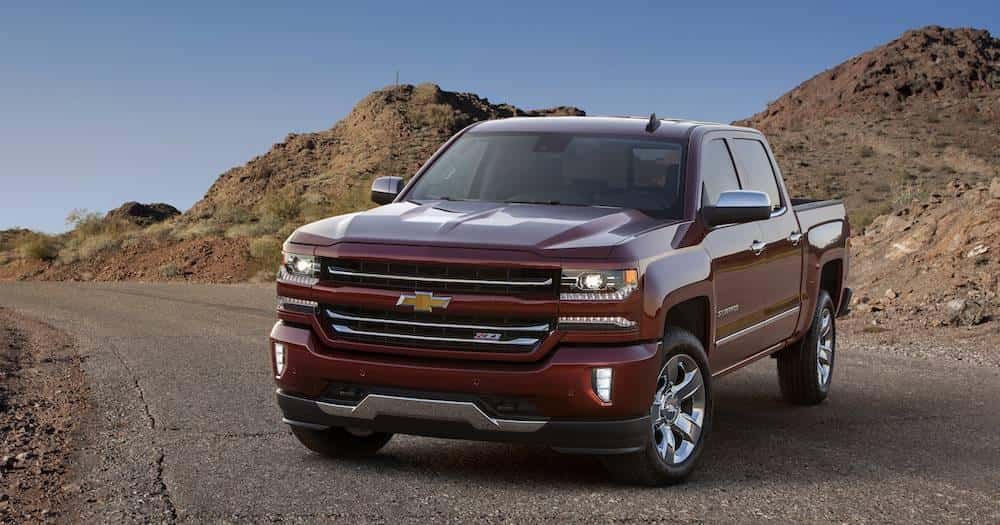 There are so many trucks for sale today, it can be especially difficult to sort through all of the various numbers and specs. Hell, it can even be tough organizing the capabilities of just Chevy's pickups. The four offerings each provide their own best-in-class specs and unique capabilities, so we don't blame you if you end up mixing up some of the facts.
That's why we've organized some of the standout numbers below. Each of the specs, capabilities, or stats could potentially provide clarity into which Chevy pickup is the right choice for you. That way, when it's time to head out and look for trucks for sale, you'll already know which vehicle you want to target…
7,770
The Chevy Colorado is a hauling machine, as the underrated pickup is capable of towing a best-in-class 7,770 pounds. These incredible numbers are thanks to the impressive Duramax 2.8-liter Turbo-Diesel four-cylinder engine. The unit delivers a respectable 181 horsepower and 369 pounds-feet of torque, which explains why the pickup is capable of pulling such a large load. Surprisingly, owners can also expect a 30 mile per gallon highway fuel efficiency, so you shouldn't expect to pay extra at the pump.
Of course, the brand also includes several additional engine choices. The 3.6-liter V6 engine delivers a rocking 308 horsepower and 275 pounds-feet of torque, while the alternative 2.5-liter cranks out 200 horsepower and 191 pounds-feet of torque.
2,250
Owners won't have any issues fitting any worksite aggregate into the truck bed of their new Silverado 1500. Thanks to the remarkable 2,250-pound payload, there's really no limit to how much you can fit into the back of your pickup. To maximize the vehicle's potential, buyers can opt for the eight-foot box (as opposed to the five-foot-eight and six-foot options). Plus, thanks to amenities like the EZ Lift and Lower tailgate and Cornerstep rear bumper, owners won't have any issues accessing the rear of their vehicle.
Similar to the Colorado, the Silverado 1500 is also a hauling behemoth. When equipped with the Max Trailering Package, the pickup is capable of towing a class-leading 12,500 pounds. Chevy's clever engineers included a number of additional features that will make it significantly easier to pull any of your cargo. The integrated brake controller assures maximum stoppage power, while the StabiliTrak technology (accompanied by the Trailer Sway Control system) will guarantee that a trailer is properly following the path of your truck. There's even a rear vision camera, so drivers can monitor their haul throughout their drive.
Eight
When traveling in a new 2017 Silverado 2500, drivers will be able to take advantage of all of the applications provided by the eight-inch diagonal color touch-screen. Equipped with the MyLink technology, drivers can access their favorite radio stations (especially when the vehicle is equipped with the Bose premium audio system), a navigation system, and even vehicle diagnostics. The system is capable of connecting with your smartphone, so you can make phone calls without having to take a hand off the steering wheel. Thanks to the numerous USB ports and power outlets included throughout the interior, you also won't have to worry about any applicable gadgets losing their power.
That's not the only technology provided in the 2017 Silverado 2500. The pickup truck also includes a helpful 4.2-inch Driver Information Center. Thanks to this inclusion, drivers can easily monitor important information about their vehicle, including speed, fuel efficiency, and diagnostics.
16
Parents fret the day that their child turns 16-years-old, as this signifies that they're now allowed to be alone behind the wheel of a car. Well, they won't have to worry about their child's safety when the 2017 Silverado 2500 is equipped with the Teen Driver Technology. This unit provides a number of features that will maximize the driver's safety. For instance, drivers will be notified via audible and visual cues when they've exceeded a set speed limit, and the radio will refuse to operate until every passenger has secured their seatbelt. These functions should play a significant role in improving the teen's driving habits. Furthermore, when the teen's ride has concluded, parents can review their child's driving tendencies via the vehicle's report card.
The system will also automatically activate any of the advanced safety features. The Side Blind Zone Alert will notify the driver if another vehicle has snuck up beside them, assuring that the teen won't accidentally sideswipe another vehicle. The Forward Collision Alert will go off when a driver is approaching a vehicle at too great of a speed, and the system will even activate the brakes if a crash is imminent.
100 billion
No, this isn't a typo. There are currently over one million Chevy vehicles currently on the road that are equipped with the Duramax Diesel engine and accompanying Allison transmission, resulting in a mind-blowing "100 billion miles of experience." Therefore, there's no denying the reliability of these units, and this is emphasized when exploring the capabilities of the 2017 Silverado 3500.
This engine is capable of producing an astonishing 910 pounds-feet of torque and a best-in-class 445 horsepower, meaning drivers won't have any issues keeping up with their fellow drivers on the highway. Despite all of this power lingering under the hood, it's unlikely that the purr of the engine will bother any of the pickup's occupants. Engineers included a number of sound-reducing exterior features to help eliminate the annoying rumble of any engine or howling of the wind. Amenities like acoustic rocker covers and triple-sealed doors will make for one of the most peaceful rides you've ever experienced.
Each of these stats is especially impressive and provides insight into how versatile Chevy's pickup trucks actually are. The brand doesn't only provide their customers with a powerful (and often efficient engine), but they also deliver innovative technology and trustworthy safety functions. Therefore, the next time you're seeking trucks for sale, you'll know which Chevy truck you should be pursuing.