Environmental Thinking and Chevy Cars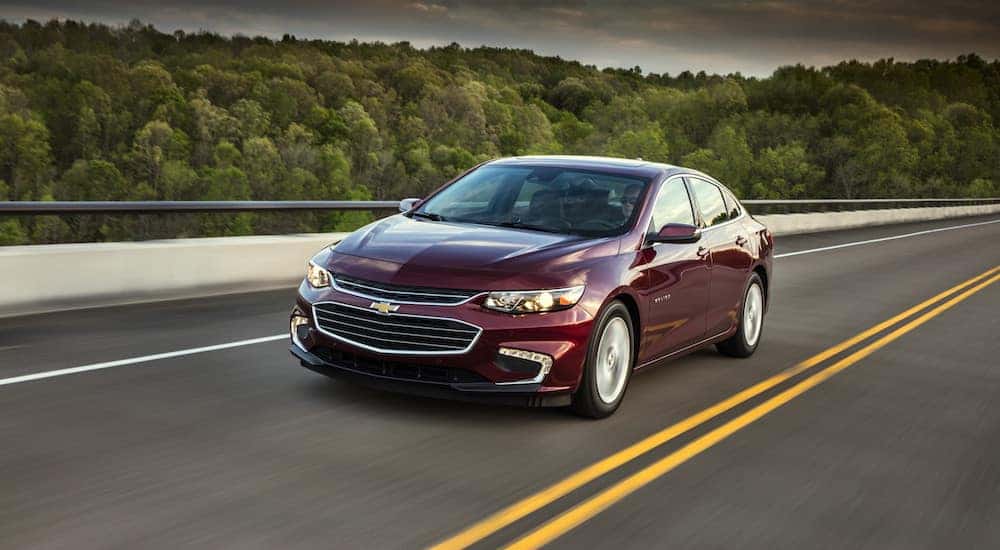 There has never been more of an emphasis than there is now on thinking about our environment and how what we do daily affects and changes it. We as consumers are realizing the impact of big and small things we do every day. Trends in environmental attitudes, such as recycling and going waste-free, are growing beyond individual ways of thinking.
As a result of being more aware of how what we do affects the environment, consumers are asking not only themselves but the companies they interact with to be more conscious of these concerns. The public has begun to hold companies to a new standard of accountability: to do more than ever before, and to do better, for the environment. Shoppers ask the businesses they support to use cleaner energy, recycle more, and offer environmentally friendly options.
General Motors and Chevrolet have taken great leaps forward in proving themselves as an environmentally conscious and responsible company. GMC has set goals for all it manufacturing facilities to run on 100-percent renewable power by 2050. The company has already reached 20 percent of that goal. And General Motors/Chevrolet has 152 facilities all around the world that operate without sending any waste at all to landfills. These are just a few of the things they are doing as a company. For a major auto manufacturer, this is astounding.
One of the biggest initiatives Chevy has started as a company is offering environmentally conscious and earth-friendly product options to their customers. Chevy provides a whole range of cars for people who want to make a more conscious choice about what they are driving. From fuel efficient gas-powered vehicles to fully electric cars and all the hybrids in between, Chevy has a car that can help you lessen your impact on the environment.
Chevy Cars with High Fuel Efficiency
One of the biggest ways Chevy cars are helping the environment is by continuing to develop more and more fuel-efficient vehicles. Chevy offers many car models with an estimated fuel efficiency of 30 mpg or more.
Chevy's smallest cars use their size and lighter weight to get you more miles between fuel stops. The 2018 Chevy Sonic boasts an average of 30 mpg combined city and highway driving. The 2018 Chevy Spark is even more impressive, with an average 33 mpg for city/highway.
Chevy's sedan and hatchback models also boast impressive fuel economy. The 2018 Chevy Cruze sedan will get you an average of 33 mpg combined city and highway. Its hatchback counterpart will see an average of 32 mpg. The larger 2018 Chevy Malibu sedan averages 30 mpg combined city and highway.
There is a push to go forward with "green energy" sources and move away from fossil fuels as fast as possible. With the rising prices of fuel and growing concern about the environmental impact of fuel-burning cars, moving the industry's thinking toward the production of hybrid and electric cars make sense. This change, though, cannot—and will not—happen overnight.
While Chevy is making great strides with the production of hybrid and electric cars, some of the great options it offers are more fuel-efficient gas-powered cars. This choice allows consumers who cannot afford to make the jump to hybrid and electric vehicles or are simply not ready to do so to lessen the environmental impact of their cars. Going longer between filling the tank and saving money on gas doesn't hurt, either.
Hybrid Chevy Cars
Hybrid cars are the best of both worlds. Cars that use both fuel and electric engine systems have the advantage of allowing for the efficiency of an electric vehicle but the driving distance of gas-powered cars. Chevy offers two hybrid cars currently: a hybrid version of its popular Malibu and the Chevy Volt. Both cars use different hybrid technologies and features to get the highest fuel efficiency.
The 2017 Chevy Malibu Hybrid and 2017 Chevy Volt were both listed on the U.S. News & World Report's list of "9 Cars with the Best Gas Mileage."
The 2018 Chevy Malibu Hybrid offers an average 49 mpg in the city. The Malibu Hybrid offers economically minded features such as a driver efficiency gauge to offer insight on how driving habits affect fuel economy.
The 2018 Chevy Volt has two electric motors and a gas-powered generator. On a completely charged battery, the Volt offers a range of around 53 miles from one charge. Once the charge is depleted, the car switches to gas energy and averages 42 mpg. Chevy states that with regular charging, Volt drivers will be able to travel upward of 1,000 miles before having to refill their gas tanks.
Electric Chevy Cars
Chevy offers one fully electric car in its vehicle lineup: the Chevy Bolt.
The 2017 Chevy Bolt was recognized as the Green Car of the Year by the Green Car Journal. This is one of the biggest environmental honors in the automotive industry. It was chosen above electric cars from companies such as BMW, Chrysler, Toyota, and Kia. The fully electric Chevy Bolt beat out the competition with its wide range of features and record-breaking mileage range. The Bolt is the first electric vehicle offered by a major manufacturer to exceed a 200-mile driving range. That is quite a feat.
The limited driving range of electric vehicles has been a hurdle in making these environmentally friendly cars a workable option for the general public. With the Bolt, Chevy seems to have cleared that hurdle.
The 2018 Chevy Bolt has an estimated 238-mile driving range. That is beyond what most people need for their daily commute and then some. With a range like that, you wouldn't even need to charge the vehicle daily. So not only will you never need to get gas, but with the Chevy Bolt, you can charge your care less often than your cell phone.
Chevy is making progressive strides, not only making its company greener but its products greener as well. They have a wide range of cars available to fit any driver's needs and simultaneously lessen their environmental impact. Whether you want to fill up less often and save money on gas or stop going to the gas station completely, Chevy has a car that can make it happen.