Ditch Your Minivan for the Traverse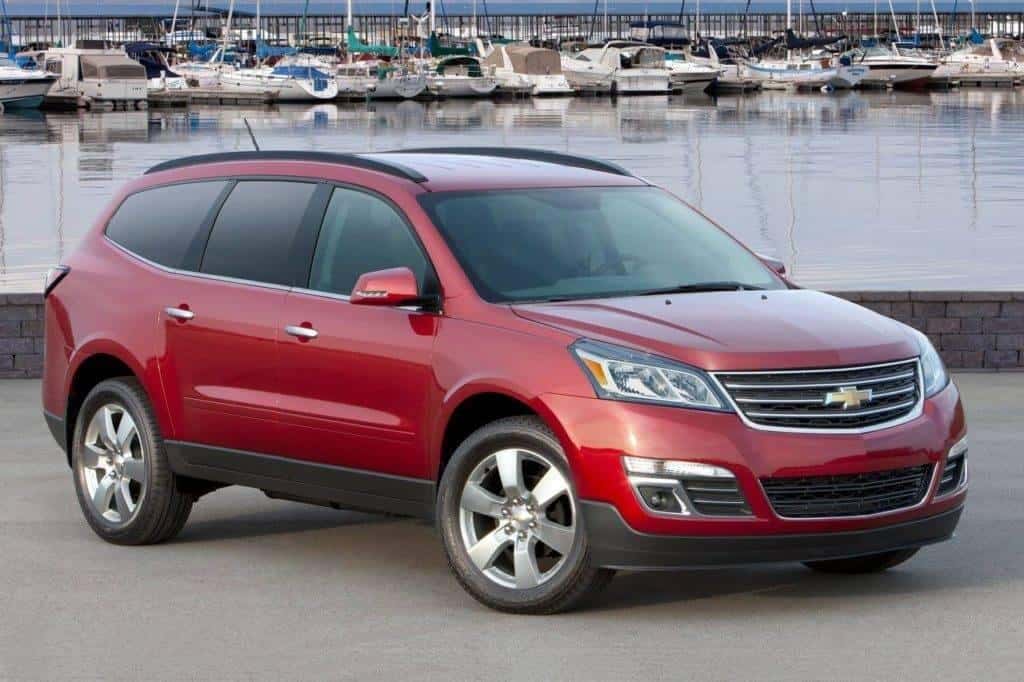 The minivan. Perhaps one of the most simultaneously revered and hated automotive concepts to ever grace American roadways. No other automotive invention has been able to simultaneously repulse and attract people so equally. While it may be one of the most practical vehicles on the road, it is also one of the most controversial. As young moms see themselves giving up as they give in to their need for a minivan, they feel desperate for a practical solution that allows them to retain the coolness of their youth. While Chevrolet has remained one of the few cool kids on the block by leaving minivans out of its lineup, the bowtie brand has a viable solution that young moms and families flock to as an alternative. The latest version of the Traverse is one Chevy SUV that has it all – good looks, practicality, and it even allows you to retain your savvy reputation at the same time.
Ditch the Van!
The minivan isn't just "not cool," it's awful. If we can be honest for just a moment, let's all admit the fact that minivans are simply unattractive grocery getters. They are very good at serving the purpose for which they were created, but aside from that, they don't bring a whole lot to the table.
Imagine a weekend without kids. You drop them off at Grandma's for a few days, and are left with the freedom, time, and luxury to be the adult you know you still are – deep, deep down. After the longest uninterrupted shower in what feels like eternity, you get ready for your big re-debut out on the town. As you apply makeup, perfect your hair, and dance like a madwoman to LMFAO's Sexy and I Know It, you feel more confident and "like yourself" than you have in a long, long time. You throw on your favorite pair of high heels, and strut your stuff into the garage to head out for the night. You are still swaying and shimmying when you look up, and stop dead in your tracks. It's. A. Minivan. Your confidence is deflated in an instant, as you contemplate calling an Uber just to meet up with friends. Or, maybe a Lyft (Facebook seems to be more approving of that ride share company ATM). Regardless, there is no possible way you can show up to your one night out in a…minivan. In your deer-in-headlights moment, you begin to trace back every single moment that lead up to where you are standing. You wonder why you allowed yourself to purchase such a machine, and whether your youthful, fun self would ever make her way back to the surface.
Now, imagine for a moment if, at that point in time, your decision was different. Rather than opt for the soccer mom look, you chose a sophisticated and functional SUV. It offers the same practicalities that the minivan you test drove did, but you can actually see yourself driving it without the kids in tow. You picture a night out without them, and see yourself confidently stepping out from behind the driver's seat ready to hit the town. Your personality, wants, needs, and desires all point to this stunning SUV that sits on the showroom floor at DePaula Chevrolet.
Buy the New Chevy Traverse
The midsize Traverse was introduced to the Chevrolet SUV lineup starting in 2009. Offering seating for up to nine passengers, and plenty of cargo room, the Traverse is the perfect solution for the busy family on the go. Touted as one of the best minivan alternatives on the market, the Traverse has received multiple awards and accolades for its reliability, low cost of ownership, safety, and dependability.
Chevrolet recently released the design of its newest model year Traverse, which will make its way into dealer showrooms in the United States in the beginning of 2017. Chevrolet has announced that it expects the new 2018 Traverse to offer the largest maximum passenger volume in its class, as well as the most spacious third row legroom. With comfortable seating for up to eight passengers, whether you are traveling with a cabin full of grown adults for a night out on the town, or driving the kids to their sporting events, the Traverse has you covered.
Chevrolet knows that keeping your family safe is a top priority, which is why the 2018 Traverse is offered with up to fourteen advanced safety technologies like Forward Collision Alert, Low Speed Forward Automatic Braking, Full Speed Forward Automatic Braking, and more. For those with older kids, the new Teen Driver technology ensures that your teenage driver is kept as safe as possible while behind the wheel. As safe and as comfortable as the new Traverse is, it will also keep you and your family connected on the go. Thanks to the on-board 4G LTE Wi-Fi connectivity, Apple CarPlay, Android Auto, and a large touchscreen command center, you won't miss a beat – no matter where you end up traveling.
Say Goodbye to the Minivan
Thanks to the team at Chevrolet, moms and dads across the country are able to free themselves from their minivan chains. With the new 2018 Traverse, more American families can ditch their tired, old, and embarrassing minivan for a dignified and sophisticated SUV. Complete stats, regarding fuel economy, pricing, and exact specifications for the upcoming Traverse have yet to be released by Chevrolet, but we will be the first to report back when they are. Until then, resist the urge to buy the grocery-getter, and instead get your hands on the wheel of a capable Chevy SUV. As alluring as those automatic sliding doors may be, the true temptation for modern day families is sitting at your local Chevrolet dealership.
DePaula Chevrolet has a great selection of new and used Chevrolet SUVs, including the Traverse. Whether you are looking for a brand new functional family car, or an older, more budget friendly crossover, the team at DePaula Chevrolet can help. Come in today, and see just how practical the Chevy SUV lineup truly is.