Common Problems and Solutions to Buying Used Trucks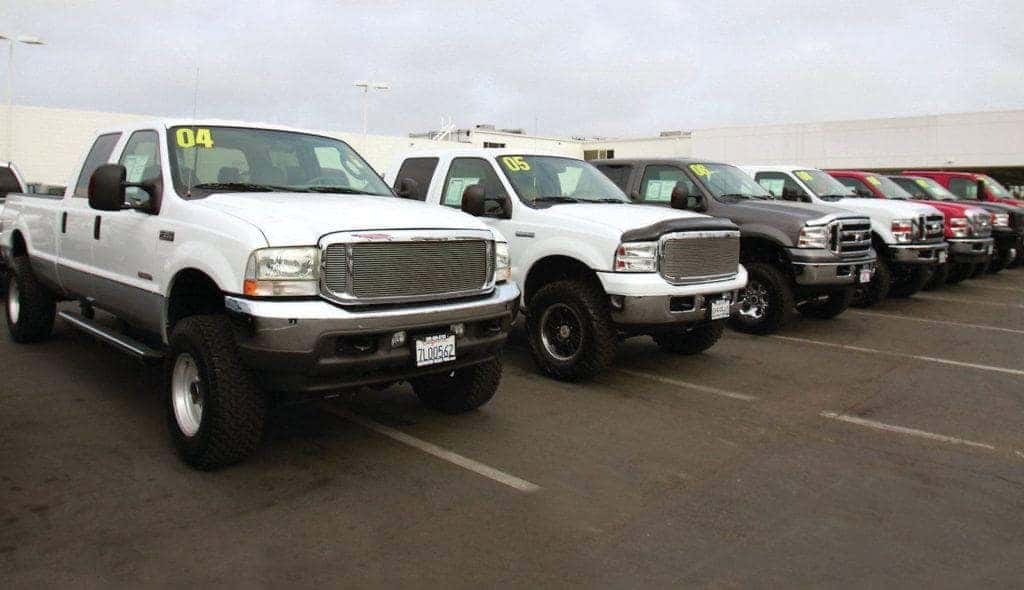 The used car marketplace. One of the best ways to get into the car of your dreams for less also happens to be one of the more controversial routes to vehicle ownership. The bulk of used car buying negativity stems from dealerships themselves, but a lot of drivers have been turned off from buying used because of negativity surrounding the actual vehicles. Whatever the reason, more pickup truck shoppers are shying away from the money-saving potential of buying used and missing out on some of the best deals on some of the best trucks on the market. With so many used trucks for sale here at the end of 2016, and even more projected to hit the market next year, it's important to get to the bottom of why pre-owned pickups get a bad reputation, and why you can mostly ignore the bulk of these consumer grievances.
5 Reasons Used Trucks Get a Bad Reputation
While it is true that any used car can technically run into the following problems, they are more likely to be an issue on pickup trucks in particular. Take a look at each of these common used truck buying problems, and learn how you can avoid them entirely on your next used pickup purchase.
The Problem – Used as a Workhorse: It's hard to imagine a pickup truck that hasn't seen at least one off-road trail or hasn't helped at least one person move a set of furniture from one location to another. The truth is, pickup trucks weren't built to simply look cool and transport people. While they make great personal vehicles, the fact of the matter is that pickup trucks were designed for heavy duty, workhorse capability. All too often, used truck buyers are turned off from purchasing a pre-owned pickup because of this fact. It is true that pickups are made for rugged capability, but it is also true that they are made for long-term durability.
The Solution – Find a Dependable Model: If this is one of the reasons why you are turned off from purchasing a used pickup, then we encourage you to look into different makes and models. Every new vehicle that is introduced to the market is scored for its dependability, capability, and longevity. This is especially true of the pickup truck segment. Take the time to research the truck you are wanting to buy used, and see whether it earned high marks in any of these areas when it was first released. Even a pickup that was used on a job site every day from the time it was bought new, should still last you for years down the road if it was made well.
The Problem – More Expensive than Other Used Vehicles: As surprising as this complaint may seem, a lot of used truck buyers take issue with the fact that pre-owned pickups end up costing them more than other vehicles at a used car dealership. Pickup trucks are generally more expensive to buy new and tend to hold their value for longer periods of time after the initial purchase takes place. For this reason, you can almost bet on the fact that newer used pickups will end up costing you a bit more than a pre-owned crossover or car from the same model year.
The Solution – Work Within Your Budget: If you begin searching for used trucks, and find that you cannot afford the pickup you want to buy, consider changing your list of criteria to better fit into your budget. Too many buyers adjust their budget, rather than their "must-have" list, which is a major no-no when shopping for pre-owned trucks. Pickups hold their value longer than other used vehicles on the road and are also more capable. This is a fact that cannot be avoided when shopping in this segment and is one you need to seriously consider before signing on the dotted line. If you are buying a used truck because you like the body style, but don't necessarily need one for its utility, then consider passing it up for a more budget-friendly option. You can also opt for an older model truck, which, depending on the make and model, can be a great investment at a lower price point. Whatever route you end up taking, be sure to stay within your budget, and don't go beyond your financial means.
The Problem – Used on Off-Road Trails and Jobsites: Just as it is true that pickup trucks are more likely to be utilized for rough and taxing jobs, it is also true that they are more likely to be taken out on the trails. Whether for fun or to navigate job sites, some pickup trucks spend more time off the road, than they do on. This may be a turnoff for you as a used pickup buyer, and you aren't alone if this is how you feel.
The Solution – Have a Private Inspection Done: Any vehicle that is regularly taken on off-road surfaces, whether it is a pickup truck or an SUV, is more susceptible the to underbody and mechanical issues. If you find a pickup truck at a dealership or through a private seller, ask to have a third-party inspection completed before you commit to a purchase. Usually, the buyer is responsible for having a technician come to the dealership or another location, to inspect the truck for any abnormalities. Make sure you are present for the inspection, and ask questions if you have any. The mechanic should get under the truck to ensure that the undercarriage is free from damage that can be common on off-road vehicles. The shocks, suspension, brakes, and axles are all areas of concern, and should be thoroughly checked prior to purchase. If your private technician deems that the truck in question is in good mechanical shape, then you can buy the used pickup with more confidence and a greater peace of mind.
The best way to ensure that all of these used pickup truck issues are properly addressed is to buy from a certified and reputable used car dealership. DePaula Chevrolet is a staple here in the Albany, NY area, and offers extended warranty programs on all pre-owned vehicles that are sold. Don't shy away from buying a pre-owned pickup truck, and instead purchase it from a dealership you know you can trust. Come down to DePaula Chevrolet today, and discover the exceptional inventory of used pickup trucks that are ready for you to take out for a test drive.