Choosing Chevy For Your Next Family Car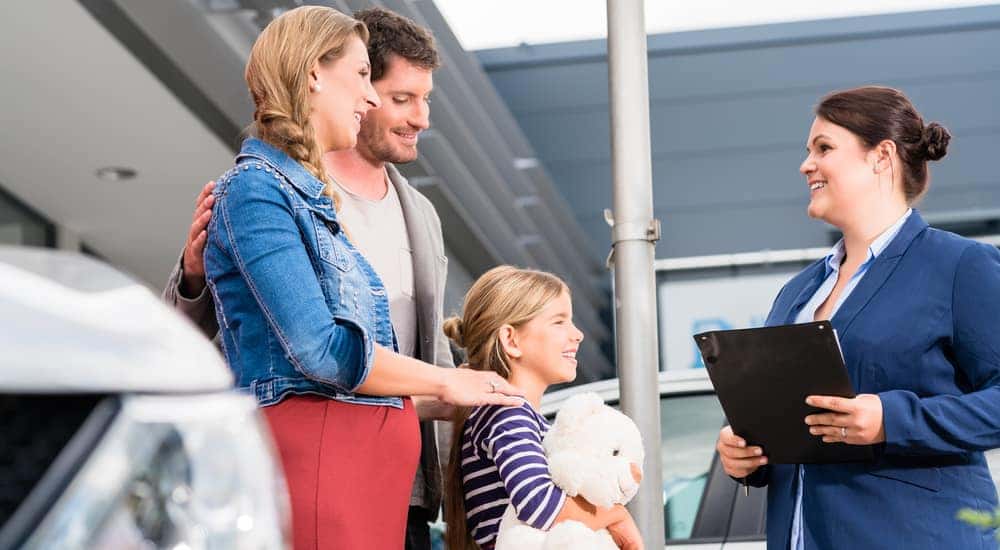 Once you start a family, car shopping becomes different (as does everything else in your life, as any new parent can attest to). Now, when you shop for a new car, you aren't just shopping for a vehicle to take you from place to place and maybe have a cool stereo system – you're shopping for a vehicle that meets the needs of your entire family – and your family to be, if you are intending to have more children in the next few years. When you buy a family car, you aren't just buying a car for now. You're buying a car for three years from now when you have two kids instead of one. You're buying a car for even ten years from now, when you have teenagers who hate to go anywhere, that isn't the mall or their friend's homes. You're shopping for a car that will carry you into the future without breaking the bank in the present. For such a car, consider Chevy. For all of the reasons above and all of the reasons below (and insurmountably more than just the ones down on these pages).
Get A Chevy For Superior Safety Features
If you are a parent looking for a car, there is considerable chance that safety is your number one concern in any car that you seriously consider. After all, what is more, important than the lives of your children? For parents, the answer is often a firm "nothing." This means that your new family car must work to protect those lives with everything that it's got.
A typical Chevy motor vehicle, such as the 2018 Spark City Car will offer as many as ten airbags all throughout the body of the car, working to keep everyone in your family safe even in the event of an accident. Many Chevy vehicles also come with a steel safety cage built into the car. The steel safety cage is ideal in the unfortunate event of a crash or other such accident, as it will protect the occupants of the car if the car rolls, keeping the car from compressing in on itself and endangering the lives of those who are within it.
Though some car crashes cannot always be prevented due to factors like severe weather and the reduced visibility and dangerous road conditions that it often causes, it is important to note that Chevy cars and other motor vehicles come equipped with standard features designed to reduce the likelihood of a crash in the first place. Because no matter how many crashes can't be prevented, there are always car accidents and crashes that can be. The Chevrolet brand works to prevent as many of those such accidents as possible.
Such features to prevent accidents include a rear vision camera that comes standard with many vehicles. There are optional safety features as well, and though they will come with an addition to your total bill, many decide that they are well worth it for the peace of mind, particularly when their children are in the car. These features include rear park assist, forward collision alert, and a lane departure warning system. Combined together and with the safety features discussed above, the typical Chevy car allows the driver to feel confident on the road.
These safety features – particularly the preventative ones – are also ideal for the parents of teenagers or soon to be teenagers who will shortly be learning how to drive. Your child behind the wheel of a car and on the road, surrounded by traffic – it's a daunting thought, there's no getting around it. The first time their child drives a car is often nerve-wracking for many parents. But with such preventative safety features as the ones that Chevy offers, parents can sleep a little easier knowing that their child is as protected as they can possibly be.
Get a Chevrolet Car For The Cost
If you have kids, you know that kids are expensive. If you are planning on having kids in the near future, it's best to know now what's ahead of you. From babysitting to daycare to swim lessons to school fees, there are so many expenses that come with raising children in the way that you want to, not even to mention the costs of feeding, clothing, and housing them.
But we don't want to sacrifice the safety and quality of a new car for the cost of one, and so it is important to look for cost-effective options. Fortunately, Chevy has many of them. Their smaller sized vehicles like the 2018 Spark City Car start at below $15,000, and a typical midsize sedan goes for a starting price of only just over $23,000. Though some SUVs offered by Chevrolet are considerably more expensive, a small SUV starts at just $21,000.
Vehicles offered at dependable Chevrolet dealerships, like DePaula Chevy, include certified pre-owned vehicles that are in just as good a shape as their new counterparts and certified to be that way and drive with excellence. These cars are likely to be less expensive than a new model, even if they are not the most current edition. Buying a car that is certified pre-owned may be a viable way for a family to not compromise the features they are looking for in a motor vehicle for the price of one.
Get a Chevy For The Features
Finally, get a Chevrolet car for the extra features that it offers you, the features that make driving your new car truly an enjoyable experience. For starters, most Chevrolet vehicles offer heated seats, perfect for those who live in cooler climates or experience regularly harsh winters. Chevrolet cars are also likely to come with a compatibility for Apple CarPlay as well as an in-depth navigation system, perfect for those lacking in a sense of direction.
Your Chevrolet car, new or used, should reflect you to the best of your ability as well as meet any needs that your family may have, such as in safety features and in space. To check out reliable new, used, or certified pre-owned Chevy cars, visit DePaula Chevy today!