Chevy Silverado: From 2007 to 2018
Shopping for used vehicles can be a lot of fun, but approaching it the right way is very important in maximizing your enjoyment – your preparedness and the dealer you choose can make a big difference. Before you start heading out to any used car dealerships, it often helps to do some research to look into different models that you're likely to run into while shopping. This lets you have a sense of what works for you and what doesn't work for you, so you can focus on what will meet your needs and ignore what won't.
The Chevy Silverado, or Silverado 1500, has been one of the most popular full-size trucks on the road for quite a long time now. That means that there are a lot of these models that you'll find at used car dealerships, which is good news for you. Looking at so many different models and the options you can find on them can get a bit overwhelming, however, which makes it tough to focus on what you need. But don't worry, we're here to help.
Today, we thought we'd take a look at the second and third generations of the Silverado and see what they had to offer, so you know what to expect.
Second Generation Chevy Silverado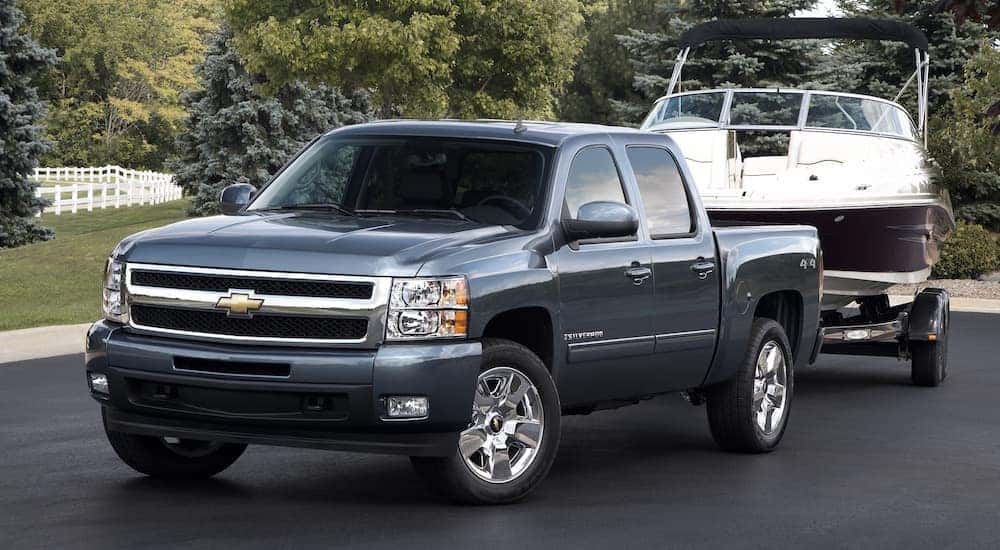 The second generation of the Chevy Silverado starts with models from 2007 and goes through 2013 models. That's a pretty decent time range, and a lot happened during those years, so there are some specific things to consider and watch for when shopping at used car dealerships. If you compare these models to pickups from the first generation, you'll notice some pretty significant differences in their exterior. The second generation Silverado models had a sleeker and more aerodynamic design that helped with overall performance, along with powerful engines that boosted what they could do.
Several different engines were available on 2007 models, including a standard 4.3L V6 that provided up to 195 hp and up to 260 lb-ft of torque, an available 4.8L V8 that offered up to 295 hp and up to 305 lb-ft of torque, and an available 6.0L V8 that delivered up to 367 hp and up to 375 lb-ft of torque. With the right configuration, a Silverado from 2007 could get a towing capacity of up to 10,500 lbs, and 4WD was available.
While 2007 models were great, we typically like to look for 2008 models simply to get around any minor bumps that often accompany the first year of a new generation. There were no particularly massive upgrades in 2008, but we find they are sometimes more reliable. Choosing a 2009 model, however, is a great option because there were some pretty significant improvements for models that year.
A 2009 Chevy Silverado can have a number of options, inside and out, that those from earlier in the second generation lack. First and foremost, Chevy offered a new 6.2L V8 engine on 2009 models, which could deliver up to 403 hp and up to 417 lb-ft of torque. This engine remained available throughout the rest of the second generation and was the most powerful engine offered during that time. So if you want optimal power and performance, look for a 2009 or later model.
A mid-cycle refresh occurred in 2010 for the second generation of the Chevy Silverado, though the improvements were relatively minor, but some safety features became standard. Very few changes occurred for 2011, and an exterior refresh in 2012 was the most significant addition for that year. As 2013 ended this generation, there were only a few minor changes; this means that any model from 2009 through 2013 is a fantastic choice, though newer models with lower mileage are always an attractive option.
Third Generation Chevy Silverado
While the second generation of the Chevy Silverado was great, the third generation pushed the design of this fantastic pickup even further and paved the way for the modern era. These have been some of the most impressive trucks on the road, and you should certainly look for them when shopping at used car dealerships. Much like the previous generation, there are some differences among the years covered by this generation. Keep that in mind, while looking at different models.
2014 kicked off the third generation with some major changes and improvements, delivering an all-new pickup that set a new standard for what Chevy had to offer. New engines and features became available with the third generation, providing tremendous power and excellent overall performance. The three available engines were a 4.3L V6 that offered up to 285 hp and up to 305 lb-ft of torque, a 5.3L V8 that provided up to 355hp and 383 lb-ft of torque, and a 6.2L V8 engine that delivered up to 420 hp and up to 460 lb-ft of torque.
These incredible engines and an improved design gave the 2014 Silverado a maximum towing of up to 12,000 lbs when properly configured. One of the significant changes for the third generation was the implementation of standard forward-hinge doors on the extended cab, while the previous generation had reverse-opening doors. The interior was redesigned and improved throughout every trim, with an available 8-inch Infotainment touchscreen and other great options.
While 2015 models did not have a ton of improvements or features that were not available in 2014, perhaps the most important is that an 8-speed automatic transmission became standard on the 6.2L engine. Between this transmission and general improvements often found in the second year of a generation, we highly recommend a 2015 or later model for anyone interested in a third-generation Chevy Silverado.
There was a mid-cycle refresh and exterior facelift in 2016, with a new grille, front fascia, and headlights offered on the Silverado. LED taillights also became available for certain trims starting in 2016, along with some great interior features, including HD radio and support for Android Auto and Apple CarPlay. An 8-speed automatic transmission also became available with the 5.3L engine at higher trims in 2016.
Changes in 2017 and 2018 were quite minimal overall, which is good news when looking at different Silverado models at used car dealerships. This means that if you have certain features you want in a third-generation model, then you should be able to find them in many of the late-year models of the generation. While there were some changes inside and out, overall, many features remained the same or were upgraded slightly.
Want to Know More?
As you can see, the generation, as well as the model year, can make a big difference when looking at different Chevy Silverado models at used car dealerships. That is why it is vital to do a little research ahead of time, so you know what you're looking for and can adjust to what you find at different dealers. That's also why it's so important to choose a dealership that you can trust, so you know that you're getting reliable information and great trucks that will serve you well for years to come.
Here at DePaula Chevy in Albany, NY, we make our customers our top priority: regardless of if you are shopping for new or used vehicles. Call or visit us at DePaula Chevy today, and we'll work with you to help you find the perfect pickup for what you need.