Chevy Offers Two Highly-Capable Electric Options For 2017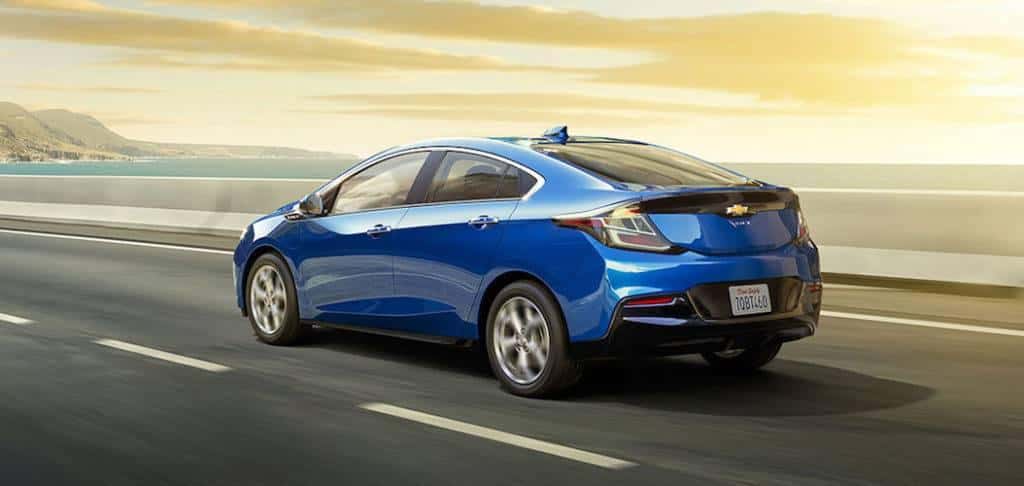 It's hard to imagine a future where electric vehicles don't play a major role on the roads. Between high gas prices and the environmental cost of pollution, it's no wonder more and more drivers are choosing electric and hybrid vehicles as their main daily drivers. For those drivers who want all the benefits of an efficient, fun-filled electric vehicle and who want to know that their car is backed by the power of Chevy, there are two great new electric Chevy cars for 2017: the 2017 Chevy Volt and the 2017 Chevy Bolt.
Offering superior hybrid power and style that stands up to today's most luxurious modern vehicles, the 2017 Chevy Volt is a pleasure to drive – especially when you're cruising past gas station after gas station. Or, for those Chevy drivers who are finally ready to put the high prices and smog behind them, the 2017 Chevy Bolt offers an amazing all-electric option with plenty of power behind an efficient electric engine.
No matter which of these two electric Chevy models you choose in 2017, Chevy drivers are sure to be impressed with how far electric vehicle technology has come for today's modern drivers. Take a look and see what the future holds for electric Chevy vehicles.
2017 Chevy Volt: Hybrid Power Means Serious Savings
When it comes to combining all the efficient power of a hybrid engine with the power and style of a conventional consumer car, there's simply nothing on the market that can compare with the 2017 Chevy Volt. Built to be as attractive as it is powerful, and as energy-efficient as it is enviable, the 2017 Chevy Volt is a force to be reckoned with that's shaping the world of hybrids in ways many consumers may have never thought possible.
Let's start with the biggest draw: that amazing hybrid engine. The 2017 Chevy Volt can, on average, power through up to 53 pure electric miles and up to 420 miles with a full charge and a full tank of gas. For most drivers, that's a full commute over and done with on pure electric power, without using a drop of gas.
When the battery starts to run low, your 2017 Volt will seamlessly transition to the powerful 1.5L gas-powered generator to keep you rolling for an even further extended range. All said and done, Chevy expects drivers will be able to push through an average of 1,000 miles between fill-ups – and for drivers used to filling up once or twice a week, there's nothing better than cruising past that gas station day after day after day.
Part of the reason the 2017 Volt is so efficient is thanks to its impressive regenerative braking technology, which utilizes the kinetic energy generated when you apply the brake to recharge the battery as you drive. This helps to preserve battery charge on those long trips, further extending your battery life just that much longer. Combined with the efficient gas engine, the 2017 Bolt packs an EPA estimated combined 106 MPG, meaning you can ride for miles and miles without having to worry about your gas tank.
Using just a standard 120-volt outlet, the 2017 Chevy Volt charges completely in just 13 hours – perfect for overnight charging, when electricity rates may be reduced in your area. That way, you can wake up with a fully charged car each morning, which further helps avoid the gas pump for days or even weeks at a time. Or, for those Chevy drivers who opt for the highly-efficient 240-volt charging station, that charge time gets cut to a whopping 4.5 hours. That means power at your fingertips, and a Chevy that's always ready to roll when you are.
And nobody says that efficient energy means you need to sacrifice style – a belief that's brought to the forefront in the cutting-edge 2017 Chevy Volt. Smooth, flowing lines and a modern, rounded look along the sides give the Volt an unmistakably futuristic edge to match its incredible performance. Amazing features like 4G LTE Wi-Fi available throughout the cabin, Apple CarPlay and Android Auto capabilities, and an ergonomic touchscreen interface make the 2017 Volt as much a pleasure to ride in as it is to drive.
If you're looking for an attractive and impressive hybrid model to take you on your next adventure, few options shine more brightly than the amazing 2017 Chevy Volt.
2017 Chevy Bolt: All-Electric and Ready To Ride
Sometimes, even the efficient power of a hybrid just isn't enough to satisfy those drivers looking to give up gas for good. For those drivers, there's never been a better time to get an all-electric vehicle that's as capable on the roads as it is fun to drive. In 2017, there's only one option that rises above the rest: the 2017 Chevy Bolt.
Built to be the king of electric power, the 2017 Chevy Bolt packs an impressive all-electric system that's capable of up to 238 miles on a single charge. That's enough to drive from Albany to Philadelphia, all without using a single drop of gasoline along the way. And given that, according to Chevy, the average daily commute is around 40 miles, the 2017 Bolt packs plenty of power to serve as your daily driver without ever even coming close to running out of battery.
And all-electric doesn't mean the 2017 Bolt sacrifices on power. This impressive Chevy packs a whopping 266 lb.-ft of torque, and can reach 60 miles per hour from a stopped position in just 6.5 seconds. That's enough get-up-and-go to get you and your crew just about anywhere, and it doesn't use fuel or produce a single harmful emission to do it. Combine that with the powerful now Regen on Demand feature, which super-boosts the Bolt's regenerative braking capability to capture as much energy as possible, and you've got one all-electric vehicle that can keep going for miles to come.
Whichever of these impressive electric Chevy options you choose, the future looks bright for high-powered and highly efficient cars bearing the bowtie brand. Try one out for yourself today and see what life post-gas-powered vehicles can feel like – the future is waiting.