Chevy Colorado ZR2 vs Jeep Gladiator
When you want a truck built for both work and play, you want a pickup that is rugged, can tow when you need gear towed, and yet doesn't require the mammoth size of a half-ton (or larger) pickup. That's where the Chevy Colorado and the Jeep Gladiator come in. These two pickups are part work, part play trucks, yet both have serious power under the hood. And while the Colorado has been around for some time now, the Gladiator is just making its return to production. Of course, Jeep has a number of ride-and-die fans. These are people who will always buy Jeep and will never waiver from Jeep. All brands have these kinds of fans, but Jeep tends to have the most devoted (after all, you can buy bumper stickers that say "It's A Jeep Thing"). Of course, if that sounds like you, then you're probably not interested in looking up "Chevy dealer near me" on your search engine, nor do you want to compare performance and specs of different light pickups. But if you're someone who takes the comparative aspects of truck-buying seriously, you need to look at the Colorado ZR2 vs Jeep Gladiator to see which of the two pickups truly comes out on top.
MSRP
The Colorado ZR2 is the top trim package for the Chevy Colorado. Due to this, the best way to compare the Colorado ZR2 is to pit it against the Jeep Gladiator Rubicon, which is the top-tier trim package for the Gladiator. To start, the ZR2 4WD Crew Cab has an initial MSRP of $43,000. The Jeep Gladiator Rubicon has an initial asking MSRP of $43,545. So, initially, the two pickups aren't all that different from the trim's starting price point. However, you need to keep in mind that a manual transmission is the default transmission on the Rubicon. If you want an automatic transmission, you will need to pay more. If you're a fan of manual transmissions, this may be great news (as it's becoming harder and harder to find manual transmissions in vehicles these days). However, if you want an automatic, you'll need to pay even more (it costs an extra $2,000 to go up to the automatic transmission)
Engine Performance and Off-Road Capability
The Chevy Colorado ZR2 comes with two engine options. The first is a standard 3.6L V6 that pus out 308 horsepower and 275 lb-ft of torque. However, you can upgrade to a 2.8L Duramax Turbo-Diesel I4 engine. Going with the diesel comes with a drop in horsepower to 181, but the torque boosts to 369 lb-ft of torque. The ZR2 is the Colorado's off-road specific trim, which features Multimatic shocks, front/rear electronic locking differentials, a factory-installed lift, skid plates, and rock sliders.
The Jeep Gladiator does not come with two engine options. You have only the 3.6L V6 that produces 285 horsepower and 260 lb-ft of torque. The overall engine performance, if you aren't interested in a diesel, isn't too far behind the Colorado. However, the added option of a turbo-diesel motor is a huge perk for many pickup buyers, as it is a rare find on smaller trucks. For off-road performance, the Gladiator is the only Trail Rated truck. It features locking front and rear differentials, electronic disconnecting sway-bar, rock rails, Fox shocks, and Dana 44 solid axels

Towing Capacity
If you choose the base 3.6L V6 engine, your towing for the Colorado ZR2 will be 5,000 pounds. However, if you add the ZR2 Off-Road Package, which upgrades your truck to include DSSV Multimatic suspension dampers, a wider vehicle stance, and improved fenders and bumpers, the total towing strength is boosted to 6,000 pounds.
As for the Jeep Gladiator, the base towing is 4,500 pounds. However, as is the case with any Jeep (and one of the reasons why Jeep has so many die-hard fans), you can customize all kinds of features on the Gladiator. This includes the kind of suspension and trailing. When you spring for these utility upgrades on the Jeep Gladiator, you can push the towing potential up to a best-in-class 7,650.
If you're looking for serious towing muscle in a light-duty pickup, you will need to keep this in mind with the Gladiator. It does outperform the ZR2 by 1,650 pounds, but you'll be paying a considerable amount for this kind of improvement. And, realistically, if you were looking for a pickup for towing, you could buy a base Chevy Silverado which would cost significantly less and give you 10,000 pounds of towing as a base. Just something to consider, but head to head with all the upgrades, the Gladiator does outperform.
Interior Entertainment
Here is one area where the Colorado really shines over what a Jeep Gladiator provides. On the ZR2, you will find the Chevrolet Infotainment 3 Plus System, which features an 8-inch HD color touchscreen, Bluetooth, voice recognition, Apple CarPlay, and Android Auto, plus a 6-speaker audio system, HD radio, 4G LTE WiFi hotspot, and a number of other entertainment features.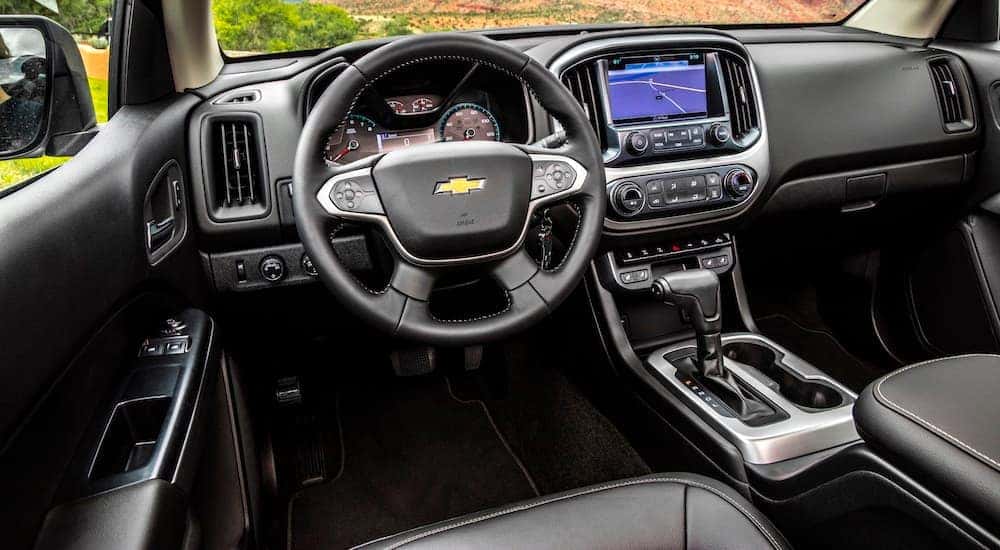 The Jeep Gladiator comes with Chrysler's U-Connect feature, which is a bit slower and clunky compared to what Chevy offers. It has an 8.4-inch touchscreen, but the resolution and clarity are lacking. It has a more rugged design to it than what the Colorado offers, which is great if you plan on taking the doors and windows off of your Jeep, but if you want a smoother ride, the screen quality won't compare.
The main selling point for the Jeep is the ability to customize just about everything. There are additional cargo slots you can have added to the rear of the Jeep, you have the option to remove doors, the roof, and do just about anything you might want. For some, this is an extremely attractive element. For others, it isn't at all. Another thing to consider is that because of the build, the Jeep is louder to drive. It doesn't block out as much outside noise, and it can feel a bit stiff when driving. So keep all of this in mind if you've never driven a Jeep before. It's a totally different experience (some love it, others hate it).
The Right Pickup For You
When you want a smaller pickup that's both fun and performance-driven, you really can't go wrong with either the Chevy Colorado ZR2 or the Jeep Gladiator. These two trucks are very different. The Gladiator very much has the custom Jeep look. You don't need to be an automotive fan to be able to pick out a Jeep from a vehicle lineup. So if you're a lover of the Jeep look, by all means, go with the Jeep Gladiator. It has features you simply won't find on any other pickup anywhere. But if you want a more traditional truck that still gives you a rugged look, plenty of power, a comfortable ride, and tons of performance features, the Colorado ZR2 is the way to go. Of course, it all boils down to which truck you like the best. If you're torn, give each a test drive. The two trucks will feel very different when you're sitting behind the wheel.
When it comes to a performance driving pickup that offers a comfortable ride, two engine options, and keeps the outside noise out and the inside music in, the Colorado ZR2 is the pickup for you. It is a truck that is built for superior performance on and off-road. If you're interested in a light pickup and want to take it for a test drive, now is the perfect time to come on out to DePaula Chevy in Albany, NY, to check it out.