Chevy Colorado ZR2: An Off-Roader's Dream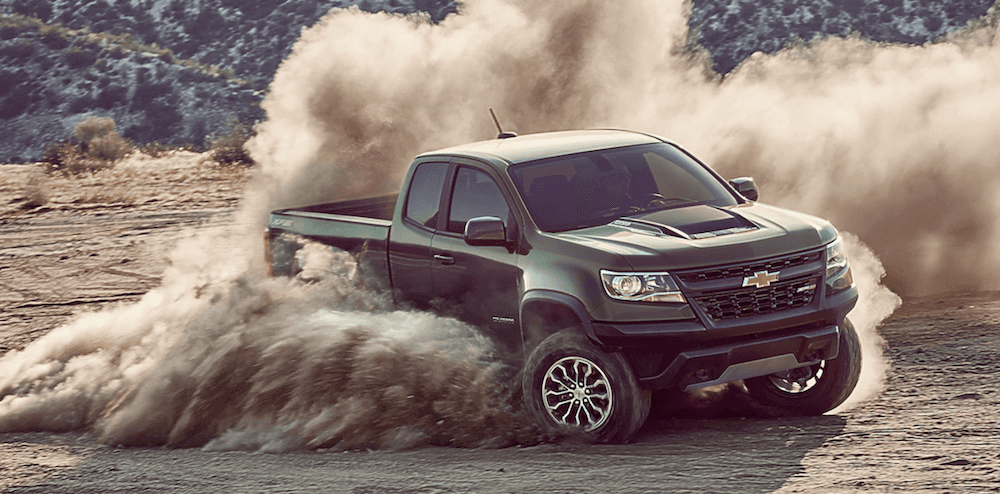 Many trucks boast about their power and performance, but the 2018 Chevy Colorado ZR2 delivers on those promises, both on the road and off. A trim of the Chevy Colorado, the ZR2 was designed specifically with the trails in mind; that's why it's built to master any terrain in comfort and style.
We'll take you through all of the perks of the all-new 2018 Chevy Colorado ZR2 and show you why it's the perfect truck for the serious off-roader. Plus, it has all the capabilities to get the job done every day of the week; it's not just for ripping through the mud on the weekend. It has all the capability, power, connectivity, and design that you want from an off-roading truck while also seamlessly transitioning to your everyday life.
Capabilities for Every Terrain
Whether you're driving on pavement or the most treacherous of outdoor terrains, the 2018 Chevy Colorado ZR2 will make sure it's smooth sailing every step of the way. Offering segment exclusive Multimatic™ shocks, front and rear electronic locking differentials, 50 millimeters of front and rear lift, skid plates, and rock sliders. Plus, the ZR2 is 90 inches wider than other Colorados to accommodate the 31-inch Goodyear Wrangler DuraTrac off-road tires that help tear up any terrain.
The Multimatic™ shocks prove that the ZR2 is a beast both on the road and off. They are designed specifically to get you better control of each wheel's shock absorption and rebound during off-roading while also offering comfort and control on pavement and at highway speeds. Multimatic™ adapted their race-proven damper technology that allows the dampers to be soft when driving down normal roads but firm up when taking on large obstacles suddenly while off-roading. With tech like this, you'll enjoy riding in your ZR2 no matter where life takes you.
Power Meets Performance
You can't have a good time off-roading if your truck doesn't come equipped with a powerful and capable engine. The 2018 Chevy Colorado ZR2 offers multiple engine options to get you all the power and performance you need out of your off-roading truck.
The standard engine on the ZR2 is a 3.6-liter V6. Paired with an eight-speed automatic transmission, the engine gets 308 horsepower and 275 lb.-ft. of torque. With specs like these, you can be confident that this standard engine will be able to tackle whatever you throw at it.
If you prefer, you can also choose the segment exclusive 2.8-liter four-cylinder Duramax turbo-diesel. This baby only gets you 181 horsepower, but it makes up for it by getting a whopping 369 lb.-ft. of torque, perfect for any off-roader. This engine is paired with a six-speed automatic transmission.
Plus, if you need to haul a bunch of gear or equipment to a campsite, the ZR2 has you covered. With the ZR2, you can tow a max of 7,600 pounds or utilize the max payload of 1,500 pounds. These towing and hauling capabilities can get all your stuff to the great outdoors safe and sound so you can enjoy your trip with peace of mind.
Off-Road but On the Grid
Just because you're off the beaten path doesn't mean you want to be totally off the grid. The ZR2 has you covered with its impressive suite of technology to ensure that you're covered no matter where you go.
Stay connected with the available 4G LTE Wi-Fi hotspot powered by AT&T. Using this hotspot means you don't have to worry about overextending your phone's data plan, and it can be a lifesaver for trips with family members who aren't as excited by the great outdoors as you are.
Likewise, use all the features your smartphone has to offer with Apple Carplay and Android Auto capabilities. With Apple Carplay, listen to Apple Music, get directions with Apple Maps, make hands-free calls, and more. Android Auto lets you access calendars, playlists, and apps such as Google Maps. Plus, you can easily get the most out of your music or podcasts with the standard six-speaker audio system
Easily utilize all of the infotainment features with the available Chevrolet MyLink using the eight-inch touchscreen display. MyLink will integrate your vehicle and your technology to create a seamless experience from your everyday life to the road or the great outdoors. USB ports and wireless charging are also standard on the ZR2, ensuring that you're never stranded somewhere without a charge. The ZR2 has your back.
You can also easily navigate your surroundings with the standard rear vision camera. If you don't have a field to park in, easily maneuver into a parking space with the rear vision camera or use it to make trailering even easier than ever before. Plus, keyless entry and keyless start are standard, perfect for when you don't want to mess around with getting your keys out of your pocket or bag.
Designed for the Outdoorsman
All of the power and features packed into the inside are reflected by the tough and rugged exterior of the 2018 Chevy Colorado ZR2. The addition of the 31-inch off-roading tires and upgraded suspension give the ZR2 an impressive stance. The form of the ZR2 definitely follows function, as it has other exterior design features like aggressive approach, breakover, and departure angles, front and rear wheel flares, an Autotrac® transfer case, and tubular rocker protection. Plus, the ZR2 is available in nine different colors ranging from subtle neutrals to bright pops of color, so you can choose whatever best fits your personal design aesthetic.
The 2018 Chevy Colorado ZR2 is the peak of off-roading trucks, getting you wherever you need to go no matter the terrain. With its rugged design, impressive capabilities, powerful performance, and a full suite of technology, you couldn't hope for a better off-roading truck. To try out a ZR2 for yourself, visit your local Chevy dealer today and see why the ZR2 is the perfect truck for you and your off-roading needs.