Chevy Cars Now Equipped with In-Dash Gas Purchasing System Powered by Shell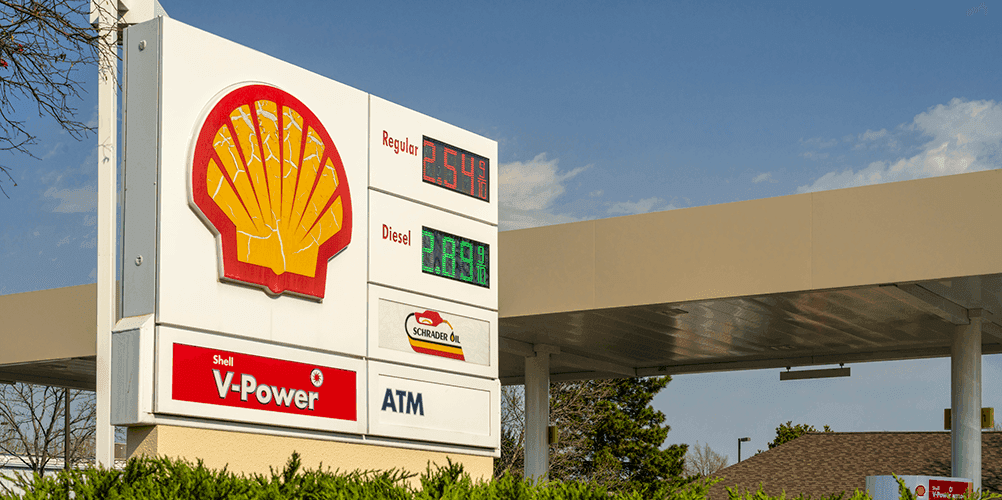 Chevy cars and trucks (2017 and up) are equipped with Marketplace, Chevy's new addition to its MyLink Infotainment system. Marketplace is designed to add a smartphone-like convenience to the In-dash system, allowing Chevy drivers to book hotels and make dinner reservations from their car seats.
Marketplace debuted in 2017 and has thus far been somewhat limited in its scope. Drivers have the option of ordering coffee from their dashboards, booking hotel rooms, and making dinner reservations at participating businesses. Now, Chevy cars are teaming up with Shell to make purchasing gas simple and easy to do from the comfort of your vehicle.
The newest addition to the Marketplace feature is launching soon nationwide but is premiering in just a few cities: Detroit, Seattle, and Houston. The feature will guide drivers of Chevy cars to nearby Shell locations and allow them to access the station's many amenities as well as access their fuel rewards program to save money on gas purchases. Drivers can also access a certain pump that lets them prepay for gasoline using one of the credit cards they have saved on file with Marketplace.
The Future of Purchasing
The system is still rather complicated. As of now, drivers will need to get an access code, enter it into Marketplace to unlock the pump, and enter another code at the pump to authorize payment. Then the card they have saved on file will be charged for the amount they pump in fuel. At this point, it may actually be an easier process to simply swipe a card at the pump, but that doesn't mean that this feature is not an exciting push forward. This is the first step toward drivers being able to pay for purchases with their cars.
Envision a future when everything that a consumer can possibly buy is available from the dashboard of their Chevy. Order food and receive curbside delivery, where you never have to leave the temperature-controlled confines of your vehicle. Imagine paying for movie tickets hours before the showing and picking them up when you arrive at the theater. Book seats at overcrowded restaurants from miles down the road, find rooms in hotels before you hit the city limits, or preorder your white chocolate venti latte and favorite snack—all from the comfort of your vehicle.
GM called the Marketplace app "the automotive industry's first commerce platform for on-demand reservations" as well as for "purchases of goods and services." And there is so much untapped potential in this app for looking ahead toward the future as well. In the next few years, consumers can expect to see a lot more additions to Chevy's Marketplace feature, and other car companies are sure to follow their lead. In the not-too-distant future, drivers should be able to shop and purchase countless products without ever entering a store, all from the comfort of their vehicles.
Follow the Leader
If you, like Chevy, are on the cutting edge of technological advancement, you can expect many other companies to watch you closely and follow in your footsteps. Jaguar already has a partnership with Shell and has a similar contract underway using Google Pay and Apple Pay services. The difference between Jaguar's approach and Chevy's is that Jaguar's new feature requires a smartphone for tethering to use Google Pay, Apple Pay, and PayPal services to buy goods or services, while Shell and Chevy's new systems allow for customers to pay from any accounts that they choose. Jaguar owners won't have the same freedom that Chevy owners have as far as payment options are concerned.
It won't be long before other car companies follow suit. Ford and BMW are already in the process of unveiling their own takes on GM's Marketplace feature through a partnership with Amazon. Amazon's Alexa will be available on all 2019 Ford and BMW vehicles. Alexa will allow drivers to shop until they drop while driving to and from work, using their voices to navigate through the system. Alexa integration lets drivers keep their eyes on the road while ordering products from Amazon. Although this feature is still being beta tested by Ford employees and will not be making its debut anytime soon, the system, using Amazon's Alexa, promises a broad range of possibilities and lots of room for expansion.
Alexa can play audio books or music, add or subtract items from shopping lists, read weather reports or news updates, use GPS to help drivers navigate to nearby businesses, create to-do lists, and much, much more.
General Motors Has Big Plans For Marketplace Expansion
General Motors released the Marketplace feature on December 5, 2017, for all models of Chevy, GMC, Cadillac and Buick vehicles 2017 and later. At the time, GM planned to roll out new additions to the Marketplace feature over the next year and a half. Now, those drivers can access hundreds of different brands and services with a simple touch of the dashboard of their vehicles. But GM doesn't plan on slowing down any time soon.
GM is open to adding more and more options to its already expansive Marketplace. The brand is now working with three partners, Xevo, Conversable, and Sionic Mobile, to expand even further and allow consumers more purchasing options. Merchants and businesses interested in joining this exciting innovation should contact one of the three partners listed above or send email inquiries to marketplace@onstar.com to contact GM directly.
Notable businesses that have already gotten involved include Shell, Starbucks, Exxon Mobil, Dunkin' Donuts, Priceline.com, Applebee's, Parkopedia, IHOP, TGI Fridays, Wingstop, and many more. Americans spend a lot of time on the road, commuting from home to work or school. For most drivers, the majority of the time behind the wheel is spent focused on the road ahead, listening to music or audiobooks or just enjoying the silence while traveling along. Now, drivers can get some of that lost time back, by getting their shopping done while sitting in traffic, or organizing their to-do lists and planning out their weekend itineraries. In essence, GM has turned its Chevy Cars into what functions basically like a traveling smartphone.
With so many options to choose from while on the go, drivers can ensure that there is never a moment wasted while on the road. The future is here, and it's everything we thought it would be. The only question that remains is, what will they come up with next?